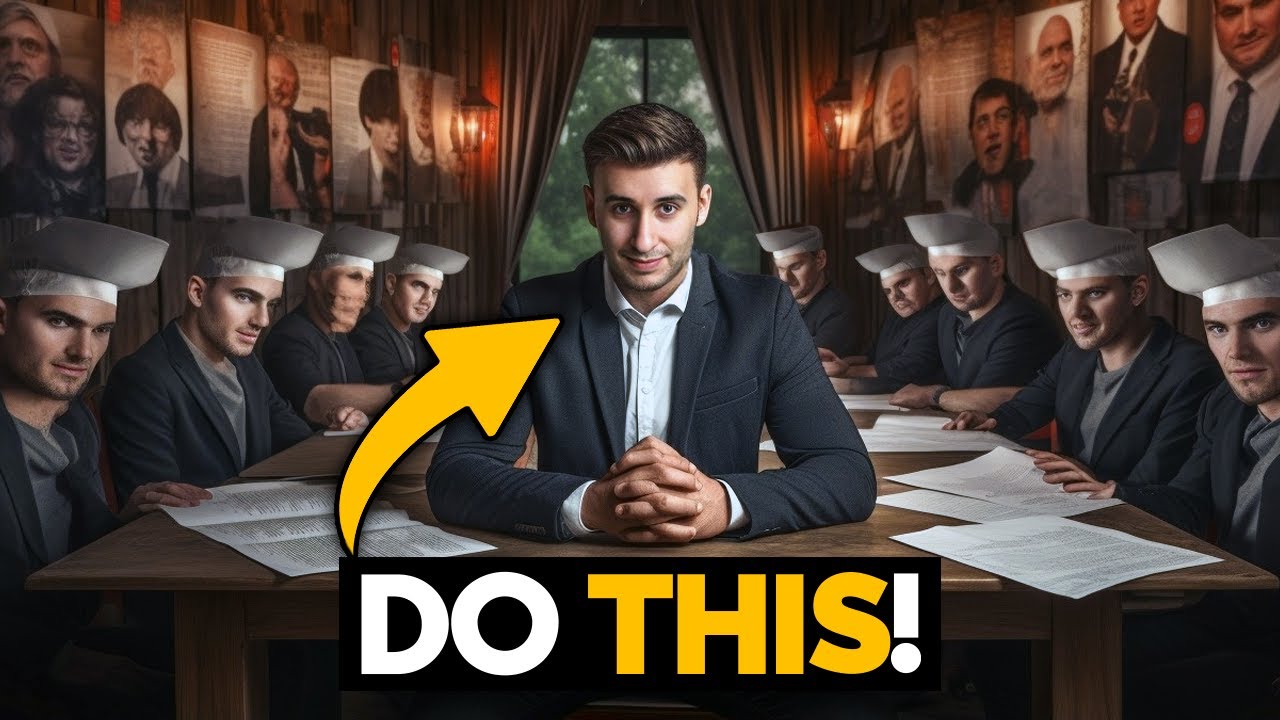 Good morning Believe Nation!
My name is Evan Carmichael.
My one word is believe.
And I believe that entrepreneurs will solve all the major problems of the world.
I started the Believe Life series to try to focus on other topics, not just related to entrepreneurship, but useful skills, ideas and strategies to help you live a better life.
So today we're going to talk about how you can detect a lie.
How to Spot a LIAR
Pamela Meyer
Everybody lies.
And as I was, guys, as you're listening, if you hear something that really inspires you, please put it down in the comments below and put quotes around it, so other people can be inspired as well. And when you write it down, it's much more likely to stick with yourself, as well. Enjoy.
Lying has evolutionary value to us as species. Researchers have long known that the more intelligent the species, the larger the neocortex, the more likely it is to be deceptive. Now you might remember Koko. Does anybody here remember Koko the Gorilla, who was taught sign language. Koko was taught to communicate vie sign language. Here's Koko with her kitten, sort of cute, little fluffy pet kitten.
Koko once blamed her pet kitten for ripping a sink out of the wall.  We're hard-wired to become leaders of the pack. It starts really, really early. How early? Well, babies will fake a cry, pause, wait to see who's coming and then go right back to crying.
One-year-olds learn concealment. Two-year-olds bluff. Five-year-olds lie outright. They manipulate via flattery. Nine-year-olds, masters of the cover-up. By the time you enter college, you're going to lie to your Mom in one out of every five interactions. By the time we enter this work world, and we're breadwinners, we enter a world that is just cluttered with spam, fake digital friends, partisan media, ingenious identity thieves, world class Ponzi schemers, a deception epidemic. In short, what one author calls a post-truth society. It's been very confusing for a long time now. What do you do?
Look For The Sign Of Stress
Charlie Houpert
So let's start with the first thing, the one that everyone wants to know, which is what is the body language that indicates lying? Now unfortunately, there really isn't one thing that is going to, 100% of the time, tell you someone's lying. When you're looking to detect lying, in terms of body language, what you're looking for are tells of stress with regards to a particular subject or topic.
And what that means is that reading stress in the body is actually much easier than reading deception, right? Stress comes through in a lot of different ways and you can see it in pacifying behaviors. So that might be rubbing of the arm. If they're sitting, you can see people rub their leg. You'll see people start to touch right here, that's a pacifying behavior. And quite a few people chew on their lip, cross their arms, purse their lips, give you one of those.
All of these things create a lowered, like trying to calm yourself down, response. And we do that in response to stress. Now there's one thing that is classic when people feel stressed, and it's called blocking. That means putting anything between themselves and the thing that is causing them stress.
So the classic lying example of blocking, would be this, blocking the mouth, could be covering the eyes, or it could be an object, right? Right at the time you're asking them if they're lying, they got to whip their phone out, or they simply move something in between you and them on the desk. Blocking is very common.
Find Patterns Of Deception
Pamela Meyer
So what I'm going to do, is I'm going to show you two patterns of deception. And then we're going to look at the hot spots and see if we can find them ourselves. We're going to start with speech.
I want you to listen to me. I'm going to say this again. I did not have sexual relations with that woman, Miss Lewinsky. I never told anybody to lie, not a single time, never. These allegations are false, and I need to go back to work for the American people. Thank you.
Okay, what were the telltale signs? Well, first we heard what's know as a non-contracted denial. Studies show that people who are overdetermined in their denial will resort to formal, rather than informal language. We also heard distancing language, that woman. We know that liars will unconsciously distance themselves from their subject using language as their tool.
Now, if Bill Clinton had said, well, to tell you the truth, or Richard Nixon's favorite, in all candor, it would have been a dead giveaway for any lie spotter that knows qualifying language, as it's called, qualifying language like that further discredits the subject. Now, if he had repeated the question in its entirety, or if he had peppered his account with a little too much detail, and we're all really glad he didn't do that, he would have further discredited himself.
Freud had it right. Freud said, look, there's much more to it than speech. No mortal can keep a secret. If his lips are silent, he chatters with his fingertips. And we all do it. No matter how powerful you are, we all chatter with our fingertips. I'm going to show you Dominique Strauss-Kahn with Obama, who's chattering with his fingertips.  Now, this brings us to our next pattern, which is body language.
With body language, here's what you got to do. You really got to just throw your assumptions out the door. Let the science temper your knowledge a little bit, because we think liars fidget all the time. Well guess what? They're known to freeze their upper bodies when they're lying. We think liars won't look you in the eyes. Well guess what?
They look you in the eyes a little too much, just to compensate for that myth. We think warmth and smiles convey honesty, sincerity. But a trained lie spotter can spot a fake smile a mile away. Can you all spot the fake smile here? You can consciously contract the muscles in your cheeks, but the real smile's in the eyes. The crow's feet of the eyes, they cannot be consciously contracted, especially if you overdid the Botox. Don't overdo the Botox, nobody will think you're honest.
Go Into Details
Tara Long
Clark Freshman is a law professor who runs a firm that trains lawyers and negotiators on proper lie detection techniques. He says that while there's no surefire method for detecting liars, there are some advanced methods they employ during questioning. The unanticipated question approach, for example, is useful in cases where you suspect someone may be trying to cover something up.
This is based on the idea that people in these situations will often fabricate stories without considering all of the details. So if someone commits a crime, but their alibi says they were at a restaurant when it happened, ask them questions that they wouldn't expect, like where was the restaurant's bathroom located. A person who's telling the truth will have no problem answering these details, but a liar may struggle.
Pay Attention To Their Eyes
Bill Brown
Did you every steal anything valued at more than 10, 25 dollars?
No.
Are you basically a dishonest person?
Basically, a dishonest person?
Reporter: This polygraph examiner, and retired FBI agent, doesn't need a machine to pinpoint a liar.
The eyes are a window to the soul. You can see right through them.
What do they expect from me? That's a good question.
Reporter: Take a close look at this guy's eyes. Before Jason answers, he looks up to the right.
Looking up to the right means you're making up something. You're visually picturing something that's never happened, you know, that's a lie.
Reporter: Up to the left, you're remembering something. Only problem, it's the opposite for lefties, like Jason, so he's telling the truth. Shifty eyes could also indicate dishonesty.
The moment they complete that lie, they look right back at me, because they're trying to see whether I'm buying what they're selling.
Look For Weird And Complex Sentences
Noah Zandan
Noah Zandan: Liars typically explain events in simple terms since our brains struggle to build a complex lie. Judgment and evaluation are complex things for our brains to compute. As a U.S. President once famously insisted, I did not have sexual relations with that women. And finally, even though liars keep descriptions simple, they tend to use longer and more convoluted sentence structure, inserting unnecessary words and irrelevant, but factual sounding details, in order to pad the lie.
Another president confronted with a scandal proclaimed, I can say categorically that this investigation indicates that no one on the White House staff, no one in this administration presently employed was involved in this very bizarre incident. Let's apply linguistic analysis to some famous examples. Take seven-time Tour de France winner Lance Armstrong.
When comparing a 2005 interview in which he had denied taking performance enhancing drugs, to a 2013 interview in which he admitted it, his use of personal pronouns increased by nearly 3/4. Note the contrast between the following two quotes. First, okay, you know, a guy in a French, in a Parisian laboratory, opens up your sample, you know, John-Francis so and so, and he tests it, and then you get a phone call from a newspaper that says we found you to be positive six times for EPO.
Second, I lost myself in all of that. I'm sure there would be other people that couldn't handle it, but I certainly couldn't handle it, and I was used to controlling everything in my life. I controlled every outcome in my life. In his denial, Armstrong described a hypothetical situation focused on someone else, removing himself from the situation entirely. In his admission, he owns his statements, delving into his personal emotions and motivations.
Thank You!
Thank you guys so much for watching. I'd love to know what did you think? Did you enjoy this video? Did you learn something new? Are you going to apply this somehow to your life or your business? Is there a liar that you want to check out and see if they're telling the truth or not? Leave it down in the comments below. I'm super curious to find out.
I also want to give a quick shout out to Joshua Rodriquez from The Josh Speaks. Thank you so much, Josh. You're picking up a copy of my book, Your One Word, and making that collab video with me on your YouTube channel. I really, really, really appreciate the support, and I hope you're enjoying the book.
That's why I feel so honored to be able to directly pass this video along to Evan, so that he can share his ideas on what it means to live a life of purpose.
So thank you guys again for watching. I hope you have an amazing day. Continue to believe in whatever your one word is. Much love, I'll see you soon.
---
You might also like
---
More from Believe Life
---
Today we're going to learn how to communicate effectively.  Good morning, Believe Nation. It's Evan. My one word is believe, …
Today, we're going to talk about how you can create a massive action plan. Good morning, believe nation. My name …
Today we're helping you to stay motivated, and to learn how to motivate yourself! How to MOTIVATE Yourself - #BelieveLife Why MotivationGrid We're all …