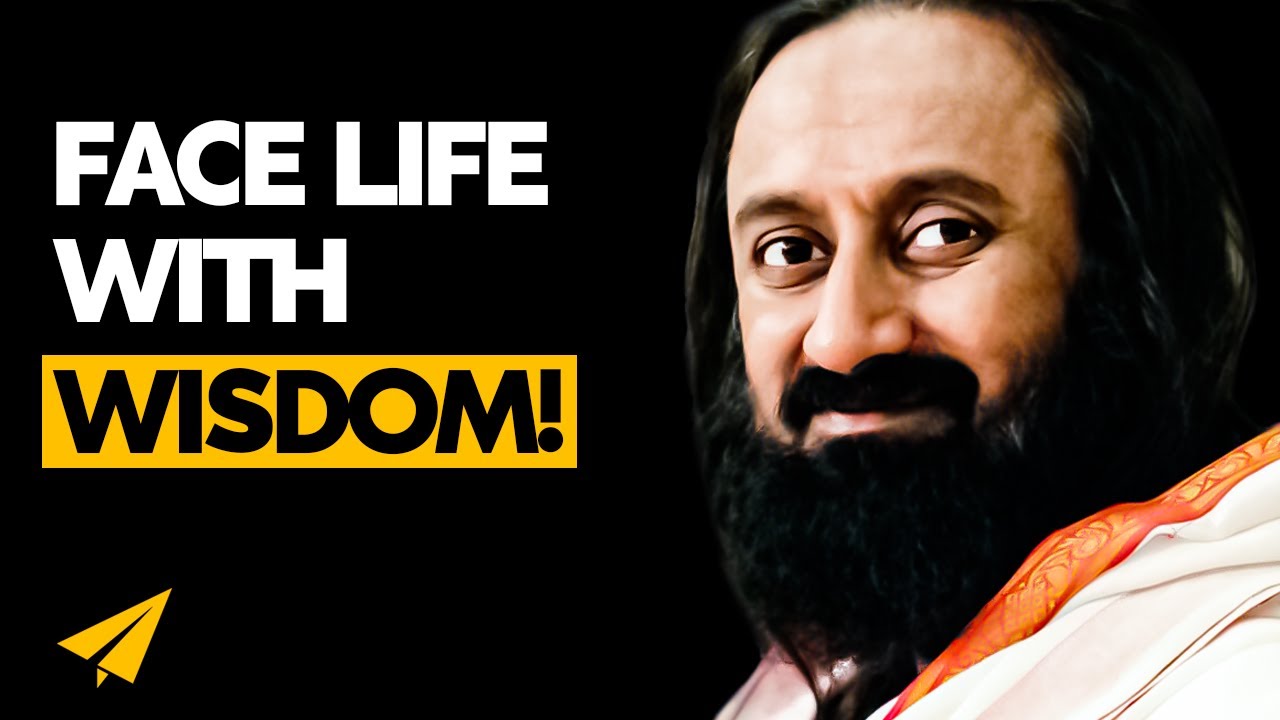 Evan: He's a spiritual leader and founder of the Art of Living Foundation.
He teaches that spirituality enhances human values like love and enthusiasm.
For his service, he has received some of the highest awards from several countries.
He's Sri Sri Ravi Shankar and here is my take on his Top 10 Rules of Success Volume 2.
Rule number one is my personal favorite and I'd love to know which one you guys like the best.
And as always, as you're watching, if you hear something that really resonates with you, please leave it in the comments below.
Put quotes around it so other people can be inspired as well and when you write it down, it's much more likely to stick with you as well. Enjoy.
---
Sri Sri Ravi Shankar's Rules
Embrace the challenges
Have confidence
Don't chase money
Face the future
Accept mistakes
Look to improve yourself
Don't be greedy
Keep yourself untouched
Never give up your enthusiasm
Share happiness
BONUS
Deal with negative people
Hold onto your goals
Have a vision
Sri Sri Ravi Shankar and here is my take on his Top 10 Rules of Success Volume 2
Rule #1. Embrace The Challenges
Life is not flowery, not buttery, I tell you. So many challenges. Life has so many challenges but the wisdom and knowledge equips you to face the challenges. The difficulty is when you think life should not have challenges. Then challenges will appear even much bigger to you.
Life has challenges but wisdom equips you to face them. Why do you want everything to be easy?  Take some challenge. Challenges are necessary in life. Don't you think so? Everything is so easy, it is so boring. See how people go up on this mountain and jump from the cliff with the hang glider.
It's a challenge. Some people want to go and scale Mount Everest. Someone says, "Oh, I want to sail through the world." These are all challenges, people. Take it. Take some little small challenges in life.
Rule #2. Have Confidence
How to deal with uncertainty. Turn back and see your own life. How many time you felt like that. How many times you spend worrying and things all happen right, right? In the right manner. So, looking back at your own experience, you should say, "This is futile to worry about it." Yeah?
Second is, you should have confidence in your own ability and in your own fortune. You should know that only the best thing will happen to me. It'll happen to me. That confidence. If these two things doesn't work, there's a third option. Invoke the valor in you. Tell it, come what may. I will face it. I will handle it. I have the power to handle it.
Rule #3. Don't Chase Money
You know, spirituality is… uplifting the spirit, your consciousness. Money is for your comfort. Money brings you comfort in your material level. You know, we are spending half of our health to gain wealth, and then we spend half of our wealth to regain the health. It usually doesn't work.
So, taking care of your health, because health is the best wealth one can have, is part of spirituality. With money, I would say, money should be kept in your pocket, not in your head. If you keep thinking about money all the time you can't even enjoy the money that you have produced. Money is needed but something that is more necessary than money is that humanness, is that happiness that money cannot buy.
Rule #4. Face The Future
Stop the mind, you know, it's racing. It's always thinking about the past or anxious about the future. We are angry about the past or anxious about the future. To take a fresh look at the world, to the situation, you need to wake up and see. As Mahatma Gandhi used to say, don't ever turn back and look. Say now let's look and see what we should do now and for the future. That gives a lot of energy, encouragement, enthusiasm and lifts you up from the ashes, even though there are ashes.
Rule #5. Accept Mistakes
Action has some imperfection. Maybe 1% or 80% or 90%. Some percentage of mistake is always present in action. When you notice it, you recognize a wise man accepts a mistake. But a fool doesn't see the mistake at all. A fool can miss blunders but doesn't see the mistake.
When someone points it out, he doesn't accept it. He becomes defensive. This is what a fool does. You know? Wise man, if he sees mistake in others, he helps them come out of it in a compassionate manner, but the fool takes pride in other's mistake. A fool is so happy if someone else does a mistake and he announces to the world, "Look! That person did a mistake. That person did a mistake."
Rule #6. Look To Improve Yourself
We have some very talented people but they have certain mindless points. If you look at the mindless points, the talents are gone. Isn't it? So, you don't see a very perfect person but your intention is to see everyone as perfect. When you are looking for perfection in everybody around, I tell you, you forget to see the imperfection inside of you.
We want everything else to be perfect. Ah you mean the perfection. You have to look for that. When you see that you are perfect you will stop pointing out and get frustrated about other's imperfection. If we are frustrated about other's imperfection, we cannot contribute to their growth.
They become imperfect. This is the dilemma. We want others to be perfect, organizations to be perfect, nations to be perfect, people to be perfect, and in this run, we forget to see how we can improve ourselves. What do you say? Right? So when we start looking within, a whole new dimension opens in front of us.
Rule #7. Don't Be Greedy
Choice is never between good and bad. There is no choice between water and sand. If a cup of sand is kept and a cup of water, you do not say, "Which I want to drink?"  You will definitely drink water. If the choice is only between water and juice, you drink whatever.
Both are necessary for life. So, when you think which I will get more joy, your greed makes your choice very difficult. When you're not so greedy, say nevermind. Now I will take water, little later juice.  You feel at ease with it. There is no choice between good and bad at all.
Once you know this is bad you will never choose it because it is bad. So when you don't know it's good or bad, then use your… …sense, that which gives you long term happiness. Short term problems to be chosen. That which uses short term happiness and long term problems should be discarded. Got it?
Rule #8. Keep Yourself Untouched
So be in this world. Enjoy this world, yet, not get caught up, drown in it. Keep yourself a little alone. I'm saying keep yourself untouched by the external. Save your soul. Save your mind. Save your spirit. Save your joy. Don't get that muddled by the events in the world. Are you getting what I'm saying? Don't let others or any events take away your freedom, take away your joy, and your inner peace. This is how to feel.
Rule #9. Never Give Up Your Enthusiasm
You found new ways to clap. Right? In the same way, in the world, in day to day life, so many events come to put down your enthusiasm but never give up. When you light a candle, and put it upside down, what happens? Does the flame goes down or goes up? Flame always goes up, right? Like that, life is light.
Life is a burning flame. You should see that it should always go up. Even there are 100 reasons to be unhappy, we should overcome them all. Who can do it? Only you can do it. Got it? So, at no point, don't give up your happiness or your enthusiasm.
Rule #10. Share Happiness
Now, what is a way to be happy? By sharing happiness, spreading. When you spread happiness, it grows. When you don't spread it, hold on to yourself, it dwindles, dwindles, and then finishes. This is what people don't know. They want to be happy. They don't know how to share with everybody, how to expand one's family.
Thank You!
Thank you guys so much for watching. I'd love to know, what did you take from this video? What was the most important lesson that you learned, that blew your mind, that you're going to immediately apply to your life or your business somehow. Please leave it down in the comments below. I'm super curious to find out.
Also, if you want to nominate someone for the next Top 10 video, please check the description for a link to a video where you can votes for people and put in your suggestions as well.
I also want to give a quick shout out to Vihan Gopinath. Thank you so much for picking up a copy of my book, "Your One Word". I really really really appreciate the support and I hope you're enjoying the read.
So thank you guys again for watching. I believe in you. I hope you continue to believe in yourself and whatever your one word is, much love, I'll see you soon.
---
BONUS
Deal with negative people
There are four ways to deal with a person who is doing things which you don't like. Are you ready to listen to it? First is, forgive them. Okay. Tell them don't do this again. Okay, now it doesn't matter. Anyway, it's happen, but please don't do this again. Gentle forgiveness.
Second time, when they do it, you should show indifference. You know indifference. You repeated it, I'm not going to accept this. This is indifference. Don't talk to me. Third time they repeat, you simply cut off, move away. Take some distance. If they repeat on the fourth time, then you take a stick.
Hold onto your goals
If your really want what you are aiming at, hold on to it. You know? But if you feel it is worthless putting so much effort and what am I going to achieve by that, then you move on to something which is much easier. Yeah? You know, once there was a short term prime minister in India.
He said, "Guruji, now I am prime minister, I find for this I struggled all my life. I find it's meaningless. Before I could sleep here happily. See now there are 50 policeman guarding. I can't even sit outside my own home in the farm." "Life is futile," he says. "It's a futile struggle all my life." I said, "Even to understand this is took you so many years." Anyway, at least, now you realize many people don't even realize at that time, what is happening with all these dictators and rulers, in North Africa.
They're all killing thousands of people just to hold onto power. This is stupidity. At least our gentleman Indian prime minister had this sense, it was futile game. I said, "You are lucky, in this sense." So like that, if you want to really achieve it so hard then put all your life to achieve it but you find something else is better to put your energy, go in that direction.
Have a vision
You know India has a long history of spiritual upliftment. When you see that everything is collapsing and all doors are shut and there is no hope and depression sets in and I use a vision of, you know, something higher and the possibility and the power of your own thought, the power of your mind and how you can create your reality or world and move in that direction. You may not be successful immediately, tomorrow, but the vision and the mission always takes you forward.
---
You might also like
---
More from Sri Sri Ravi Shankar
---
Hello, Believe Nation, my name is Evan Carmichael. My one word is Believe, and I believe that entrepreneurs are going …
Evan: He's a spiritual leader and the founder of the Art of Living Foundation. The Art of Living Foundation aims to …