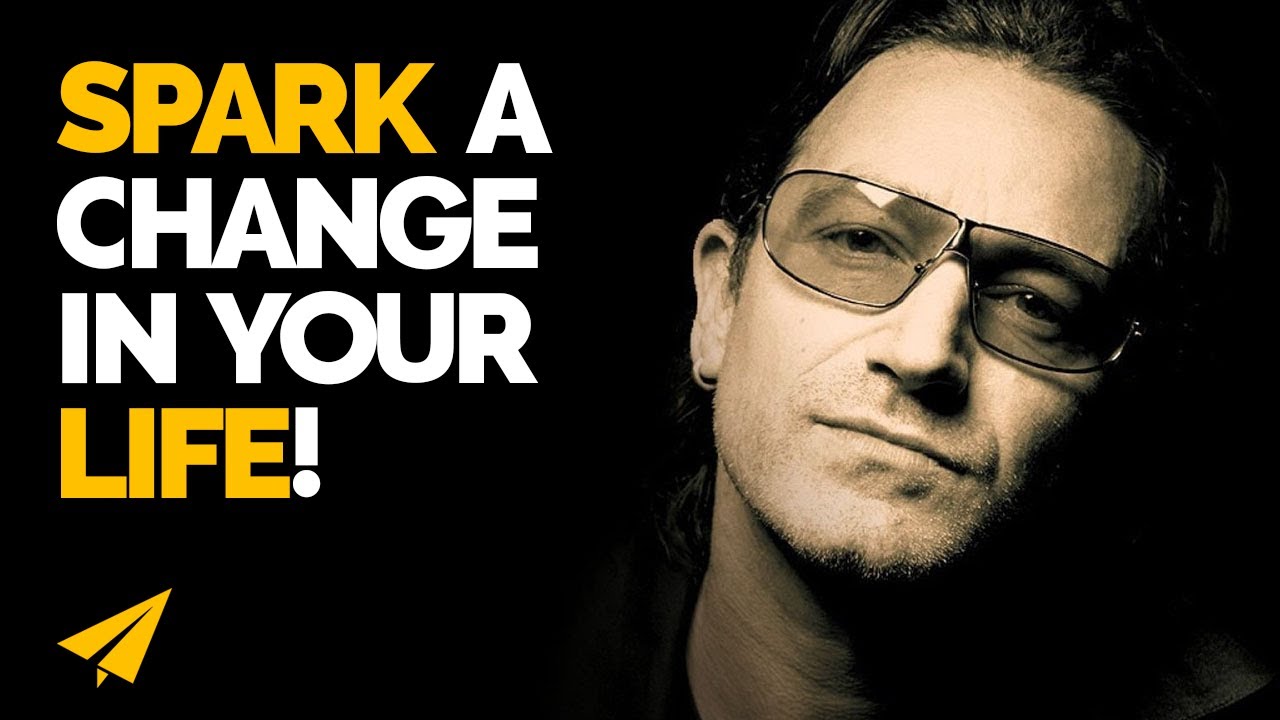 Good morning, believe nation!
Today's message is start with a spark. Over to you Bono.
Bono
Now when we started out, we couldn't even play our instruments. We really couldn't. We formed a band before we could even play. And we were 16 and we didn't know where we were going and we just decided to go there together.
It was just four of us in the kitchen, in Dublin City in Ireland and Larry Mullen Junior, he's the drummer in the group, he started only, he just kind of pinned a notice to the notice board in school, we're starting a high school band and we got started and actually reluctantly.
I didn't even know if I wanted to be in a band. And when we started to play together, when we started writing songs together, I don't know why but we felt we could, we could make a living out of it and we felt that, it was something special, a spark, that was different and between us and a lot of the other bands that were starting then.
We just felt we had a spark and we started with that little spark and we've kind of fanned it a bit. Now it's a flame and I suppose a bit of a forest fire right now.
Evan Carmichael
Most people aren't happy with the spark. Most people expect instant success as an entrepreneur. They expect that lots of entrepreneurs have success and I'm talented and I'm smart, why can't I figure this out? And my business should work in the first six months.
I fell into the same trap. When I started my very first company, I was 19. I became an entrepreneur with my first kind of real company I guess. I thought it would be a lot easier than it was.
I saw the articles and the magazines and the shows talking about these successful entrepreneurs and I thought I can do this. Everything else that I had done that I applied myself to, I had success with, so I can do this too.
"We all have the spark but to turn the spark into a fire, you need to work it and work it and work it and work it and work it and the thing that gets you through is the absolute passion for what you're doing." – Evan Carmichael
And I failed over and over and over and over again and you realize and for those of you who've been in business, you know it's way harder than you think it's going to be. And a lot of people just quit too soon. A lot of people give up once it gets hard because the spark isn't enough.
Don't quit too soon and turn that spark into a fire
We all have the spark but to turn the spark into a fire, you need to work it and work it and work it and work it and work it and the thing that gets you through is the absolute passion for what you're doing.
If you can find the thing that you love doing, that you would do even if you weren't getting paid to do it, then you have to find a way to keep going. Even if it doesn't make sense.
Even if you've lost all practicality. Even if everybody around you is telling you that you're crazy and stupid. If it's inside here, you have to keep finding a way to keep going.
Maybe you take on part time jobs. Maybe you go work for somebody else, whatever it is, you have to find a way to keep going.
If you've lost interest in it, it's not exciting for you anymore, it was just something that you were trying to make some money off of, then you should quit and move on to something else.
But if you find that spark, and you think that this is something that I really, really have a passion for and want to do, then you have to find a way to keep going, don't quit too soon and turn that spark into a fire.
Question of the Day
So the question of the day today is, I'm curious What's your spark?
What the thing that gets you excited? What's the thing that gets you motivated? What do you love about your business? Leave it down in the comments below. Super curious to find out.
I also want to give a quick shoutout to David Espejo. David, thank you so much for picking up a copy of my book, Your One Word. It really, really means a lot to me and I hope you're enjoying the read.
So thank you guys again for watching. I believe in you. I hope you continue to believe in yourself and whatever your one word is. Much love and I'll see you guys again tomorrow morning for another Shot of Entspresoo.
---
BONUS
Start With A Spark
Neil Gaiman
So do you have any advice for someone who would like to start doing creative writing but has no idea where to start whatsoever?
Neil: Depends. Are you the kind of person who.. Do you read a lot?
I read a lot, yes. And I write snarky emails but  that's about it.
Have
I've been told they're very good.
When you say creative writing, do you want to write fiction? Do you want to write humorous essays? There's an awful
Fiction.
Man: I would think.
You want to do stories?
Yes
Okay.
Neil: So my advice is start writing stories.
Just like do it.
Really, it's almost as simple as that. It's start writing, so pick a style. Pick a theme. Look at the kind of You're not expected straight out of the hat to be a brave and original voice, producing fine and wonderful fiction.
It's much more like the first pancake on the griddle, which is going to be this weird black messy thing that you either give to your dog or to a child.  You try to convince him, yeah it's nice. You write. You finish things. You start the next thing. You write that. You finish it. Somewhere in there, you get reasonably good. And
Do you give these to people
Man: Or do you just.
Yeah. The point, I always found that I would always learn more about what I'd done the moment I saw it in print. Or the moment, these days, probably the moment you see things up on the web. But yeah, show 'em to people. But the most important thing when you're just starting out is write the next one.
Assume that you have a million words inside you that are absolute rubbish and you need to get them out before you get to the good ones. And if you get there early, that's great. That was really my biggest advice.
Man: Alright, thank you.
Read everything you can. Read outside your comfort zone and write a lot.
Nick Woodman
Interviewer: Let's talk about that initiation of the dream. How did that start and how'd that come about?
I'd started a business before that I raised four million bucks of other people's money, started a web marketing company, went boom and bust with the first dot com boom and bust. I knew I wanted to make it as an entrepreneur and start another business but I had no idea what I wanted to do.
And so for inspiration, I went surfing. And I planned a five month surf trip around Australia and Indonesia. The inspiration came before I even left. I wanted to capture photos of myself and my friends that I was going on the trip with, while we were surfing out in the water and no camera existed that allowed you to do that.
And so I set out to develop this wrist harness that I could put a single use disposable camera into and surf with it. And I didn't even mean it to be a business idea. I just wanted to document my experience on this trip.
And as soon as I got it working well, the light bulb went off and I realized, oh my God, there must be so many other surfers in the world that want 6something like this .
So you sewed it with wrist straps essentially. But how do you go from wrist straps, which are very simple, to hardware and to actually developing a camera.
I wanted to use higher quality cameras with my wrist strap to capture higher quality photos but every camera that I would use with the strap surfing, I would break the camera. Because cameras weren't designed to be used during rigorous activities like surfing.
And what I ended up doing was I spent two years gong to trade shows, the camera trade shows around the world to look for a camera that was close to what I would want to design. After a year and a half, about a year, I found it. And got the manufacturer to agree to make the modifications and begin building the cameras for me.
I actually did the deal without ever needing the actual company. It was all email. I had one phone call where we could barely understand each other because of language barrier.
Interviewer: Were they Chinese?
They're in Chen Zen.
I wired my $5,000 for the tool to the mold to be made cause it was actually cheaper just to wire five grand than to fly over there, meet them, have a business trip and I just figured okay, well just go for it and they ended up being legitimate and we were profitable from day one because it was just me, one employee.
We just had no overhead and rolled one good production run into another and slowly scaled it and the Go Pro that everybody knows today has been built on $265,000 of capital.
---
You might also like
---