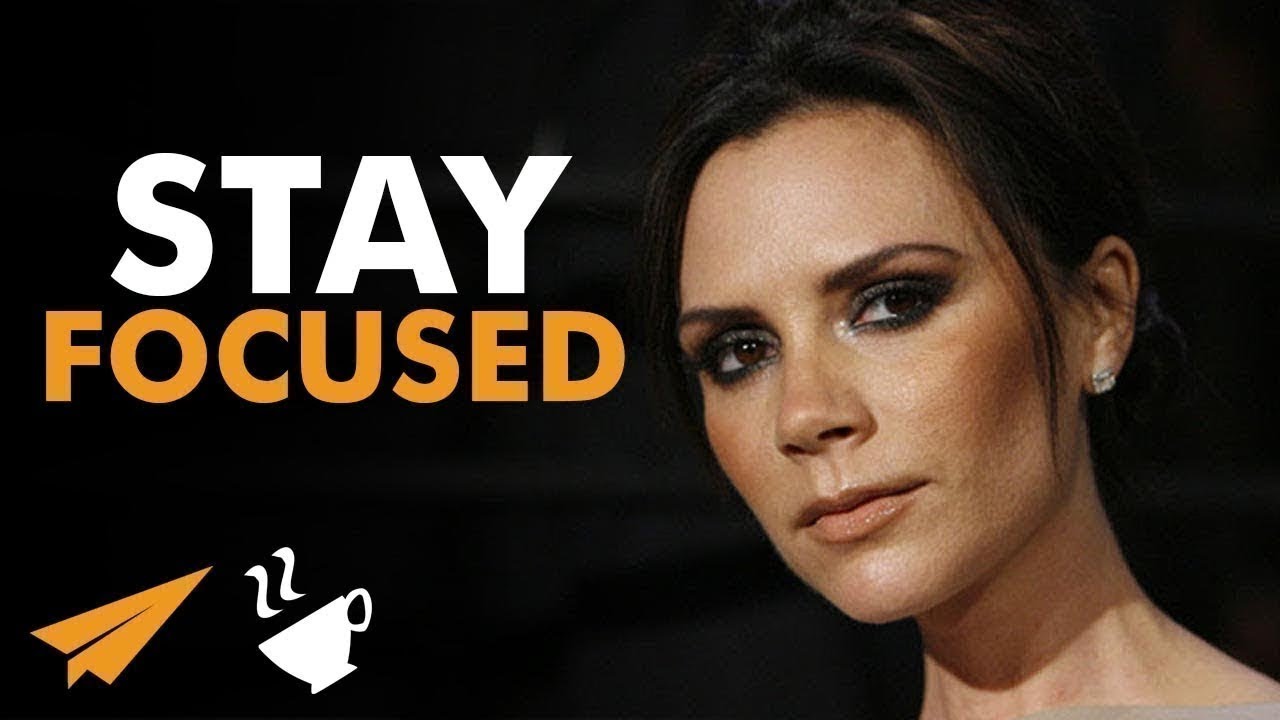 Good morning believe nation! Today's message is stay focused. Over to you Victoria Beckham.
♫ I wake up every morning ♫ Espresso keep me going ♫ I wake up every morning
When I initially started up the brand, I didn't put too much pressure on myself, I didn't go into this to prove anything to anybody other than myself.
I was very focused, I didn't try to do everything at once. For quite a few seasons I stuck to just perfecting the dress, I didn't want to run before I could walk.
"I was very focused, I didn't try to do everything at once" –  Victoria Beckham
It's very important to be focused and do what I was doing very, very well and move on and do more, when my team was in the position to do that. So I think that it's about keeping things focused and not trying to do too much.
***
Evan: I think this is one of the things that sinks tons of entrepreneurs. So many entrepreneurs that I know are the creative types, right, creative geniuses, amazing. And you have this idea, I love this idea, this is great, what an amazing idea, and then you're off running with it, and then poof you meet somebody or some other idea comes to you and then forget this, I'm going to go over here now, and you start working on this thing and then poof you want to go this way now.
You're off on some totally new thing, and you're sitting around with 25 different projects sitting at 50% done, and nothing ever gets to completion. That's so many entrepreneurs because you can't focus on one thing at a time, and if you are that to the extreme, if you can only be the idea generation person, and you just can never get yourself focused, then my advice to you isn't force yourself to be focused because you're not going to thrive, but find somebody to help finish these projects.
"I like having commitments, I like scheduling things in, and keeping to my schedule." – Evan Carmichael
Get it to the point where you're making some money with it and somebody can help partner with you, who is the super operations, detail oriented, focused person, to help get you through because otherwise you're just going to be sitting there on a pile of projects that never get completed.
And you're never going to have the impact of success you want as a entrepreneur. I'm fortunate enough to have both, I can be the creative and the visionary and go and do big things, and come up with new ideas that haven't happened before, but I also like finishing stuff.
I like having commitments, I like scheduling things in, and keeping to my schedule. What I find the balance that I strike is most days I wake up and I follow my schedule. Things have to happen every week, and this is the schedule that I follow. Wednesday is my video recording day, I'm coming to the studio and I'm filming videos. But then on the days that come where there's some crazy idea, I'll go for it, I'll start it, I'll work on it to the expense of everything else on my schedule.
I'll move meetings, I'll switch video day around because when I can get into that zone, I can create some amazing stuff. But that's not every day, I don't wake up every day in the zone, really working on some new creative idea. So I find that that balance really works for me. What I've done, is I always start a project myself.
Myself, my energy, my time, my hustle, my drive, and then as it builds up I either get it to the point where I can afford to bring on a team to help me because it's making some money, or I don't, and I drop it. I kill off more projects than most people start. When I started this YouTube channel is a great example. I had a successful business, I had a website, I still have a website, I have a team of people on my website, I decided I'm going to start a YouTube channel.
I could've taken money from that business to start the channel, to buy the basics, to buy the gear, and all that stuff, I started with zero dollars doing it, just my time, borrowed gear, borrowed equipment, I did the editing, I did the research, I was in front of the camera, I did everything. I kept my team doing what they were doing, building that business while I went off and did this crazy thing on YouTube.
"You need to have somebody that you can hand projects off to and they can run with it." – Evan Carmichael
Now luckily it worked, and I built it up and now I've built a YouTube team around it, but a lot of those projects that I'll work on my own, they don't take off. Most of it is because I don't, I lose my excitement for it, like YouTube could have been, I made five videos and then like you know what, that was a good try, I'm like I'm glad I gave it a shot, it's just I don't enjoy it I'm not going to do it, and I cut out.
And so I think it's super important that you understand the personality type that you are, you have that self awareness to say, either I can be more focused and I need to pick the project that I'm going to work on, right? This is something I'm doing with trying to dance salsa. This business right here, and Alex, I gave him ten options when we sat down. Here are the ten ways we can grow our business.
Ten different ways, we can't do all of them because if we try to do all of them, we're going to suck at everything, we're going to have a whole bunch of 50% projects. This one we have to do, you pick one of the other nine. He picked one, and every time it's tempting to come back and say oooh, ooh here's an idea. I saw this video that somebody put out, what if we did like this thing way over here, no, focus! Forget that, yes it can work, but it has to be done well. Focus, these two things, that's what we're doing, that's it.
"It's super important that you understand the personality type that you are, you have that self awareness to say, either I can be more focused and I need to pick the project that I'm going to work on" – Evan Carmichael
Don't worry about anything else, and if you don't have the discipline to put that on yourself, and it's not the skill set that you want to build and develop then you need to have somebody come on and help you.
You need to have somebody that you can hand projects off to and they can run with it. And you can take it far enough to get to the point where you can make some money with it, and they can run with it and help you build the business, while you move onto the next project, then the next project, and the next project.
You need to have that skill somewhere in your arsenal, either you develop it yourself or you bring somebody on to help you, otherwise you're not going to have success as an entrepreneur.
*******
So the question of the day today is, are you focused enough at finishing the projects that you start?
Leave in the comments below I'm going to join in the discussion. I also want to give a quick shoutout to Steve Saunders from stevesaunders.info. Steve, thank you so much for picking up a copy of my book. Your One Word, I really, really, really appreciate it.
Thank you guys again for watching, I believe in you. I hope you continue to believe in yourself, and whatever your one word is and I'll see you again tomorrow morning for another shot of entpresso.
♫ I wake up every morning ♫ Espresso keep me going
---
BONUS
Evan: So as a special bonus for you guys, I'm adding some extra clips around staying focused that I hope you will enjoy and will help.
Lewis Hamilton
Interviewer: How do you prepare yourself to be so focused, to handle all this massive stress?
Really it's trying to just remain focused on the job at hand and then the task. My goal this weekend is to win this race. All the other stuff is all just noise, and I guess it's just through experience being able to silence all that and stay focused on what's the most important thing.
So don't be distracted by all the media, all the camers tomorrow there's so many interviews, mostly with the same people that we always have, so I've been talking to these guys for ten years, but are often asking the same question that they ask me two weeks ago.
"Just remain focused on the job at hand and then the task." – Lewis Hamilton
But obviously they have something more to talk about this weekend because the last race was terrible. But I think really it's trying to compartmentalize really that stuff put over here, put it in a box, and then keep the energy and your focus on the one thing that matters most. All of that other stuff does not matter, what matters is me and this team, how are we going to get from Friday, or Thursday this week for example, to Sunday standing on top of that podium.
It's sleep, it's what I eat, it's what I spend my time doing, making sure I get to bed early. All these different things that add up to it. And sometimes you do it all perfect, and it doesn't go well, but that's life, and you just hope that in doing all the right things, but it's also trying to find a balance, you need to enjoy life as well. At some stage I'm going, my career will be over, and I want to look back and say I enjoyed absolutely everything, every moment in the car, every moment out of it.
Kevin Spacey
Well when you're doing a tv show, every day is a different day in the sense that it's never the same. And you might be shooting two scenes, you might have one scene, you might have five scenes, so your level of preparation is different every time.
"It's an important thing to stay focused." –  Kevin Spacey
Generally I'm up early, I exercise, I run, I do whatever it is I'm doing in terms of my physical life other than playing tennis, which I stack up during the course of a week, quite a lot of, if I can. And get to set, depending on your call time but very often it's very early.
And then you try to be there and be alert and awake and alive and ready to go every hour of the day. And if you work twelve hours then you have to be alert every one of those hours. It's an important thing to stay focused.
Christopher Nolan
It wasn't conscious on my part to have another script sort of ready to go by the time we went to film festivals with Following, while we were finishing up the cut on it and doing very long, slow technical finishing, which when you have no money it takes forever because you're still waiting for the lab to run the 16mm bath or whatever it is, in that time I was putting together a script for Memento so also in the time it took to get Following noticed on the festival circuit so we could get out there, I had actually finished the script.
In retrospect, it was a massive advantage because I was able to say okay you like that film, this is what I want to do next because in your best case scenario of what can happen to you with putting a film out there and getting distribution for example, you are then asked the question okay what do you want to do next, and if you have an answer you can use that very short window of interest that you get from people in what you've done.
But I will say that I think that was purely an accident, and I think that if you were to try and plan to write another script while you are finishing a film you really risk taking your focus off the project that you're doing. And I think that it's most important to just throw yourself into just putting everything into the project you're working on and that's something I've always done since.
If you can then because quite often there is a period between finishing a project and actually people seeing it or actually people responding to it. If you can try instead of going on holiday for six months, you can use that period to try and figure out what you would do next if someone gave you the opportunity. Then you're going to give yourself a huge advantage.
Kai Greene
Obstacles really don't matter. They really just don't, no more than where you come from, what you had, what you have, what you didn't have, all that stuff becomes so what. People that are concerned with results and the person that's working with their mind fixed on the end result of being success are a lot less concerned about the problems and they're more willing to explore solutions, and if need be, create them.
That is probably the best use of your energy. Arnold Schwarzenegger was said to have once give a seminar somewhere, I think they referenced it in the, either the book The Education Of A Bodybuilder or the encyclopedia Arnold Schwarzenegger's Encyclopeica of Bodybuilding, one time giving a seminar it was said that he talked about focusing on his goal and how the only time you can begin to really assess the enormity of an obstacle was to have to first take your eye off your goal. That's the end of my Arnold Schwarzenegger quote.
"Successful people I imagine have to worry less about what the size of the obstacles are" – Kai Greene
But I guess in recalling that at this moment, what I realize is if I'm a NFL outside linebacker looking to try to put a sack on the quarterback of the opposing team, if I am looking at the size of the lineman in front of me, looking to stop me, the defenders looking to stop me, from getting to the quarterback, if I start taking into account, wow, how big is his hands, and how much does this guy weigh, and man, look at the size of his neck, chances are in order to make all of those assessments, I can't be looking at the quarterback behind him anymore.
And if my responsibility in this play, was to put pressure on the quarterback and even better, put my hands on the quarterback, cause a fumble or stop the play, then I'm going to be rendered ineffective, not by anything the lineman has done, but because I have now taken my eye off the goal in order to assess the size and weight of the obstacle in front of me.
Successful people I imagine have to worry less about what the size of the obstacles are, the finances or the lack thereof and all the other things that we can say represent the size and the weight of the opposition, and what the successful person is going to aim to do, what all of us would like to be successful would probably want to adopt as part of our philosophy, would be to worry less about the obstacles and fix our thoughts on the goal.
You might also like
---
More from Entspresso
---
Today's message is be confident. Good morning believe nation, it's Evan. My one word is believe and I believe that …
Today's message is The Customer is King. Good morning, Believe Nation! It's Evan. My one word is believe, and I believe …