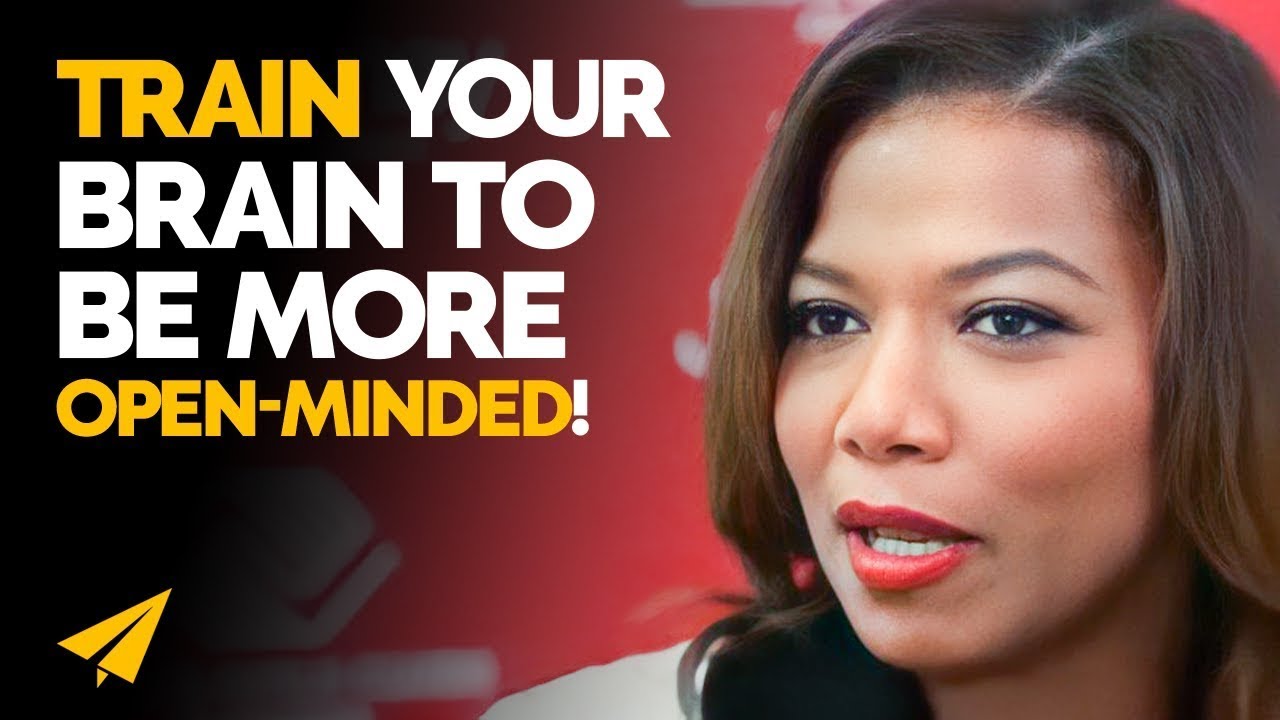 Good morning Believe Nation!
Today's message is stay open. Over to you, Queen Latifah.
Queen Latifah
Interviewer: You've won a Grammy, you've got nominations for an Oscar, you've won a SAG award, you've won a Golden Globe, but you've done so much. How do you keep going? What inspires you?
Honestly, I pray always to stay open. You know, if you're always learning something new, then, you can be inspired. But I don't just kind of sit and look at the past, like I did this, until people like you remind me of a lot of stuff, I don't really think about it in the same way. Because I see the new things on the horizon and I don't feel like I have to do the same thing over and over. I think if you're a creative person, then you kind of just have to follow your vibe. If an opportunity is there for something interesting that kind of sparks that thing in you, then you go for it. And I'm just kind of never one of those people who felt like I couldn't do it. I've got the right people around me that I believe to do anything I put my mind to.
Interviewer: Well you do kind of master everything that you've done.
I don't master it all, but I persevere through it all and it gives me a chance to find the next thing to work on. So, I'm a fighter. I know how to take them as much as I can give them. So that's what we do.
Evan Carmichael
So I think it's really important for entrepreneurs that we stay really focused and stubborn on our one word, our values, and the mission and what we're trying to accomplish. What we will not tolerate in our life, but be open to everything else. I think this is where people fall down.
I think people are too attached to the how and not enough attached to the why. So let me explain. You want to start a business, you want a ticket to some big heights, right. I want to help a billion entrepreneurs with my business. I want to do it through Believe.
Those two things are non-negotiable. I want to have a big impact. I want to do something that has the potential to help a billion entrepreneurs. And I'm going to do it through Believe. It's my one word, it's the most important core value that I have. I'm not going to do it in a way that puts people down.
The goal is not that important that I would trash people or throw stones at people or make people look bad, to achieve my goal. That would actually be easier. If this was a negative channel, if this was the 10 biggest failures of all these people, if these are the 10 stupid things that this person did, I would get a lot more views. Because in general, people would rather laugh at somebody, than try to build them up.
"It's really important for entrepreneurs that we stay really focused and stubborn on our one word, our values, and the mission and what we're trying to accomplish." – Evan Carmichael
Because we want to just escape our own life, and seeing how other people have had failure, and how crappy their life is, it makes us feel better about ourselves. That's not what I want to build. Believe is too important to me. Those two things are non-negotiable.
Big impact, a billion entrepreneurs through Believe. Everything else is open. Right now it's through the book, it's through my website, it's through social media, it's through my YouTube channel. Those are the main areas that I'm focusing my time on. If YouTube stops allowing me to have the impact that I'm looking for, I'll move somewhere else.
I'll stop doing the channel. If I can get way more impact through Believe, writing books, maybe that's where I start focusing my attention. And I think too many of you are focused to the how. Not stubborn and focused enough on the why and what the big thing is. And too focused on the how. Well recognize that your how will change. If you look at the story of any successful entrepreneur, you'll see that the how changed.
The plan that they started with, is never the plan that gets you to where you end up having your ultimate goal. It always changes. That's not to say don't plan, plan is important. It's not just go out and see what works. You have to have a plan. But understand that the plan is going to change.
And if you are not open, and you're stuck and only having it happen through this plan, you're likely going to fail. This is especially an issue, when you start bringing people on under you. My goal, with the people on my team, is I want to help a billion entrepreneurs and we're going to do it through the value of belief.
Give me ideas. How do we get there? Let me unlock your talents, your genius, your creativity, to help me get there. Let's do this together. Because if all you're going to do is exactly what I tell you to do, we're always going to be restricted. You know, and I learned this lesson in my first business where I spent too much time planning and planning, and planning and planning.
And I lost out on a huge deal because I over planned. I think a lot of us get stuck on the how because we've invested time, energy, effort, money into one path. Which may ultimately not be the path, right. I've bought lights and I've got a camera man and I've got editors and I've got this team around building a YouTube channel.
It'd be hard to walk away from. Especially when other people's jobs are on the line as well. But if it's not helping me accomplish what I want to accomplish, then I have to do it. I have to make that tough decision to go off and do something else. Now, don't freak out.
I'm not going anywhere, YouTube is a great platform, I love it and this is amazing. I look forward to my filming days and all you guys in the comments. But, if it came to that, I might have to switch to something else. In my original plan, YouTube wasn't part of it. I never wanted to be YouTube famous.
It was through my website that all these things were going to happen. And I adjusted because I was getting a lot more awareness, a lot more attraction, a lot more fun through the YouTube channel. And that may change again in a year, two years, five years, 20 years or never. Stubbornness around the why, stubbornness around your one word core value and complete flexibility and openness around everything else. That's the key.
Question of the Day
So the question today is I'm curious, what are the non-negotiables for you? What's the why for you? What's the big thing you're trying to build and what's your one word core value? Put it in the comment's below, super curious to find out.
I also want to give a quick shout out to Brenda and Bill Schreiner. Thank you guys so much for picking up a copy of my book, Your One Word, it really means a lot to me.
I hope you're learning some good lessons that you're applying to your business and to your life, and I appreciate the support.
Thank you guys again for watching, I hope you have an amazing day! I believe in you and hope you continue to believe in yourself! And I'll see you again tomorrow morning for another shot of Entpresso.
---
BONUS
Stay Open
Conan O'Brien
I think to secret to my career is I don't know what I can't do  There are times when I should probably sit and think do I really want to jump out there with Philip Seymour, I mean with John C. Reilly, and sing The Night Chicago Died or do I really want to play the blues with Little Ed. You know, you just do it. You just do these things.
Interviewer: And you become, the audience wants you to do these things.
Yes, I think what's, I don't know what it is, but I think over the years, people have gotten comfortable with the notion that I try things.
Interviewer: It's almost puntinesque
And they're not worried about me. Do you know what I mean? I think that's the key. People aren't worried about me getting hurt because, I can, you know, I'll give it a hundred percent and then if it completely falls on it's face, I'll laugh about it an move on. And I think there's a little bit of sense after all these years, people say, you know all right he tried it. Maybe it worked, maybe it didn't work, but he had a good time.
And for you, you can come back the next night and the next night and the next night.
Yeah, I mean that's, you know, I don't know. There's a, Over the years I've realized that there are a lot of comedians that are very worried about keeping their dignity in tact. And keeping their personal space and keeping their sense of authority. And for better or worse, and it might be worse, I don't have that. You know what I mean? The people that I've always liked growing up, and I'm not just talking about late night comedians. I'm talking about anybody in movie, in film. The people I liked, Peter Sellers, they
Would let it all hang out.
Be just go, you know. If you look at a lot of those old classic Carson clips, he's jumping into hot tubs with Don Rickles, he's jumping through fake walls, he's falling on his ass he's dressed as Floyd Turbo. And so sometimes I look back to that and I remembered well, Johnny just went for it, So for better or worse, I'll try, I'll get out there. I'm very physical and my wife is always horrified. I'm always coming out of the shower just covered in bruises and she'll say what was that? And I'll say, Oh, I did a bit, we had Jeff Garlin on the show and he and I rolled down a flight of steps and I hit a fire hydrant.
Chuck Norris
And I achieved the goals I wanted in the Karate world, in the world title and my schools. And I was trying to decide what new energies, where I wanted to direct my energies at and Steve McQueen, who was one of my students, at the time, suggested the acting field. And I just had finished a movie with Bruce Lee, called Return of the Dragon. So I decided that I would pursue that.
Wayne Dyer
Have a mind that is open to everything, and attached to nothing. One of the central principles of my life is that no one knows enough to be a pessimist, about anything. And that each and every one of us, when we close our mind to what is possible for us or what is possible for humanity, closes off the genius, that resides and lives in each and every one of us. Having an open mind doesn't necessarily mean finding fault with all of the things that you've been taught by others. It means, opening yourself up to the potentiality and the possibility that anything and everything is possible.
---
You might also like
---
More from Chuck Norris
---
Good morning, Believe Nation. Today's message is overcome your fears. Over to you Gabrielle Bernstein. ... Lewis: What's the first step to overcoming …