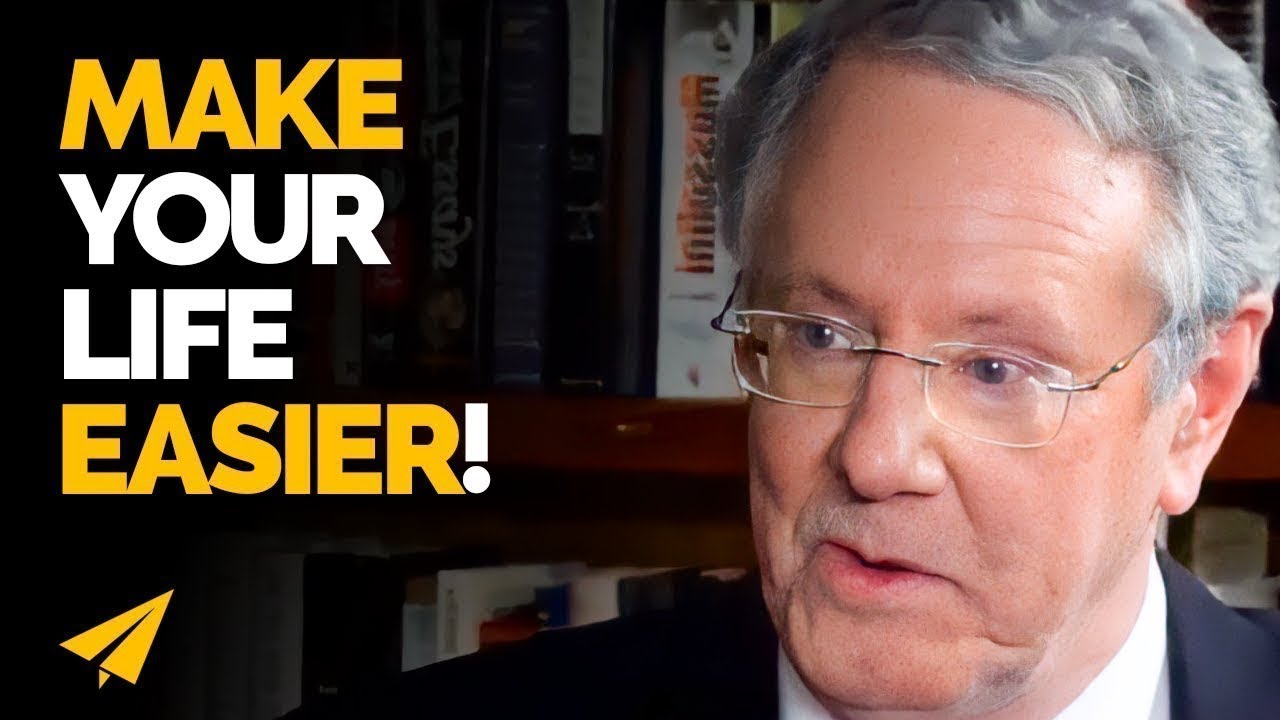 Famous Entrepreneur Quotes
Steve Forbes's Quotes
"You have to be unafraid of the fact that you will fail from time to time."
"If you have a knack for something and you have a passion for it, that makes life a lot easier."
"You may not love your neighbor, but you sure want to do business with your neighbor."
Steve Forbes's Top 10 Rules For Entrepreneurship, Business and Success
Today we're going to learn from Forbes Editor-in-Chief. Here are Steve Forbes's Top 10 Rules for Entrepreneurship, Business and Success.
Rule #1. Pursue Your Purpose
What is your purpose? What is your mission with this business? And if you have purpose, then money will come if you achieve that purpose. And so if you're good at a certain business, good at a certain product or service, that's your purpose in life. Go pursue it and you'll do a lot more good than doing something where you don't have that particular ability.
Rule #2. Provide Value
Free markets, free markets is about people and trying to do things with each other. And if you don't try to use the power of the state to achieve success, then you succeed. You know, the reason free markets are moral is because you succeed by meeting the needs and wants of other people. If you don't, you don't succeed. So even if you're that Hollywood caricature of just loving money and the kind of nasty personality that makes babies cry and dogs bark at you when you go down the street, you're not going to get money, wealth, unless you provide something somebody else wants.
Rule #3. Learn From Your Failures
What's the difference between us and people of the Stone Age? Basic difference is we have more knowledge. That's the basic difference. Even if you suffer physical catastrophe, tsunamis, wars, if knowledge is not destroyed, you can come back again, rebuild, and move forward. And knowledge comes from constant experimentation, what Thomas Edison called trial and error. And that's why out in the world, you have to be unafraid of the fact that you will fail from time to time.
It's never a smooth path. And you'll be jostled. You'll get crisis you didn't anticipate. It's part of learning. And also failure does not mean nothing good comes from it. None of you are old enough, but back in the '80s and '90s, Apple came out with a new product, late '80s, early 1990s, called the Newton. It was a handheld device.
It flopped in the marketplace. But the technology in that failure laid the basis for Steve Jobs in the future, for the iPad, iPhone, iPod. What we might call it noble failure, learning from what doesn't work, experimentation, searching.
Rule #4. Reinvest Your Resources
If you are an entrepreneur who's done something, well, money means you've provided a product or service that other people want. So you're getting resources in return. And it's not a matter of having more than three meals a day or five meals or whatever satisfies you.
Right.
It's how you reinvest those resources. Like Warren Buffett, long ago, he had more than he could ever use in terms of a material sense. But by reinvesting smartly, increasing capital, he made it possible for pension funds to increase in value, shareholders to have increased value, companies to be able to expand.
Rule #5. Have Faith In The Future
How do a lot of people get rich? In Hollywood movies, you do it by killing your customers, polluting water and all that kind of thing. But in the real world, it's often having faith in the future, putting together teams who work together, and you take it, you're the last one that gets rewarded. You got to pay your workers, pay your suppliers, keep your creditors happy, your financiers happy, and then if it works, then you get something. But otherwise, you're last in line.
And one of the things about, we discuss in the book about free markets is contrary to Hollywood imagery, most novelist's imagery, including occasionally F. Scott Fitzgerald, who had something of a chip on the shoulder, is that in terms of free markets, it does develop faith in the future. If you didn't have faith in the future, you would just be living for the moment. And so it does bring about and it reduces barriers to humanity.
Rule #6. Remind Yourself Of What Your Goal Is
What is it you are trying to do? And if you remind yourself of what is it you're trying to do, especially in the business world where things are so changing so rapidly, if you remind yourself of what your goal is, then you don't get quite as upset or disoriented when the means or the tools to achieve that goal change.
Rule #7. Live Your Passion
Well, everyone has knack for something. Doesn't mean you're going to, if you love tennis, doesn't mean you're going to go to Wimbledon, or you have a knack for software writing you're going to become Bill Gates or something. But if you have a knack for something and you have a passion for it, that makes life a lot easier, where a job actually doesn't just mean meeting the needs of life, but something you look forward to each day, something where you feel you have a purpose, you're doing something well. That gives you the intangibles that makes life just more than looking for the next weekend.
Rule #8. Get As Much Talent As You Can
You may not love your neighbor, but you sure want to do business with your neighbor. And we take it for granted, not to digress too much from the question, but we take it for granted in this country that if you start something, you want to get the best people possible. You get as much talent as you can.
And that's fairly new in human affairs. Wasn't till very recent times you trust anyone beyond your immediate family or your village or ethnic group. Just couldn't do it. But commerce does break down those barriers and have people interact in ways that wouldn't have happened otherwise. And we see it in the global economy we have today. Hugely complex supply chains.
Rule #9. Channel Your Innate Energies
Interviewer: How did you develop your understanding of economics and economic policy?
Just a fascination with it. Economics is people, markets, people. When they talk about impersonal markets, that's usually code for you don't like what people are doing. And so how do you have systems, going back to our founders, Alexander Hamilton, Ben Franklin and others.
We all have innate ambitions, energies, some good, some not so good. So how do you channel these innate energies in a way that is constructive, that is not zero-sum? That's what commerce is all about. Your success is other people's success.
Rule #10. Share Your Vision
In terms of leadership itself, while times and circumstances change, human nature does not change. The essence of leadership, the characteristics that make for success and failure or success leading you into failure, those characteristics do not change. What makes a successful leader? Persuading others, sharing a vision, sharing hardship, earning trust. Those things remain the same. My one lesson I'll give you today on the facts about today.
The world, especially now, needs a global currency. Stability, standard measure of value. If you ever find yourself in an airplane, you want a little bit of elbow room, start talking to your seatmates about monetary policy. You'll have all the room you want.
Thank You!
Thank you guys so much for watching. I made this video because Arthur Robinson Jr. asked me to. If there's someone you'd like me to profile in the next top 10, check out the link in the description and go and cast your vote. I'd also love to know what was your favorite message from this video. What did you learn from this video that you're going to immediately apply somehow in your life or in your business? Please leave it down in the comments below. I'm really curious to find out.
I also want to give a quick shout-out to Bo Hawkins. Bo, thank you so much for picking up a copy of my book, Your One Word, and posting the review on Twitter. I really, really, really appreciate the support, man, and I'm so glad that you enjoyed the book. So thank you guys again for watching.
I believe in you. I hope you continue to believe in yourself and whatever your one word is. Much love. I'll see you soon.
---
BONUS
Do Great Things
Take for example cellphones or handhelds, whatever we call 'em today. So the first one 30 years ago, big as a shoebox.  Battery life 40 minutes.  The first one out of Motorola, $3,995. Today, they're everywhere. They do everything except maybe grow hair.
Maybe they'll do that on the next round. It's amazing. Everyone can afford it. Seven billion around the world. The whole world is now at your fingertips. We're so spoiled that if we call Mongolia and it takes more than five seconds, we say what a lousy service business.
It's amazing. It's amazing. But these kind of miracles become commonplace when entrepreneurs are allowed to do great things. We all benefit from it. What Lincoln talked about, the opportunity to improve our lot in life, that's what makes this country great. It doesn't matter where you're from, what you've done before. You can do great things.
Be Prepared To Work Hard
Interviewer: If the message is true, if we can really have our wishes, if dreams do come true, and theirs certainly isn't. They get up every day and go do something they don't enjoy with people they don't respect for money that's not sufficient. What would be their first step toward going from where they are to where they want to be?
Well, if they have the opportunity is to step back and say okay, if I had a blank sheet of paper, what would I be doing each day? And don't say nothing, 'cause that's the hardest job in the world. Figure out what you have a passion for and being willing to apply the discipline to achieve that passion.
When we go to a sporting match, for example, we see the end result of people, many people who've done a lot of sweat, a lot of training, a lot of passion to achieve their abilities, but we don't see all the work that goes behind the scenes.
So if you're not prepared to deal with the grunt work, the scut work, the discipline, and that's why it's often said people who work hard in terms of a disciplined way end up being freer than those who don't have to do anything, because then they can't do anything.
Change Lives
A number of years ago, a fellow named George Mitchell in Texas had a natural gas company, not a big one, and he noticed something that everyone else noticed, and that is this country is running out of natural gas. So he asked his engineers, can't we find a way to get it out of shale? We have a lot of shale, tons of shale around the world, so can we get it out? And the engineers said no way. Just not economical. And he pushed it.
He put his own money into research, and ultimately, the breakthrough came, and now we're drowning in natural gas. Natural gas is $2 or $3. In Europe, it's $12, $13 for about a million thermal units. And the amazing thing is, thousand keep, the amazing thing is, it's not only means we're going to have cheap energy again. Not only in a few years we will be exporting energy in a major way. The government doesn't stop it.
Not only does that mean we're not going to have, we're going to have less diesel, which is not great for the environment, we'll be able to do trucks on natural gas, but also change the geopolitics in the world. One of the biggest natural gas producers up till now has been Russia. They have Western Europe, as they say, by the short hairs, because Western Europe's dependent on natural gas. Big chunk of it comes from Russia.
Well, if natural gas is easy to get and cheap, then there goes Russia's leverage. There goes the Middle East's leverage, because this energy's everywhere if you're allowed to find it. So one entrepreneur whose name nobody knows today outside of the energy industry is profoundly changing lives. This year, because of the fracking, American households are going to spend $12 billion less on natural gas to heat their homes this winter than they would've if Mitchell hadn't invented, come up with, he and his engineers come up with fracking. So, and it's just beginning. It's just beginning.
Summary
Rule number one is my personal favorite, and I'd love to know which one you guys like the best.
Steve Forbes's Rules
BONUS
I hope you enjoyed this article, make sure to check my Steve Forbes video on his Top 10 Rules For Success as well.
---
You might also like
---
More from Motivation
---
Watch Evan Carmichael's Top 10 Rules For Success video. Famous Entrepreneur Quotes Evan Carmichael's Quotes "Changing my environment had a dramatic impact …
Watch Mark Hamill's Top 10 Rules For Success video. Famous Entrepreneur Quotes Mark Hamill's Quotes "I love the allure, the danger, of …
Watch Brandon Beck's Top 10 Rules For Success video. Famous Entrepreneur Quotes Brandon Beck's Quotes "Whether you think you can do it, …