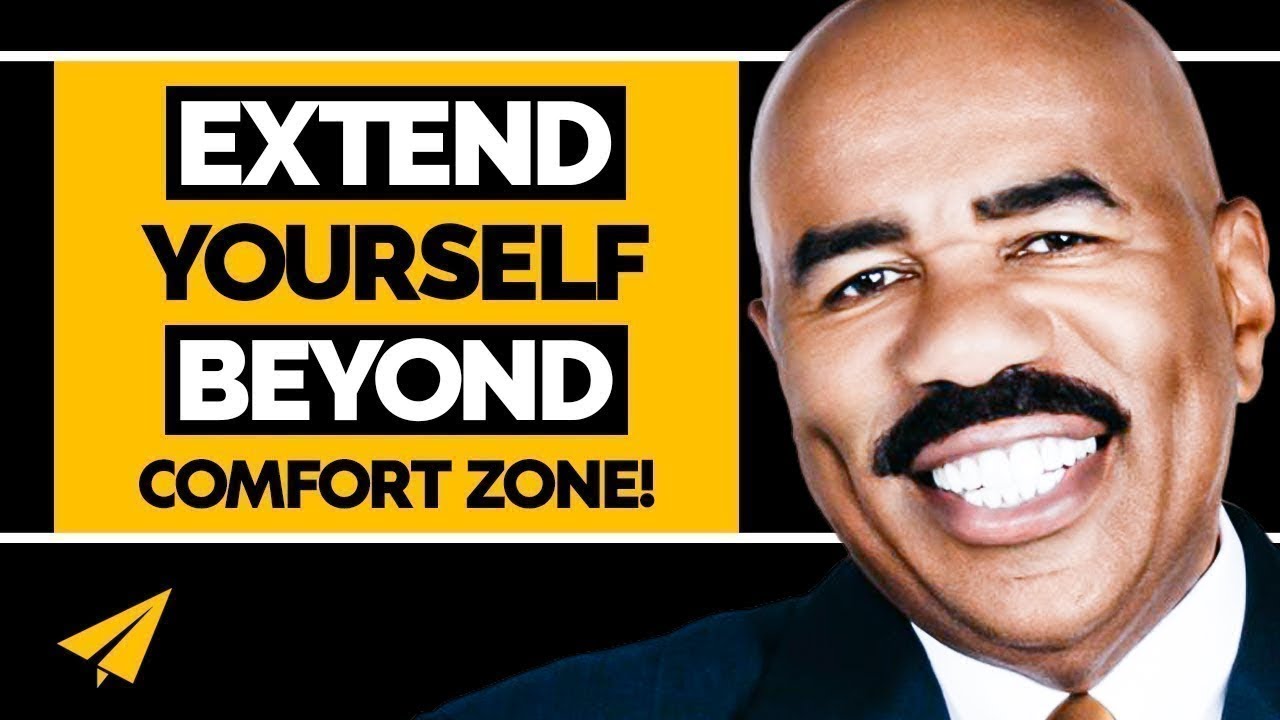 Famous Entrepreneur Quotes
Steve Harvey's Quotes
"No matter who you are, no matter where you are in life, you can take the lid off of your job."
"There is nothing bigger than your dream."
"It's going to take more than a notion to become successful."
"Like I always say, life is 10% what happens to you. It's 90% what you do about it."
Steve Harvey's Top 10 Rules For Entrepreneurship, Business and Success
Today, we're going to learn from comedian, TV host and actor, Steve Harvey, and my take on his Top 10 rules for Success, Volume two.
Rule #1. Take The Lid Off The Jar
No matter who you are, no matter where you are in life, you can take the lid off of your job. And if you're wondering if you still have the lid on in your life, here are some clues that's going to let you know that the lid is still on.
If you're not excited about waking up in the morning, if you're sitting around bored out of your mind, if you've got time to do everything anybody asks you to do,  you probably got the lid on.
If when you tell your dreams to all your friends it makes sense to them, you got your lid on, man. Your dreams should not make sense to everybody. You got to say something that make people go, "How you going to do that?' That's when you got the lid off. And if I were you, I'd do that, I'd take the lid off. Make sense to me, darnit.
Rule #2. Don't You Ever Stop Dreaming
The one thing that I have learned to relay to all of my children is to dream. There is nothing bigger than your dream. Nothing is greater than your dream. Now as we sit in this great educational institution, I am not saying that your education is not important, because it's tied to a lot of your dreams, but let me tell you something.
There ain't nothing, nothing, bigger than your dream, because your dream will propel you to get the education. Don't you ever stop dreaming. Don't you ever stop imagining. Oh, we're going to talk about them two things a lot. But don't you ever stop dreaming. Your Bible says a man without a dream or vision shall perish.
That's in your Bible. It ain't just in the one I read. No where in there does it say without education you perish. But it says without a dream or vision, you perish. So if what you are dreaming about requires an education, it is then your dream that propels you to get the education. But the dream is bigger than everything, man.
See, if it was an education that caused you to be great or successful. I ain't here today, 'cause I don't have one of them. But nobody could outdream me. Your dream is everything, man. It's the biggest part of your life.   Look man, it is that thing that God puts in you that don't let you sleep sometime.
It's your dream. It's that thing that part of you, man, that wakes you up and stirs the very pit of your soul. I've always taught my children to dream. The secret, though, the secret to real success is if you tie your gift to the dream.
Rule #3. Hustle
It's going to take more than a notion to become successful. 'Cause one you get this degree, it's actually just going to be a piece of paper on the paper on the wall. That's really all it's going to be. Some people may give you a job with it. The majority of people going to tell you how much experience you need. So you got to hustle, man.
Got to hustle. Hustle and grind, dig, man. Got to fight, you've got to have a lot of dog in you, man, to be rich. Now if you just want a job, get yourself a little job, create some nice, little life, get a little house, some grandkids.   Get yourself a little minivan, a station wagon, go on and ride your life out, ain't nothing wrong with that.
But if you really, really, really want to be bolder, change some people's lives, get yourselves some real money, hire people. Get more than one stream of income coming in, got to be hustlin', man. You got to be a hustler. You all in the tank. That shit is money, man.  Money can't buy you happiness, they ass don't have no money.
Let me tell you what, you go be poets, see how that work out. I lived in a car for three years, man. I struggled. But I had a dream and a vision. When I got there, I hustle, man. I hustle.
Rule #4. Learn From Your Mistakes
Every man in this room, you blew your 20s. You spent all your 30s tryin' to make up for your 20s.
Interviewer: Yep, that's the truth.
Dog, every dude in this room blew they 20s and at 30 tryin' to fix what they should have did in their 20s. And so far it's on. You turn 40, you're trying to recover from the mistakes you made when you 30.
Now at 40, man, it's time for you to start. Really, at 30 you need to start bucklin' it on down. And just realize, man, everybody make mistakes. And the mistakes you going through are going to help you become the person you need to be later on.
Interviewer: Steve Harvey.
All them mistakes, dog, they cool to make. I needed to mess up every marriage. I need to get arrested like I did. I needed to get shot. I needed all this, dog.
Interviewer: You got shot?
I needed to be home. Yeah, let's not bring that up.  Because all them people that be talkin' about, "Man, you get shot, it don't hurt it just burn." That's a complete lie.  Pow!  Oh, Jesus, Jesus!  I'm telling you, shot ain't what you want.
Interviewer: Shot aint cool.
I needed all them things to happen to turn me into who I am today. So when you're young and you make mistakes, don't let 'em eat you up, 'cause everybody that done made it done made 'em. You got to fail in order to win. Hey, look, man. To understand how to hit the game when it's shot, you got to miss the game when it's shot.
Interviewer: Steve Harvey .
You gots to miss 'em.
Rule #5. Be The Best Version Of You
Woman: Well, I'm stuck in a rut because I can't seem to follow through with anything. I went to college for a year-and-a-half and I dropped out. Then I went to cosmetology school. I completed that, but I never went back to get my license. Then I was a pharmacy technician. And I recently let that license expire as well. I just see so many people that are my age, and they're already set in their careers. And I just feel like at 29, I'm a people person, so I want to do something like human resources and I just need help. Like where do I begin?
First of all, you're talking about stuff that I can relate to, like so many others can relate to. I mean, everybody got the same story, we just got different details. But like I always say, life is 10% what happens to you. It's 90% what you do about it. See, we're going to dive into a chapter from my new book.
And it's chapter one, section one. This is very clear for people. So the first step is getting completely and brutally honest enough to say, "I am tired of myself." When you say, "I'm sick and tired of being sick and tired." That's the facilitator of change. That's when you're ready to say these words, "No more excuses."
No more excuses. I went to Kent State, I dropped out. Well, I didn't drop out, I flunked out. Now that threw my life into a spiral, but because I didn't have a college degree, I could not let that stop me. And like you're doing, where you're saying, "All my friends at this age are settled in their careers."
You don't even know if they're happy or not. Stop comparing yourself to others. So the first thing you do is stop focusing on other people. Instead, focus on being the best version of you that you can. Then you'll recognize that you deserve to sit at the big table with everybody else after you become the best that you can be.
Now once you've accepted that you have as much right to success and much right to succeed as anybody else, the next step is learning how to talk to talk. You have to get fluent in the language of success so you speak it with ease. Surround yourself with people who've accomplished their dreams. And immerse yourself in the culture of achievement.
Rule #6. Keep Going
I've learned if you're a farmer a farmer understands better than any other worker in this country. A farmer has an understanding that most people never achieve in their life. I really respect the farmers and their commitment. But I respect also their understanding. My grandfather and my uncle, the thing was to wake up early in the morning, before you start your day, you start your day by feeding all the animals.
I never understood that. Why am I feeding slop to these hogs? Bailin' this hay for these cows, taking food out to the hunting dogs? Going to get these mules and horses, walkin' 'em down to water? Why am I feeding these chickens, man? All this before I eat? My grandfather says, looked down at me, says, "Young man, if we don't take care of these animals "that we are requiring to take care of us," he said, "what's going to happen to us?" He said, "We're depending on them chickens to lay eggs, "to give us meat. "We're depending on them hogs for meet.
"We're depending on the mules to pull the plows "so we can plant. "We're depending on them horses "to drag all these wagons around. "We're dependent on these hunting dogs "to go out in the wood and uncover the animals for." So then what I respect about farmers is they understand that everything comes in seasons.
There is a planting season. And you got to plant, and plant, and plant, and plant, plow, till, hoe the rows, you got to do all that, seed it, fertilize it, in order for a crop to grow. Now here's what happens some years. Some years it's a drought, ain't no rain, ain't no crops.
Sometimes it's a flood, wipe out all the crops, all the plants. But, guess what? You still got to do the planting, 'cause what you're bankin' on is just enough rain, just enough sunshine so you can harvest.
And even the crops get washed out, even if the floods come, even if the drought come, the thing about a farmer, they do it all over again, because they understand that eventually you'll be able to harvest. And that's what I respect about farmers. And that's my life.
Rule #7. Push Through The Bad Breaks
You know, you got to be tough because the road to success is always under construction. It's never a clear path to success. The people who become successful are the people who have a relentless attitude.
And you just got to hang in there through the bad breaks, 'cause the bad breaks is comin', but they usually come right before the big break is about to happen. You get a series of bad breaks and it stumbles up a lot of people. My life and my success is to say to anyone, "You can stumble, you can fall, you can get back up again."
Rule #8. Commit To Your Own Gift
And like I've said before, we each have a gift. But too many people miss out because they refuse to sign the lease on their gift. You keep looking for it outside of you. Stop. Sit with yourself.
What is it that you do the absolute best with the least amount of effort? That's your gift. But if you are constantly looking outside of yourself and you don't latch onto your gift, you will never find your purpose. If you want to succeed, you must commit to your own gift and embrace it.
Rule #9. Expose Yourself
Knowledge is necessary to get you to the next level. But after you get to the next level, guess what? All that's out the window. Geometry, history, all that's out the window, man, sorry. You know? You got to learn this and this can only be learned in life, man. With you all sitting up in here catching first team is life lessons that you could use when you're 58. You understand?
You ain't going to, you just can't get this, it's not available. You got to see it. So what you're actually doing is… See the thing about knowledge, man, you can Google knowledge. You could go online and get knowledge on anything. You could press a button and read about this and read about that.
And you can go and repeat that. And people go, "Wow, he's knowledge." Okay, cool. But exposure, exposure is totally different. Exposure is when you see it, touch it, feel it, go there, experience. That's different. Exposure, once you open your mind to exposure you can never shrink your mind back down. 'Cause exposure don't decrease.
Once you've been exposed and your mind expands from exposure, you can't shrink it back down and act like it's okay. See, once you fly in first class, you can't walk past there without feeling some kind of way and watch them people shut that curtain. You can't. 'Cause the whole time you back there, see when I flew coach, man, everywhere I went, 'cause that's what I could afford to do.
When the plane take off and they close that curtain, the whole time I was wondering, what are they doing on the other side of that curtain? Well, they're denying the exposure, because they can't show you. They can't show you watching them people get a whole can of coke. They can't show you that they get their nuts warmed up in a container.
They can't show you that they give all them people a hot scented towel to freshen their face and hands. They can't show that to you, 'cause you didn't pay for that. See, you bought the coach ticket. So they closed the curtain. They don't even let you come up there and use their bathroom, because they just need to keep these 10 seats available for those people that pay.
That's what the curtains do. 'Cause they know if they expose you to it, then you're going to want it. "Hey, I want a whole can of coke." "Well, we can't do that, you didn't pay." Or "I want some hot peanuts." No, no, no, no, no. Now on the airplanes, you got to pay. Now they done figured it out, you got to pay for the sandwich.
You got to pay for the meal now. You get a choice, but you get to buy it now. It's crazy. Your first class ticket gets you a free food, gets you more than one bowl of nuts. You can get free drinks up there. You don't pay for beer and drinks in first class. It comes with the cost of the ticket. So once you sit in first class and you open your mind and expose your mind to it, see, bruh, you can't go sit in coach no more, 'cause you've been exposed.
But if you keep walking past first class and let 'em close the curtain and never get the experience, you can grow your whole life thinking coach is fine But mess around and buy yourself a first class ticket. You will forever be changed. And you will never forget what first class was like. But that's the beauty of exposure. It makes you aim and perform towards the exposure now.
So that's why Dick Gregory said you should always, whenever you can go first class, extend yourself beyond your normal levels of comfort, and buy your first class ticket. Get you a first class suit, get you a first class pair of shoes. 'Cause once you put it on, you understand what they're charging.
And now you are forever changed, because through exposure your mind cannot shrink back down. Knowledge, you can forget when Christopher discovered America. You can forget that equation for gravity. You can forget MC squared, you can forget that. You can forget what's the pi root theory. You could forget the square root of 181. You can forget the square root of 81, that's knowledge.
Rule #10. Have Fun
Jimmy Fallon: Come on, now, that's-
Steve Harvey: That's the back?
Jimmy Fallon: Yeah, that's the back. There you go.  You look good, man. Does look pretty good.  No, you look pretty good.
Steve Harvey:I like that.
Jimmy Fallon: You like that. That's a pretty good look. I got that. I got this, too, in case, 'cause this is the next step. If you don't do the green juice, you end up with that if you don't do the green juice. And then.
Steve Harvey:It's going, it's goin' on there.
Jimmy Fallon: That's what I'm talking about, and we're back.  We're back with Steve Harvey, everybody. He's talking about his new book. Steve, you had a great year.
Steve Harvey:We ain't going to talk about a damn thing when we come back. Get your ass out the way!
Jimmy Fallon: Hey, hey, old Steve Harvey, calm down. Can I get you anything? Can we get you a juice or anything?
Steve Harvey:I don't want no damn juice, I want to ham sandwich.  I want to ham sandwich and two white girls.
Jimmy Fallon: No, hey. No, hey.  Old Steve Harvey.
Thank You!
Thank you, guys, so much for watching. I really hope you enjoyed this video. If there's someone you'd like me to profile in the next Top 10, check out the link in the description and go and cast your vote.
I'd also love to know what was your favorite message from this video? What did you learn from this video that you're going to immediately apply somehow in your life or in your business? Please leave it down in the comments below. I'm really curious to find out.
I also want to give a quick shout out to Cyrus Webb. Cyrus, thank you so much for picking up a copy of my book, Your One Word, and posting it to LinkedIn with your review. I really, really, appreciate the support, man. And I'm so glad you enjoyed the book.
So thank you guys, again, for watching. I believe in you. I hope you continue to believe in yourself and whatever your one word is. Much love, I'll see you soon.
---
BONUS
Love What You Do
I have a lot of people who . To be honest with you, I'm very fortunate in that I love what I do. So when I'm hosting Family Feud, I'm on every day. I'm on a talk show every day. I got a live radio show, four hours every day. I love what I do. And I use humor to keep me alive and young. I'm 58, but I act like I'm eight.  And I just keep laughing, man.  You ever notice people don't laugh why they look older?
Audience: Yeah.
Man, just start laughing at some of these guys. We're goin' over here, look at all this .
Stop Complaining
Life is really 10% what happens to you and 90% what you do about it. Look, everybody in this room, everybody watching, everybody got something they got to deal with. Get to dealing with it. Stop complaining about it. Complaining about it only makes it stay present. Do something about it.  So life is 10% what happens to you, it's 90% what you do about it.
Write Down Your Vision
Don't you know that however your life is, that it can be even more wonderful than it really it? And young people, do you know that whatever you write that's what you're going to be? I was showing somebody my telephones, my iPhone. I got two iPhones. You cut 'em on, you cut my iPad on, you cut my laptop on, you cut every desktop I got in every office I got.
The same vision board pop up. Oprah said, "I didn't know you had a vision board." "You got one!"  If Oprah got a vision board, why ain't I going to have no vision board? What I'm crazy? I've been studying successful people for a long time. The all do the same thing. They all got visions and dreams and goals.
They're all written down somewhere. They all wake up excited about their life. They all run out of hours in the day because they just can't get it all done. And they can't wait for tomorrow. Now if your life ain't like that it's 'cause you aint' living your life in the fullest, man. Now who problem is that?
Summary
Rule number one is my personal favorite, and I'd love to know which one you guys like the best.
Steve Harvey's Rules
BONUS
I hope you enjoyed this article, make sure to check my Steve Harvey video on his Top 10 Rules For Success as well.
---
You might also like
---
More from Motivation
---
Watch Evan Carmichael's Top 10 Rules For Success video. Famous Entrepreneur Quotes Evan Carmichael's Quotes "Changing my environment had a dramatic impact …
Watch Mark Hamill's Top 10 Rules For Success video. Famous Entrepreneur Quotes Mark Hamill's Quotes "I love the allure, the danger, of …
Watch Brandon Beck's Top 10 Rules For Success video. Famous Entrepreneur Quotes Brandon Beck's Quotes "Whether you think you can do it, …