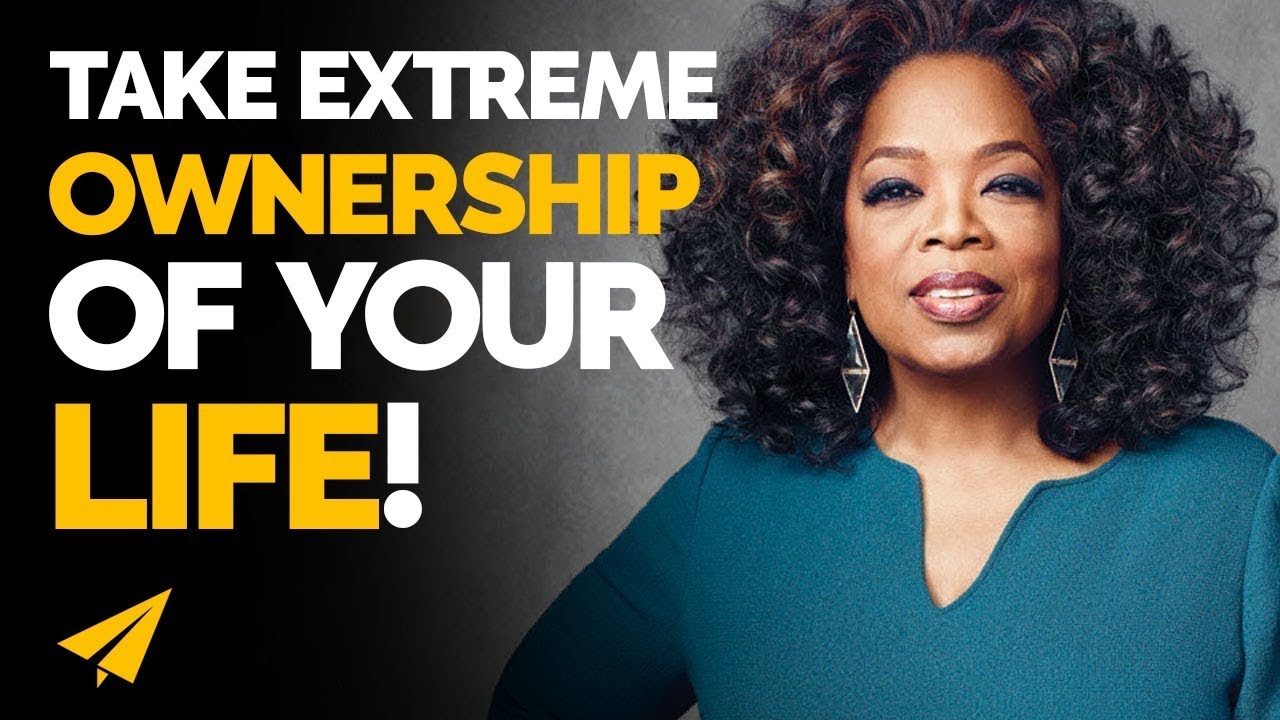 Good morning, Believe Nation. My name is Evan Carmichael, my one word is believe, and I believe that entrepreneurs will solve all of the world's major problems. So to help you on your journey, today's message is stop believing in luck. Over to you, Oprah Winfrey.
Stop Believeing In Luck – Oprah Winfrey
Nothing about my life is lucky, nothing. A lot of grace, a lot of blessings, a lot of divine order, but I don't believe in luck. For me luck is preparation meeting the moment of opportunity.
There is no luck without you being prepared to handle that moment of opportunity, and so what I would say for myself is that because of my hand in a hand and a force greater than my own, I have been prepared in ways that I didn't even know I was being prepared for, and the truth is, for me and for every person, every single thing that has ever happened in your life is preparing you for the moment that is to come.
Evan Carmichael
So I'm not a huge believer in luck either. You know, was it lucky that I was born in Canada? Yes. Was it lucky that I have amazing parents? Yes. Was it lucky that I didn't get hit by a bus on the way to the studio today to film for you guys? Yes. Was it lucky for me in entrepreneurship? Did it help in my business career? Maybe.
What I love doing is looking at success. I love modeling success, and I look at who's had the most success, who are the people who built the big companies, and it's almost never the people who are the children of really wealthy people.
It's almost never the people who have the most luck in the world, who had everything kind of handed to them. They had the most opportunity to create amazing things. They had connections and they had money and they had family and they had relationships and they had education, all the things that people think are really important.
Look at the top people who built the most amazing companies and look at their backgrounds. Most of them started off with nothing.
Most of them don't credit education, a formal education at least as being a thing that really helped them, if they even had formal education. Most of them didn't have great family connections. A lot of them are immigrants who came to the country with zero.
The ones who were born here didn't have a lot of money either. Despite them being unlucky, these are the guys who made it, and so I think a lot of people blame luck for them not having success. You look at someone who's had massive success and say, "Well, they were just lucky," and you know why? 'Cause it makes you feel good about yourself.
'Cause as long as you can believe that it's luck that is causing these people to be successful, it's luck that he got that loan or luck that she built that business or luck, as long as you believe it's luck, then you don't have to take any personal responsibility.
You're just not lucky. That's not your fault. It's not your fault you're not lucky. Those guys are lucky, you're not lucky. You're the same as them, you worked just as hard, you have the greatest ideas just like them. The only difference is luck. And if that's what you believe, then you're going to stay exactly where you are, and so that's the difference.
Taking personal accountability and saying, "I am where I am because of me." Growing up, you know, you're living with your parents, you take on their values, you do what they ask you to do to some extent, but at some point you decide, "I'm an adult, I'm going to change my life.
"I'm going to set the course for what I'm going to do." It's nobody else's fault anymore. You know, if you're not being fed when you're three years old, that's not your fault. But if you're not being fed when you're 25 years old, 30 years old, 40 years old, that's your fault.
You got to get out and start doing the work, and so I think a lot of people just blame bad luck as an excuse for not doing the work.I'm also a big believer in you have to, you play the cards that you're dealt.
Like a good poker player can win with any hand, so you just got to develop the skills, and a terrible poker player can lose with two aces, and so just figuring out, "This is what I've been dealt," so what? Are you going to spend the entire rest of your life complaining that you weren't born in the right country or have the right parents or have the right education or whatever excuses? You're just going to throw it in? That's your entire life now? This is what you were dealt and so I'm going to spend the rest of my life complaining? You do what you can with what you have.
That's one of my favorite quotes from Steve Wozniak, co-founder of Apple. They started with nothing. He sold his calculator to raise money and to start Apple, and he loves saying that too many people focus on what they don't have, or the successful people think about what you should be doing with what you already do have.
You have a lot. You have brains, you have the ability to hustle, you've got heart, you've got ideas, you've got passion. You could turn that crazy idea that's inside your head into reality, and you don't need luck, and you don't need most of the things that people think you need.
You just got to do the work every day and accept the responsibility that you are in your life where you are only because of you. Once you take that responsibility and accountability, then you also realize that you have the ability to change it.
When you make that commitment, amazing things start to happen.
Question Of The Day
So the question of the day today is I'm curious, what are your thoughts on luck? Do you believe in it or not? Does it help you in your business? Do you need it? Is it a requirement for success? Let me know what you think. Leave it down in the comments. I'm really curious to find out what you have to say.
I also want to give a quick shout out to Bonnie Ottaviani. Bonnie, thank you so much for picking up a copy of my book, Your One Word. I really appreciate the support and I hope you enjoyed the read.
So thank you guys so much for watching. I believe in you. I hope you continue to believe in yourself and whatever your one word is. Much love and I'll see you guys tomorrow morning for another shot of entspresso.
---
BONUS
Stop Believeing In Luck
Robin Sharma
You know, people like Mozart and Beckham and the great athletes, humanitarians, entrepreneurs, chess champions, were less about genetics and natural talent and what makes icons in whatever field you choose.
It's not your talent. It's things like the amount that you practice, your ability to stay with your practice for the 10,000 hours, your social circle. I mean, what made the great Brazilian footballers great was not that they have some natural thing by living in Brazil.
It's every little kid from pretty much the moment he's three or four years old, right, sees the heroes and it's the ticket out of poverty, and so all they do is touch the football every single day and night, and by the time they're 11 years old, they've touched the football millions of times and they are therefore untouchable compared to anyone else around the world, and all I'm saying is, genius is not something you're born with.
Genius is something that you apply. You don't get lucky, you make lucky. Success is not something that is, you know, divinely bestowed on you. Success, whether it's prosperity or whatever it is, is something that you earn by grit, hard work, finding the right people, doing the learning, et cetera.
Gary Vaynerchuk
Nothing in life is free. Nothing happens overnight. It all takes tons and tons of work and tons and tons of talent and tons of tons of serendipity, but my friends, luck, serendipity, there's a forced culture within that.
You know, you don't just sit in your room hoping and then something lucky happens. Nobody just knocks on your house's door and says, "Congratulations, you've been awarded this." Luck comes from being in the right spot.
I've been really lucky because I bleed out of my eyes every day of my life and work my face off. You get really lucky when you have that 11:30 PM meeting and one of the lucky thing happen.
Pretty cool, since all you were sleeping. I was pretty lucky. Weird that I scheduled that meeting 'cause I did a ton of things for 30 years that allowed me to even have that meeting in the first place that gave me the leverage to have that lucky thing happen.
There's no overnight successes, period. They don't exist. Show me, leave a comment on YouTube, leave the name, explain to me, tell me, show me, let me know, show me the overnight success, because I'll show you you justifying in your brain something that is just not true, period.
Jean-Claude Biver
The universe of passion is open to everybody. But many people don't know. They believe passion should come down from the sky. No, you go to find your passion.
Passion will not come to you. It is like luck, luck cannot come to you. You can buy as many Lotto things, you can make bets on Barcelona and Madrid. Luck will never come to you. But you go to luck, that's much more secure.
You go and go to take luck. If you stay and luck comes down to you, forget it. You will die and no luck will ever come. Luck is a process where you move to luck and you take luck and you say, "Come on luck, I keep you now," and you take another one tomorrow and so on.
---
You might also like
---
More from Entspresso
---
Today's message is be confident. Good morning believe nation, it's Evan. My one word is believe and I believe that …