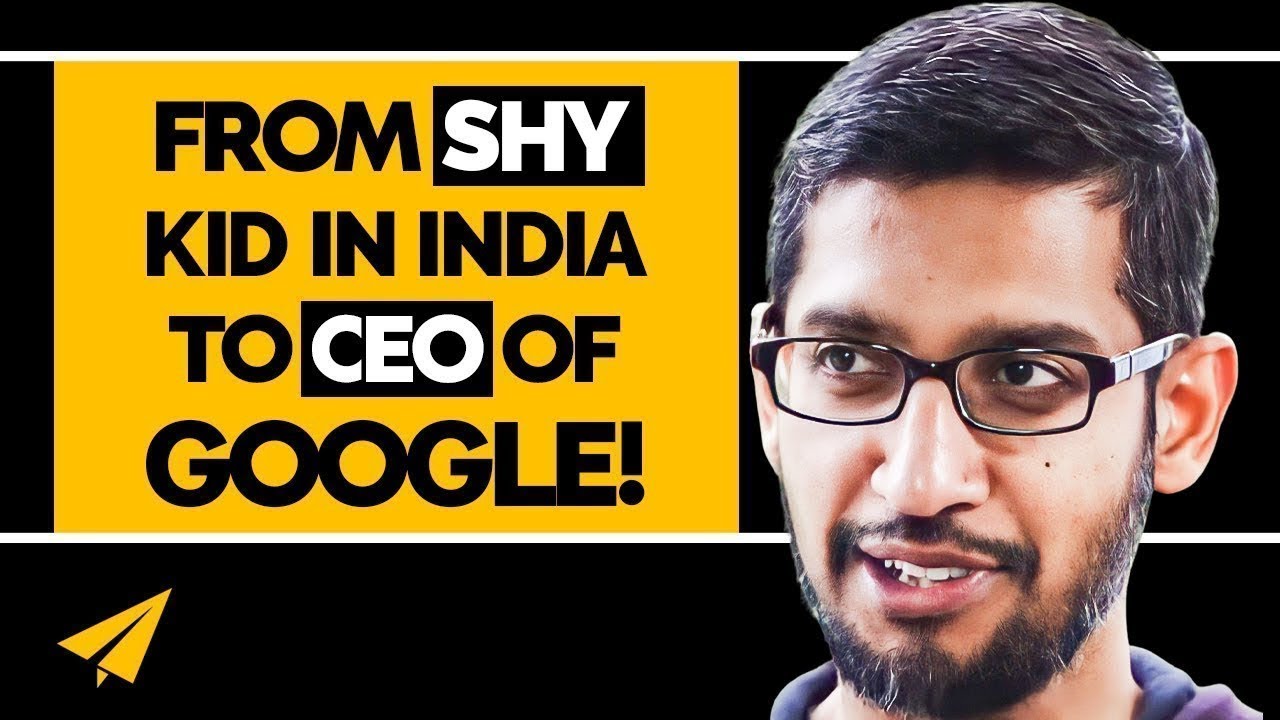 What's up Believe Nation.
I started the Mentor Me Series with the goal to hang around people who've done a lot more than us, who've been a lot more successful, and by spending a little more time with them, hopefully some of their mindset, their views, their beliefs, seep into us to help us become the best version of ourselves.
So today, we're going to learn from Sundar Pichai and his road to becoming the CEO of Google.
Mentor Me Sundar. And as always guys, when you're watching the videos, if you see something that really resonates with you, please leave it in the comments below and put quotes around it, so other people can be inspired, and if you write it down, it's much more likely to stick with yourself as well.  
…
STRIVE FOR GREATNESS
The thing which attracted me to Google and to Internet in general is that it's a great equalizer, and so to me, I've always been struck by the fact that Google Search worked the same.
"We drive technology as an equalizing force, as an enabler, to everyone around the world." – Sundar Pichai
As long as you had access to computer with connectivity, if you were to relocate anywhere or if you were a president of Stanford or Harvard.
And to me, you know, I want Google to strive to push to do that, not just build technology for a certain segment.
For me, it matters that, you know, we drive technology as an equalizing force, as an enabler, to everyone around the world.
FIND YOUR TRUE CALLING
Interviewer: What motivated you to switch fields from first metallurgy to management to computer science, and did you ever feel incompetent or even a bit insecure by working with people who were even more qualified in that field than you were.
You know, my background, I was always interested in technology, and the first chance I could get the program, I learned programming, so for me, I never thought of it as switching fields as much as when the Internet started happening, it took me awhile to realize the power of it, and you know it became obvious to me for the first time we are going to have something which could connect, one day, all of humanity and profoundly transform what people did, so I wanted to be a part of that, be a part of that journey, so that's how I thought of it.
"If you actually very secure in what you do, that means you're doing something comfortable, and you're not pushing yourself." – Sundar Pichai
So I didn't think of it necessarily as switching careers.
I would actually encourage all of you if at some point in your life, you have to work with people where you feel a bit insecure.
That's essential because that means you're working with people who are better than you, and who are pushing you, right?
So always encourage, if you actually very secure in what you do, that means you're doing something comfortable, and you're not pushing yourself.
There were many many times I felt working with people in a group, am I doing enough, these people seem much better than me, and I think that's an inherent part of learning.
ROCK YOUR INTERVIEW
You know I interviewed at Google on April first, 2004, which is April Fool's Day,  and Google had just announced Gmail, and it was invite only, and so, but people weren't exactly sure whether it was an April Fool's joke.
So I remember doing my interviews during the day and people kept asking me what do you think of Gmail, but I hadn't had a chance to use it.
I thought it was an April Fool's joke. So my first three interviews I couldn't answer it well because I hadn't used the product.
It was only in the fourth interview when someone asked me, have you seen Gmail?
I said no, and so he actually showed it to me. And then the fifth interviewer asked, what do you think of Gmail, and I was able to start answering it then, so the final four interviews I actually told them about what I think of Gmail and how to improve Gmail, and that's my interview experience.
Somebody also took me to have ice cream in the middle, which showed me Google is a very very different place as well. So that was how my interview process went.
Is it true that everyone at that time was .
I was one of the first people, I think, you know, I joined Google when we were over a thousand people, and Larry just at that point, it was the first time he had stopped interviewing people, so I still joke around that I got into Google because Larry didn't interview me.
KEEP YOUR DREAM ALIVE
I had a dream, just like I'm sure many many Indians, dreamt of being a Cricketer.
Interviewer: You did?  
Yeah. I used to be a huge fan of, sorry I'm old, but I used to be a huge fan of Gavaskar, you know, when he was playing.
And later on Sachin when he played, but so I always had a dream.
On a more serious note, I always loved technology growing up, and so I had dreams of just not exactly what I would do, but I wanted to do, at the time, I used to read about what was happening in Silicon Valley, and I wanted to go be a part of it.
So I didn't exactly dream of carrier as much as a destination.
Interviewer: You're sitting in  in a room that wasn't quite as fancy as this hall is, and there is no Google, so how are you keeping in touch with what Silicon Valley is doing and how are you dreaming?
Wow, I have to think about that for a minute. There was no Internet too, and it was pre all that.
You know mostly reading. My uncle had gone to the states, and I was interested in semiconductors and so on, and William Shockley, the person who kind of invented semiconnectors was from Silicon Valley, so I had read a story about him staying, working through, at Stanford, close to Christmas Eve, and so stuff like that. For what I was interested in, I knew that's where it was happening.
LEAD OTHERS TO SUCCESS
Interviewer: But what is Sundar Pichai like, as a leader?
You know, I think-
Interviewer: What is your leadership style.
"It's really important to build organizations where people actually want to work together." – Sundar Pichai
When you turn it on something the scale of Google, we have now over 60,000 people, and you know, you rely on other strong leaders.
A lot of what I do, is you know, I have an outstanding leadership team.
It's learning to let go and really empowering people at all levels of the organization.
And trusting them to do the right thing. As a leader, a lot of your job is to make those people successful. It's less about trying to be successful and more about making sure you have good people, and your work is to remove barriers, remove roadblocks for them so that they can be successful in what they do.
And so that's how I've always thought about it. And also valued teamwork quite a bit.
I think it's really important to build organizations where people actually want to work together. Everything comes out of that. So setting up collaborative cultures is another big thing I try to focus on.
Interviewer: So it's not about one person, it's about the team.
That's right.
Interviewer: And if you team succeeds, you also succeed with them.
Absolutely.
ENJOY THE JOURNEY
You know, I would, I really encourage people to, you know, I think, there's a lot of pressure in today's system.
I get surprised people start preparing for IT in their eighth grades, and that's a bit shocking to me.
I hope, I hope, you know, as people are approaching things they are really taking the time, doing things in a deeper way.
"It's important to keep your hopes, keep your dreams, and try to follow them." – Sundar Pichai
Understanding things deeper.
Learning by doing things, and you know, I think it's important to remember it's a long road.
Setbacks actually don't matter.
I think a lot of times when I was younger, people would say this person didn't get into this college or something, and that's the end of the road.
Life is so different from that.
And so I think it's important to keep your hopes, keep your dreams, and try to follow them.
I think most of how life plays out is up to you, not up to what happens outside of you, and I think it's important to keep that in mind and take the long-term view.
…
Evan: Thank you guys so much for watching.
I'd love to know what did you think?
What did you learn from Sunday today that is going to have the biggest impact on your life or your business?
What was your favorite clip and why?
Leave it down in the comments below, and I'm going to join in the discussion. I also want to give a quick shout-out to Julio Velez. Julio thank you so much for picking up a copy of my book, Your One Word, and for making that book summary video on your YouTube video channel. I really really really appreciate your support.
So this book is called Your One Word by Evan Carmichael.
So thank you guys again for watching. I believe in you. I hope you continue to believe in yourself and whatever your one word is. Much love. I'll see you soon.
---
You might also like
---
More from Sundar Pichai
---
What's up, Believe Nation? It's Evan. My one word is believe and I believe in people more than they believe …
Good morning, Believe Nation, my name is Evan Carmichael. My one word is "Believe", and I believe that entrepreneurs will …
So you know, a big part of what I focus on at any given time is making sure we are …