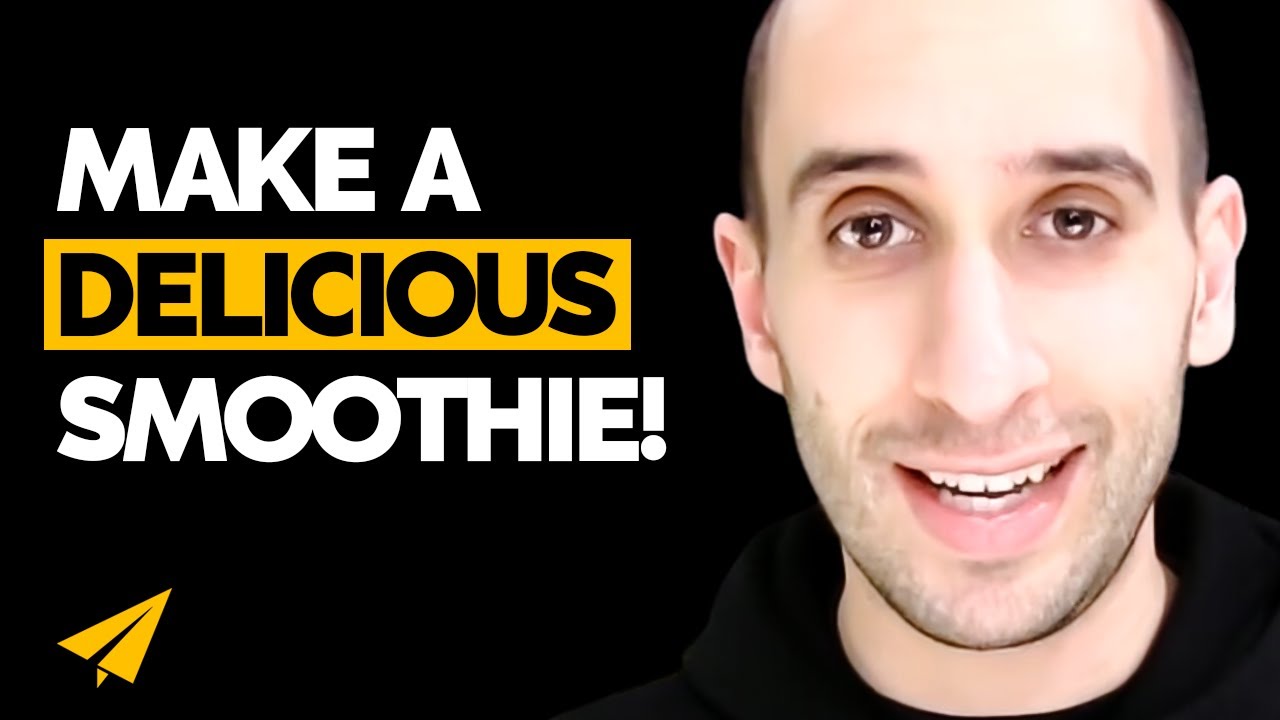 Nina wants me to make her a smoothie!
All right believe nation, happy weekend, Nina wants me to make her a smoothie.
And so I'm going to get my best shot. She's going to hopefully guide me, and I'm looking forward to hearing what you guys have to think, and your favorite smoothie recipes. Let's do it! Nina!
Nina: Huh?
What am I doing?
Nina: Just wash the kale.
Wash the kale, I can do that.
Nina: But first wash the sink first, otherwise the sink is gross.
Listen, I'm going to do it my way.
Nina: No, kale, wash the sink.
It's my smoothie for you to drink.
Nina: No, for me to drink, of course it has to be clean. If it's not clean I'm going to get stomach ache and I'll have to bother you all day.
Ooh, doesn't sound good. I'm going to plug in the camera 'cause it's battery's going to die. Okay, step one, I need kale, let's go. Kale, where's the kale? Where's the kale?
Nina: In the fridge!
I'm in the fridge, do we need carrots?
No.
No carrots?
Nina: Just kale and cucumber.
Pizza, how 'about some pizza?
Nina: You can have the pizza.
Yummy smoothie? Kale, kale. Ah, I found the kale! I found some kale! Okay how much kale Nina?
Nina: All!
What, all of it?
Yes.
All of the kale, there's a red pepper in with the kale.
Nina: You eat the red pepper, but don't put it in the smoothie.
Kale and?
Nina: Cucumbers!
Cucumbers, how much?
Nina: One!
Okay, and?
Nina: Banana and the fruit, that's it.
Banana? Banana, the brown banana?
Nina: Yes!
Evan: These are good?
Nina: Yes.
These look nasty, look at this. Look at this, holy cow. How many, one banana?
Nina: Yes.
Kind of afraid to touch these bananas to be honest. Have you ever seen a banana this black before?
Nina: Okay, it's okay, just do it.
This is, holy cow, is this what you put in my smoothies? Anything else, other fruits?
Nina: Frozen fruit.
Frozen fruits. Do these qualify as fruits, what is this? Dates?
Nina: And the frozen fruits in the freezer.
Frozen fruits are in the freezer, that's some quality guidelines right there.
Nina: Baby it's making fun of you.
This thing?
Yeah!
This thing, how much of this?
Nina: One handful, that's it.
One handful, I'm going to put my hand in this frozen fruit. It's like one giant block cube of frozen fruit. I don't know how to separate that, we'll see. Okay, guys, to make this epic smoothie, you need, ready? This is exact proportions, you need this much kale, one rotten banana, you need a whole cucumber, and a handful of frozen fruit. Okay, what do we need to wash? The cucumber, do we need to wash Nina?
Nina: Yes.
Cucumber, you guys, you need to wash. Banana, we don't need to wash, we just need to get a tetanus shot before, and the kale we need to wash, so let's do some washing.  Cut off the edge of the cucumber. All right, we are ready to blend. What?
Nina: You have to wash the kale.
I washed the kale.
No.
I did.
Nina: No, how many kale did you put in?
The whole thing.
No baby, okay, I'll wash it.
What do you mean? It's right there, I washed it.
I'll wash it baby.
I washed the whole thing, look at it.
No, that's not how you wash it.
I washed the kale, Nina's not happy with how I washed the kale, she's going to wash it. What is it, that's garbage?
Yes.
Evan: How come?
Nina: It's just the yellow and the stems.
Guys, pro tip, if it's yellow and it has stems on kale, you don't blend that stuff, okay? Get your act together. All right, now we're ready to blend! So we use a Vitamix, get out your Vitamix guys! Are
we just going to put everything in it, and just blend? Huh?
Yes.
No water or anything?
Nina: Yes, water.
Water, like how much water?
Nina: Up to half.
Up to half water? Really? Okay, we're going to put some water in here, we're not quite sure how much, maybe up to half, but first we put all of our ingredients in the Vitamix. Professional level here, okay? Got my kale, starting with the kale. Squash that in there. This is epic, wow, this is a lot of kale. We have our cucumber, the professional way to do this is to break it in half like that, and squash it into the Vitamix as much as you can. 'Kay? Next, we have our rotten banana. I feel like I need special gloves to hold this thing, but let's peel it. Oh it's getting all mushy just peeling it, this is nasty, you know what, I'm going to cut off the top. Oh, guys, oh my God, this is so gross. Okay guys, use your special gloves, I don't need gloves because I'm Evan Carmichael. But if you're handling a banana like this, this is just not, guys, look at this, this is what we keep in the fridge. This is nastiest thing-
It's not nasty!
This is, this is just, I don't want to touch this, I am Evan Carmichael but even touching this, I feel like it's going to, look, it can't even stay up by itself, it's so soggy this thing. This is just wrong, okay, guys, banana, don't touch the actual banana, find a way to get it in there without touching anything 'cause, you might get an infection. Okay, there, it sticks up but that's okay.
Nina: How 'about the tip, the tip?
What do you want, the tip off?
Nina: Cut it off.
Okay guys, when you see the tip like that, you may think, wow, that's a nasty looking tip, so,  let's keep this entire nasty banana, but that, that's gross, oh my God let's cut that off! Okay? Oh, wow, it's so much better now! This is nasty, okay, guys, if it's hanging out like this, cut it in half, don't touch it, you might die. Oh man, okay, this is-
You spat all over yourself.
I spat on myself, it's better than touching that, I'm dying touching that thing. Okay, so far we have this, next, we take this giant block of frozen fruit and take a handful of it somehow. 'Cause it's all smushed together in one giant block and I need to take a handful of this somehow, so let's see what happens. This is what you learn on this quality YouTube channel. First challenge is undoing the knot, okay? When there's a big giant knot in a plastic bag my tendency would be to just rip a hole in the bag. I'd have to deal with a very angry Chinese woman yelling at me, so I need to find a way to undo this knot, holy cow, it's frozen! You know, they make special knots in China that are extra tough, that you apply to frozen fruit bags, to prevent the animals from getting in. Okay, there we go. Now the wife's instructions was, take a handful, so let's try that. Oh, this is working really well, my hands are frozen. How am I supposed to take a handful of this?
Oh my God, let me do, no, no, no, don't you-
Holy cow, that's frozen solid!
Nina: Let me help you!
No no, you got to explain to me, I can't need to, oh my God.
Just shake-
Just smash it?
Nina: Yeah.
You're going to ruin the countertop.
Nina: You won't ruin this thing.
This is a surprise video, okay? At the end you better be really surprised about this amazing thing that I made for you. That's hurts, okay, I need something.
Nina: No, just do that.
I'm not going to smash it on the countertop.
Nina: It won't break, I've done that before.
Hold on. Guys, it's really important when you're making smoothies to not forget your hammer, okay? Really important kitchen ingredient that helps you in lots of situations, okay? We have our
bag of frozen, I want to say vegetables, fruit.
Nina: Oh my God!
Guys, pro tip, when hammering the fruit out of the bag, aim it so that the bag is not going towards the floor. Now we need a handful.
Nina: Wash it, it's on the floor.
Guys if you drop food on the floor, you wash it, okay? Oh my God it's so cold. This is a handful. Okay, handful of fruit, we have one grape, one grape, and then one blueberry, one blueberry, four pieces of pineapple, and three honeydew. A honeydew, what is this? That's the perfect quantity for this smoothie, so remember that, okay, when you're buying your ingredients, one blueberry, three pieces of pineapple. When you tie the bag back up, make sure it's not in the crazy Chinese knot so you can undo it. Last step, before we blend we got to add some water 'cause that is not going to blend. So we put some water in here.
Nina: That's it.
So just like that, so the water goes to, can't even see it, where's the water line? See there, see that water line? That means it's perfect, okay? Look at this, look at how gross that banana looks on top, that looks like the least appetizing thing I've ever seen. Look at that banana, bananas are supposed to be yellow, did you know that? All right, Vitamix, let's get our Vitamix out. There it is, all right, we plug that in. It's going to get noisy. But it's going to be tasty, the perfect entrepreneur smoothie about to come out.  And we're done! This is actually super helpful 'cause you can smush it down when it's not behaving. There we go, look at that, awesome. All I smell is cucumber, this looks nasty. Okay, holy cow. Things are falling on me, what are we going to put it in? Let's get our Starbucks tumbler. How much do you want Nina?
Nina: Doesn't matter.
Okay, doesn't matter, let's get something smaller. I should give it to her in this, it'll make her freak out. But, we got to be nice to her. We'll do this, we'll do the AWeber mug, AWeber mug, okay. Let's pour that in there. Perfect, so this is it. This is the moment of truth that we've all been waiting for. Okay, Nina. Nina, honey, I have a surprise for you! I have a surprise, oh there she is, look at what I made.
Nina: Oh, hello!
Huh, okay? Why don't you look at, why don't you smile at the camera?
Smell like cucumber.
Yeah I know, there was just one cucumber. Okay try it.
You going to have some?
No. I know what's in there, it's gross.
It's not gross.
That banana is going to give me nightmares, dude. You try it first, see if you can handle it.
That's what I've been using in your smoothies.
Okay, don't make me think about that, okay go, and? Holy cow you're downing it. Okay, that's not how you drink a smoothie, you drink it like it's water. You're supposed to taste it, can you enjoy
the flavor that I put into this?
Yeah it's yummy.
Is it?
No it's yummy!
All I see is rotten banana and all I smell is cucumber. There's a lot of backwash in here.
Yeah I spit.
It's not bad actually. It's all me. You know what it is, it's the one blueberry, made all the difference. Guys make sure to add one blueberry. It's not bad actually.
You can have more. Well if they want it sweeter they could add more fruit.
This is my video, okay, you want Nina cooking video go check out her cooking channel. This is Life With Evan, okay? Or Evan cooks, sometimes,
What if you want, if you want it to be sweeter, you can put more fruit in there. Or add a date in there, we have a date.
I asked if you wanted dates.
You didn't ask me.
Yeah, yeah, yeah, frozen dates.
No.
I did!
No.
Do these qualify as fruits, what is this, dates?
No, we don't have frozen dates.
We don't have frozen dates, what is this? What's this?
That's Chinese dates, it's not for-
Oh, so Chinese dates are not dates.
No I didn't say it's not date, and it's not meant for smoothie, there's another date in-
So we have dates in the freezer.
Okay, thank you guys for watching, I hope you guys enjoyed this video, it's such a really funny video. Continue to believe in whatever your one word, we will see you soon, bye!
You did good. I mean you should be saying that to me, I did good.
You did well, baby, you did well.
Chinese dates aren't dates.
---
You might also like
---
More from Evan Carmichael
---
What's up, Believe Nation? Greetings from London, England. It's Evan. My one word is believe and I believe in people, …
Watch Evan Carmichael's Top 10 Rules For Success video. Famous Entrepreneur Quotes Evan Carmichael's Quotes "Changing my environment had a dramatic impact …
Today we're going to look at seven different ways that you can make business alliances. What's up Believe Nation? It's Evan. …