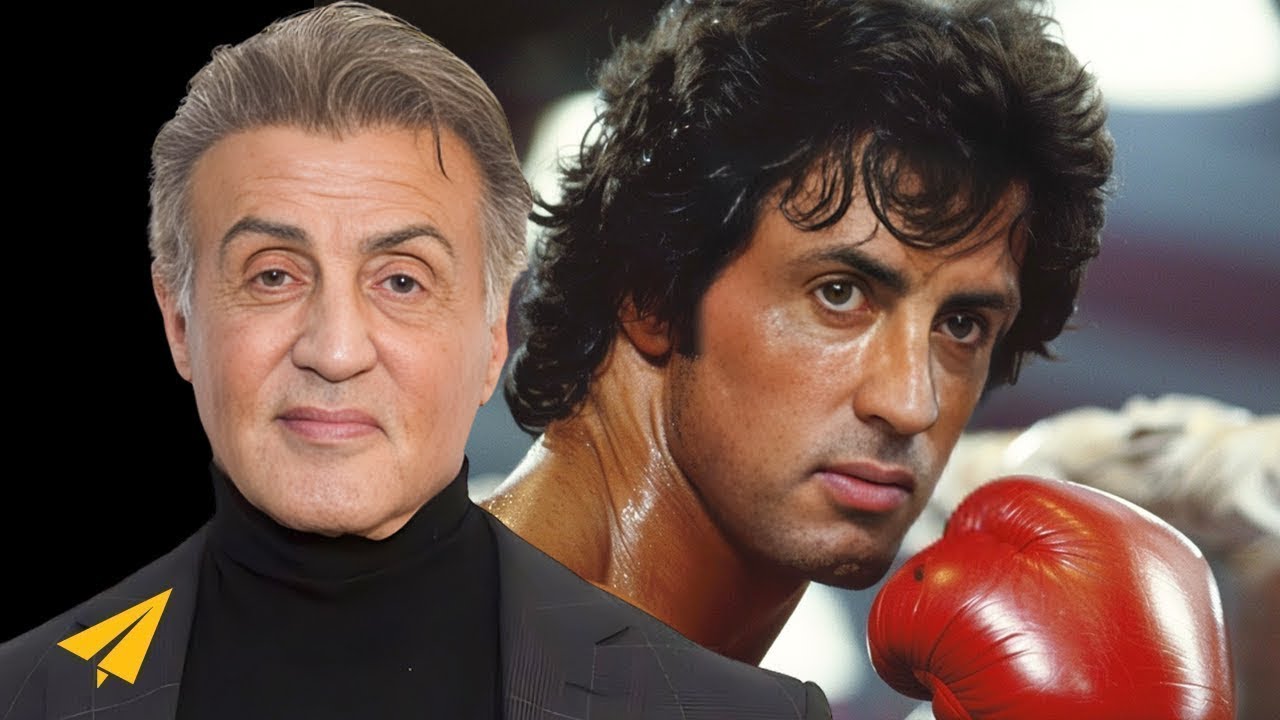 I couldn't even get cast as an Italian, I'll never forget where there was a party scene, is this 300 guests,  I said no.
But the fear is the fuel that we use for overachievement. If I wasn't afraid at times, I wouldn't work as hard.
You've got to take chances, you've got to gamble, and if you win 51% of the time, you've got it made.
Sylvester Stallone's Top 10 Rules For Success – Volume 2
Evan: He's an American actor, filmmaker and screenwriter.
He's best known for his roles as Rocky Balboa, and John Rambo.
Philadelphia also has a statue of his Rocky character permanently placed by the Museum of Art.
He's Sylvester Stallone, and here's my take on his Top Ten Rules for Success, volume two.
Rule number one is my personal favorite, and I'd love to know which one you guys like the best.
And as always as you're watching, if you hear something that really resonates with you, please leave it in the comments below, put quotes around it so other people can be inspired as well, and when you write it down, it's much more likely to stick with you as well. Enjoy!
---
Sylvester Stallone's Rules
#Believe in your dreams
Take control of your life
Leave your comfort zone
Be fueled by fear
Gamble
Pursue the unknown
Just try
Keep going
Be a FIGHTER
Have fun
BONUS
Motivate others
Push hard
Don't do it for the money
Rule #1. #Believe In Your Dreams
I truly believe, and people throw the word around, dreams, it's all about dreams, and by the way, dreams cost nothing, they're free. The hard part is just keeping them going, and please keep them going because we're here for one simple reason, he believed in the dream, I believed in the dream, and our dreams come true, and there's no reason every one of yours can't either. Thank you very much.
Rule #2. Take Control Of Your Life
Let's start from the beginning. Was there ever a time that you doubted yourself?
Yeah, you know I thought, when I lived in basically this flophouse, it's $26 a week, very transient, and you shared a floor with 10 people, you don't know anybody on the plan, literally no one.
I think I recall you saying, you're acting at one point, The Godfather, and you said you couldn't even get in a…
I couldn't even get cast as an Italian, I never forget where there was a party scene, is this 300 guests?  I said no. I go, what part of me didn't make it past the Italian identification aspect, he goes, eh, I don't know, you just don't fit in, I went, wow, God's telling me something.
That's got to
That's got to play with your psyche a little bit!
Little bit.
I don't know. But it didn't, and you decided to take matters into your own hands, by writing Rocky.
Y'know, I been comin' here for six years, six years you been stickin' it to me, I want to know how come.
You want to know?
I want to know!
Okay I'm going to tell ya! 'Cause you had the talent to become a good fighter, and instead of that, you became a lane breaker.
You were able to write Rocky in three and a half days. The movie that went on to be Best Picture, you wrote in three and a half days?
Yes, yes.
Was it just flowing out of you?
In a way it was, I knew that this was going to be very flawed, but if I could get from the beginning to the end, with some semblance of a character, then I'll repair the rest along the way.
And you want to star in it, and you're told no, you were even offered $250,000-  360.
360, you're a struggling actor.
Ooh…
You can't make ends meet.
No.
You're getting offerred all this money, but you didn't take it.
No, I just didn't understand how the rules of life were played at that point, but this character, I understood.
Rule #3. Leave Your Comfort Zone
If I had to rewind the clock ten years, I would have insisted, by people that were close to me, that please, push me into very unsafe projects, at least every other one. I think it's professionally responsible to not continue to remake the same film over and over again, you know, what's tonight? Turkey TV dinner, turkey TV dinner…
Rule #4. Be Fueled By Fear
There's always fear, and I even put it in Rocky II, that he's, "I'm afraid, I'm afraid." But the fear is the fuel that we use for overachievement. If I wasn't afraid at times, I wouldn't work as hard, 'cause the fear is, I don't want to sit back in mediocrity, I don't want to to just say, I want to rest on my laurels, so I hear footsteps all the time, and I know that I only have a certain amount of time and I don't want to waste it, because it's gone so quickly, since Rocky it's been almost seven and a half, eight years, I think that Don and I are just overachievers because we know that there's only a certain amount of productivity in a day and we don't want to waste it.
Rule #5. Gamble
I am at the whims of the character that I play, that's who people think I am, not Sylvester Stallone. Most people, when I go around the world, it's like, Hey Rocky, hey Rambo, it's not you. In one way it's very flattering, you know, it's like, you've come up with something that they enjoy, but I know that if I gave them another Rocky, another Rambo all the time, they would sour on it, you know, even though I do things that aren't successful, the main thing in my work ethic, is you've got to take chances, you've got to gamble, and if you win 51% of the time, you've got it made.
Rule #6. Pursue The Unknown
What do you mean, don't think about this, when you starting treatment? I'm not doing no chemotherapy. I'm not crazy at all. If I could take everything that was good, and put it into a bowl or something, and say hey, here, I'd like to buy one more day with my wife, I'd do it. Everything I got, is moved on, and I'm here. I never wanted to do this movie. I thought, sick Rocky is so counter-intuitive to what Rocky really is designed for.
I just lay there, I said, can someone else be sick in the movie and not me, 'cause I've never done that. My wife goes, "You're a coward," and I went, "You know that's kind of a harsh word" he goes "No no, you're yellow basically, you're a coward." It goes against every undeclared artistic rule, if you're afraid of something, that's the commitment of the artist, that's his duty, to pursue the unknown, to go someplace where he's literally at odds with himself.
Adonis: "You all right there, old man?"
Rocky: "Yeah." You know if you look hard enough, you can see your whole life from up here.
Adonis: How does it look?
Rocky: Not bad at all.
Rule #7. Just Try
Narrator: Stallone wrote a screenplay for a boxing film called Rocky with himself as the lead. The studio loved the script, but wanted Sly to step aside for a big name actor. Despite intense pressure, Stallone refused to give in.
You have to try, you have to see if you really are what you think you are, and by that I mean, I wanted one chance to prove whether I was a good actor, or that I was a lousy actor, or whether I should go get a Dairy Queen stand or what I should do, or even maybe I should get out of acting, and I just needed one vehicle to prove it. I had to be up there just enough to say, "Jesus, you stink Stallone," or, "Not bad!"
Narrator: The studio finally agreed. Sly gave it 100%.
I started about five months into training, and I had a regime of abstaining from hacky pracky, and eating a lot of meat, and developing a Tyrannosaurus Rex mentality, running and sparring and taking the bruises, but I felt that that came out in the film. I knew this was my one shot and I wasn't about to cheat on it, I wasn't about to come in there and look like Tinkerbell for an hour and a half, I had this, "Oh God if I stink at least let me skink with class!" Something, and geez, it was so great.
Rule #8. Keep Going
In arm wrestling rules, if you lift out of the cup like this, that does disqualify, it disqualifies…
You had cheated.
Well let's just say I lost my Australian rules.
Derryn: Well let's have a quick look at it again and just see how rough it really was.
Sylvester: All right. Now, in arm wrestling the elbow must remain on the table. Am I right?
Evening up there, yeah.
Okay, now this man, here we go, and he's very strong, this guy is strong, all right here we go, he is hitting himself, the match is over, and now he is going north, up up up up excuse me
Derryn: You see he's using his hand, his arm to lift his other arm.
Sylvester: I mean, I'm pointing, thank you, end of match. Now, we should cut the tape at this point
Not bad, but okay, even at a time like that…
No, I got to say, this guy is strong, he's strong.
But do you hate losing?
No, you see, I don't, I don't, that's my philosophy, you go out, you try, sometimes you get bad breaks, sometimes people don't play by the rules, whatever it is, but nah, I'm not one of those people who are obsessed with it. I'm competitive, oh yeah, I'm real competitive, but I've never been like obsessed with, "I must go back."
I like to try until the end, like if I'm working on a character, I want to push and push and push until the breaking point but I've never been like in sports where I have to go out, matter of fact, I play on a football team, we had a ten game season, we were O and 10 for this season. O and 10.
You lost 10.
And I was the captain, you know what I mean, it's like, how do you get, so I'm used to it.
Rule #9. Be A Fighter
Whenever you're saying Rocky, I always feel as though we're giving a vote of confidence for these great athletes, for real, you know I've never pretended to be a boxer, I don't possess those skills, but what I do think I have is an understanding of what goes on outside the ring.
Outside the ring is sometimes maybe even a bigger struggle than what goes on inside the ring, and if I was able to capture that, then I believe you can identify more with a fighter but more than that, we also realize that our life is a constant battle, sometimes I write things in Rocky that may seem a little precious as they say, or a little sentimental, but I truly believe it's not how hard you can hit, it's how hard you can get hit, and keep moving forward, because that's really what does make the difference in your life,  you know.
It really does. You're all fantastic. These men here have always been held in a special reverence for me, greatest athletes in the world, but more than that, they are our connection to the past, and our way to the future, they are the guys that go there and take the blows and show that if you really put it out there on the line, you are a champion. You may not be the champion of the world but you'll be the champion of your life, and yo, Adrian, I did it!
I think that personal ambition is worth fighting for, it really is something that if you don't fight for it, you're going to regret it for the rest of your life, and if you regret it, you could be an unhappy person, if you're an unhappy person it can affect your family, so you can see the chain of command all the way down, it can be pretty devastating.
The common answer is we fight for family, yeah, but fighting for family starts with you, so you got to fight for peace of mind, that's what I think, you have to go for, what makes you happy enough in your life that you want to make other people happy?
Rule #10. Have Fun
I don't know about anyone else, but I really feel it's a privilege to be here tonight, and I'm going to try my best to, what?
You stole my script! You stole my script, don't you dare .. No, I'm sorry, I watched the movie, you stole my script, all that was me…You been puttin' me on for years, Ali…Show me what you're going to do, show me what you can do!
Know my real name, doncha?
Thank You!
Thank you guys so much for watching, I'd love to know what did you take from this video, what was the most important lesson that you learned, that blew your mind, that you're going to immediately apply to your life or your business somehow, please leave it down in the comments below, I'm super curious to find out.
Also if you want to nominate someone for the next top ten video, please check the description for a link to a video where you can vote for people and put in your suggestions as well.
I also want to give a quick shout out to Bailey Cooper, thank you so much Bailey for picking up a copy of my book, Your One Word, and putting it in your YouTube video, I really appreciate the support man, and I'm glad you're enjoying the read.
Your One Word, by Evan Carmichael, and I strongly recommend this book.
So thank you guys again for watching, I believe in you, I hope you continue to believe in yourself, and whatever, your one word is, much love, I'll see you soon.
---
BONUS
Motivate Others
If I didn't make it as an actor, writer, painter, I would have gone into something in the physical vein, something where, I would have liked to have been a coach of some sort, because I enjoy motivating a great deal, I really do. I like to motivate.
Everybody around you.
Yes, I do.
Push Hard
I've been discovered, I've been around for a while, all I want to do is get a certain kind of momentum going and do films that I'm not ashamed of or really disappoint my audience, you know, I'm not the new young kid on the block by any means, I've been around quite a while, that's all, I just want to pick up, I feel like George Foreman, he kind of left on a kind of dubious note, I want to come back and do the things that I do best and really push it as far as humanly possible that I can do, I like the challenge, that's all.
Don't Do It For Money
If people were to say that the money at a certain point is not important, I think they would be, I think they would be reveling in a serious case of mendacity,  I believe that when you get to a certain level and you see one performer is getting a number right away, you feel as though, okay, to be respected, it becomes a numbers game. I think more importantly it is to the agent, than quite often it is to the actor, for example, in the film I just completed I was paid nothing, zero.
That's Cop Land.
Absolutely nothing, I mean…
You'll get some back in profit if it ….. If it does, you gamble.
If it does well.
But you see, that to me is, I've never been, quote, a mercenary, at one time I thought I was, but it's not about money, otherwise I wouldn't waive this, and I would take the safe route – And it's not about buying more art or buying more cars or buying more homes,
No, no no, no, no, no.
Or any of that stuff, You're way beyond that.
No, really, I have all the material comforts one needs, now it's all about the,  the library of memories you leave behind.
The body of work.
Exactly right.
---
You might also like
---
More from Sylvester Stallone
---
Today, we're going to learn how to ignite the fire within you. Hello, Believe Nation. It's Evan. My one word …
Good morning believe nation my name is Evan Carmichael my one word is believe and I believe that entrepreneurs will …
Good morning Believe Nation! My name is Evan Carmichael, my one word is Believe, and I believe that entrepreneurs are …