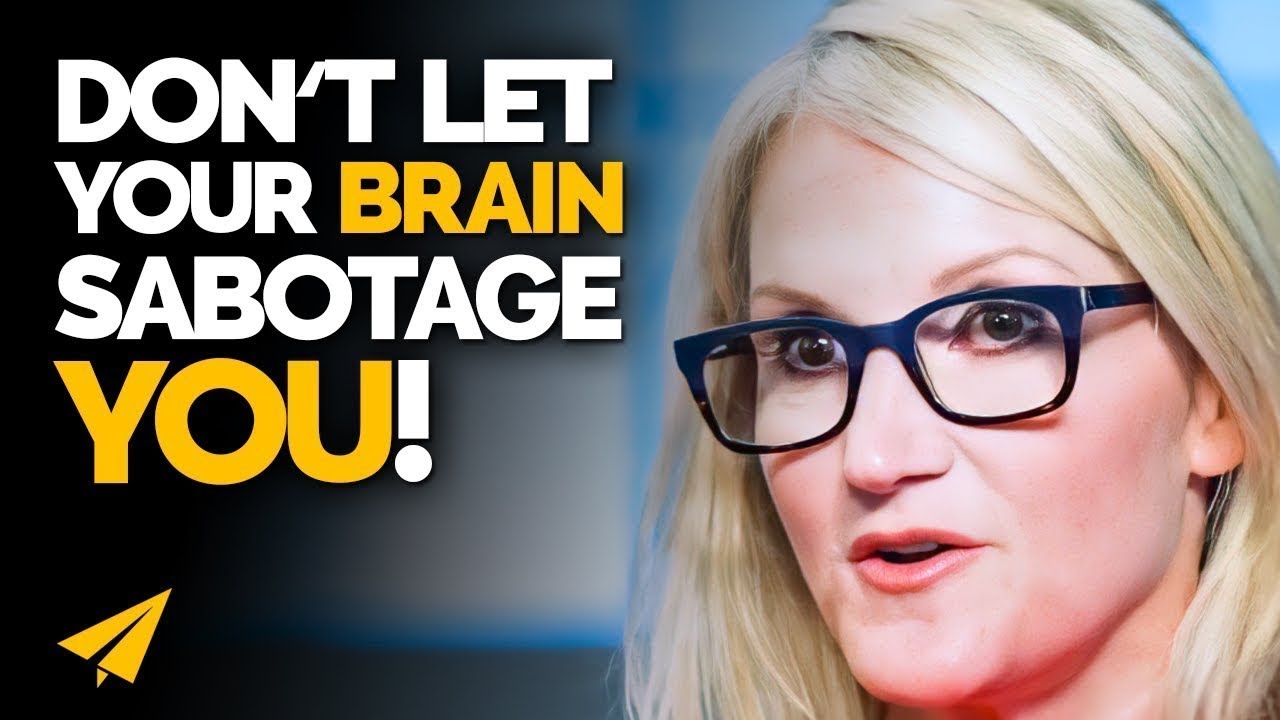 Good morning Believe Nation, my name is Evan Carmichael, my one word is believe. And I believe that entrepreneurs will solve all of the world's major problems. So to help you on your journey, today's message is: take action. Over to you Mel Robbins.
Take Action – Mel Robbins
One night, Chris had gone to bed. I had been struggling, struggling, struggling. We still had all the same problems. I, we still had a lien on the house, still facing bankruptcy, still fighting like crazy, I was still unemployed.
He still, they still hadn't figured out, like, the solution yet for the business. And I was about to turn off the TV, and there on the TV there was this rocket launching, and I thought, Oh my gosh, that is it! I am going to launch myself out of bed like a rocket ship, like NASA, right here, had launched me out of that bed. And I am going to move so fast that I don't think.
I'm going to beat my brain. Now here is a really interesting point. I talk a lot about your instincts and inner wisdom, and we can get into this a little bit later, but a lot of us talk about the fact that you have a gut feeling.
But what all this research that I've done for the book, and all the speaking that I do, what I've discovered that's fascinating is actually, when you set goals, when you have an intention on something that you want to change about your life, your brain helps you.
What it does is it opens up a checklist and then your brain goes to work trying to remind you of that intention that you set. And it's really important to develop the skill. And I say that word purposefully, the skill of knowing how to hear that inner wisdom and that intention kicking in. And leaning into it quickly.
So for me, my brain saying, that's it, right there. Move as fast as a rocket, Mel. I wanted to change my life, and I think most people that are miserable, or that are really, like, dying to be great, and dying to have more, we want to change, we want to live a better life, we want to create more for our families, we want to be happier.
The desire is there. Again, it's about how do you go from knowledge to action? So the first thing in this story that's important is realizing that the answer was in me, and my mind was telling me, pay attention. It could have also been the bourbon.  I mean I had a couple Manhattans that night, but. Anyway, the next morning, the alarm goes off and I pretended NASA was there.
It's the stupidest story. I literally went five, four, three, two, one. I counted out loud, and then I stood up. And I'll never forget standing there in my bedroom. It was dark, it was cold, it was winter in Boston.
And for the first time in three months, I had beaten my habit of hitting the snooze button. I couldn't believe it, and I thought, wait a minute. Counting backwards, that is the dumbest thing I've ever heard of in my entire life. Well the next morning I used it again, and it worked. The next morning I used it again, and it worked.
The next morning I used it again, and it worked. And then I started to notice something really interesting. There were moments all day long, all day long, just like that five second moment in bed, where I knew, knowledge, what I should do. And if I didn't move within five seconds, my brain would step in and talk me out of it.
Every human being has a five second window. Might even be shorter for you. You have about a five second window in which you can move from idea to action before your brain kicks into full gear and sabotages any change in behavior.
Cause remember, your brain is wired to stop you from doing things that are uncomfortable, or uncertain, or scary. It's your job to learn how to move from those ideas that could change everything, into acting on them.
Evan Carmichael
Taking action is a cure-all. Taking action solves all the problems that you're going through. Whatever problem you have, whatever thing is in front of you, whatever obstacle is there that seems usurmountable, it's not going to get fixed by just sitting and complaining and wallowing, and feeling sorry for yourself.
It happens from taking action. As soon as you can move from that place of being unhappy and desperate, and sorry for yourself to how do I solve this? Who do I need to contact to help me? How can I use the resources I have to fix this? As soon as you start moving to that land, that's when you start to make progress.
Taking action is the cure-all. This is what happens so many times to entrepreneurs, not even just with problems, but with ideas in general. How often do you get an idea for something that you want to do, and then you say, tomorrow I'm going to do it? And then tomorrow comes, you don't do it. How many times?
That happens, that happens over and over and over and over and again. It's a human condition. It's not just entrepreneurs. We have these things, these ambitions, these drives that we set for ourselves and then we don't follow through on. The best way to start on that idea you have is to take action.
"Taking action is a cure-all. Taking action solves all the problems that you're going through." – Evan Carmichael
Do something immediately. As soon as you set a goal, I want to start a YouTube channel. Great. What are you going to do on You Tube channel? I want to interview people. Amazing. Today, set up your YouTube channel and send out ten emails to people to ask them for interviews.
People that you know, people who you think will say yes. When you commit to somebody else, you're much more likely to follow through. And what happens is perfection becomes the enemy of action. You want to make it perfect, and because you make it perfect it gets more and more and more and more complex, and complexion is the enemy of execution.
Because you build it up to be this big thing, this big scary thing that has to be perfect. You don't do anything. Before I set up my YouTube channel I need to have the perfect channel art, and I need to have the right thumbnails, and I need to know what my script is going to be, and I need to know my intro and opener, and I need the gear.
All of these things that you need to have to make a perfect video. And because it becomes this big thing, you don't do anything about it. And then the next day you wake up, and it's gone. Poof. As soon as you set a goal for yourself, I want to go and do this, the best next thing you can do is take some form of immediate action and ideally, commit to somebody else.
Whether it's a friend, whether it's a potential customer, whether you're sending emails out, whether it's your family, whether it's a neighbor, commit to somebody else. Because when you do that, you're much more likely to follow through because you won't let them down. You'll let yourself down all the time.
You'll let yourself down every morning when you wake up and hit the snooze button. You're letting yourself down. The first thing you do in the morning is let yourself down. You set a goal, Boom. I let myself down. You let yourself down all the time. But you won't let other people down nearly as much. So take immediate action, and then follow through with somebody else so that you don't let yourself, and them down.
Question Of The Day
So the question of the day today is, I'm curious, what is one big goal you have, and one action that you're going to take today, not tomorrow, right now, right after posting this comment, you're going to go take action, immediately? Leave it down in the comments below.
Really curious to find out. I also want to give a quick shout out to Julia from insidethejewelbox.com. Julia, thank you so much for picking up a copy of my book, Your One Word. I really, really, really appreciate the support, and I hope you're enjoying the read.
Thank you guys again for watching. I believe in you. I hope you continue to believe in yourelf, and whatever your one word is. Much love and I'll see you guys again tomorrow morning for another shot of Entspresso.
---
BONUS
Take action
Terry Crew
Take action. Whatever you want to do, whatever you're thinking about it, you will not get it until you take action, make that move. Make it a small step. If you want a house, go get a rug. You know what I mean? If you want a new car, go get some car freshener. Take action. Make this thing happen for you, and it will happen. Action, action, action. You know one thing that I can really attribute to every failure in my life, whether it be personal, financial, any kind of way, business, whatever, it's because of a lack of my attempt to take action. I did not take action. And, it kind of changed once I got the fact that action is the key. It changed my life.
Brendon Burchard
You have to actually show up every day and inch yourself forward toward these dreams. And not only show up every day and once in a while inch yourself, I mean every day, you have to actually take an action that moves you forward. Not just research, not just thinking. Look, the power of the intention is great, but without any initiative it's dead, right. A dream is great, but without any movement, it's dead. You have to be moving towards it every day. You can send an email every day, you can make a call every day, you can write something every day, you can create something everyday, you can contribute something every day, but it has to be daily. Otherwise it will never become actualized. The highest performers in the world didn't get there cause they were lucky. They worked at it longer than everyone else. They had a better work ethic, and it's not that they necessarily always worked harder. They worked smarter because they were doing the research, they were taking the time to visualize how they would be distinct, different, how they would survive the tough times. They really kept at it. Keep every single day momentum going, and if you don't do that, there's no chance.
Jack Canfield
One of the functions of belief is taking action. We did a survey of about 2000 top entrepreneurs, and we noticed that one of the things that people who win in that world have is a bias for action. If they have an inspiration, they act on it. How many of you have ever had a great idea, talked about it, thought about it, didn't do it.
Then someone else did it and was successful, and you went, darn, I should have done that? Maybe it was buy that piece of property. You notice we all have that piece of property we wish we'd bought? You know. Anyway, so we're going to be looking at the idea that taking action is part of law of attraction.
See, a lot of people think you just sit in your room, meditate, visualize having the perfect car, the perfect house, the perfect relationship, then it'll kind of just come to you. And I always say, unless you live at the bottom of a hill,  right. So, think about this, the last six letters of the word, attraction, spell what?
A-C-T-I-O-N, action. Now there's two kinds of actions that are critical. There's obvious actions. If you want a certain kind of car, you should go down and test drive it. You should find out how much it costs. You should see what it costs to maintain it.
You should go, you know, spend, I like to test drive a car three or four times, go down to the dealer, take a camera, stick my head out the window and say, take a picture of me, I'll be back to buy it.  Put it up on my refrigerator, look at it every day. Eventually, you know, those kind of things produce car, right, saving for it and so forth.
But there are also things called inspired actions. All of a sudden, you get an inspiration to do something, and you didn't know what it was. You don't have the sense of like, how's this rationally going to make sense for me to move forward in my life? I'll give you an example. A friend if mine, Dr. Ignatius Piazza, graduates chiropractic school.
He wants to move to Monterey, near Pebble Beach, where the golf course is. And he gets there and he says to the local Chiropractic Association, like to join you, I'd like you to help me get my practice started, and they said, we don't need any more chiropractors. We have one chiropractor for every eight people in this area; there's too many.
Now he could've said, okay, let the external reality control his internal experience, but he didn't do that. He said I'm going to think about this, and visualize it, and believe in it, and something will come that I will do.
And what came to him to do was to take six months before he opened his office, and put a pin where he wanted his office and in concentric circles, knock on every door in every neighborhood, saying, Hi, I'm a new doctor in town, can I ask you a few questions? You know, I'm starting this practice, should I open from five til nine in the morning, or should I be open from five until nine at night for people who have nine to five jobs? Which would be better? Should I advertise in this paper, or that paper? Should I call it Ignatius Piazza Chiropractic, or Chiropractic West? And then his last question was, if I have an open house, would you like to receive an invitation? They said yes, he wrote it down.
Now over six months, he knocked on 12,500 doors, talked to 6,500 people, and gathered over 4,000 names of people who said, yes, I'd like an invitation to your open house. Now, when he opened his office six months later in a town that did not need another chiropractor, according to the professionals, his first month in practice he netted $72,000.
In his first year in practice, his gross income was over a million dollars. I was giving a talk and mentioned this story just about five years ago, and this happened about 25 years ago. Someone said, he knocked on my door.  And he left his card. And two years later, I needed a chiropractor, and I called him.
Because we work with people we know, we've had an experience with, right. So he trusted his intuition, he took action on it. Other people would say, uh, guess I can't have what I want. You got to be willing to take the action.
---
You might also like
---
More from Brendon Burchard
---
Today we're going to learn how to communicate effectively.  Good morning, Believe Nation. It's Evan. My one word is believe, …
Today, we're going to talk about how you can create a massive action plan. Good morning, believe nation. My name …
Today we're helping you to stay motivated, and to learn how to motivate yourself! How to MOTIVATE Yourself - #BelieveLife Why MotivationGrid We're all …