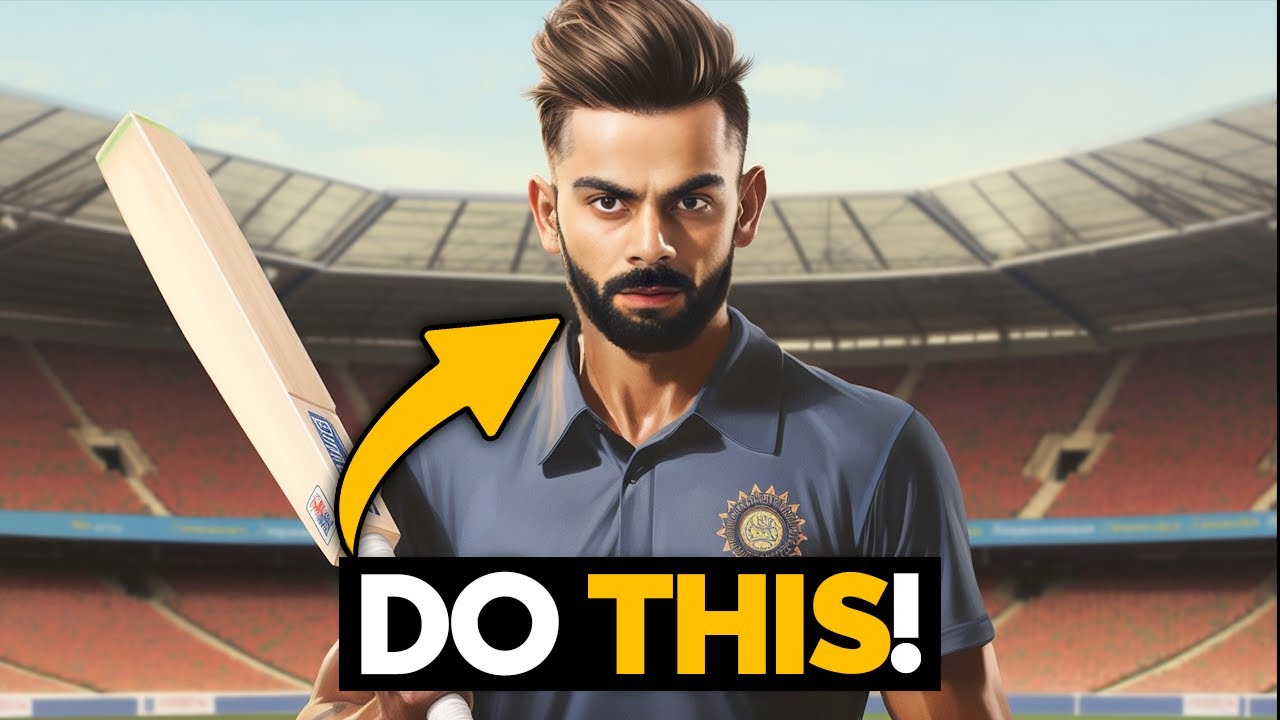 Good morning, Believe Nation! Today's message is "Take Criticism." Over to you, Virat Kohli.
When I was criticized, the first time I played for India, I was criticized for not being disciplined, and not being that focused, as I had to be.
So, I ignored that during the first part, 'cause I thought, "okay, I'm going to perform, so all these things don't have to bother me." But, yeah I mean, if someone criticizes you, it's better to actually take the criticism and look into it.
"I sat and I analyzed what I did wrong, and improved on a lot of things, and it was good that I decided to take that criticism and actually change the stuff I needed to." – Virat Kohli
If something's wrong, and you try to correct it, rather than just being blind and just ignoring the world, and yeah, I looked upon it, because I was out of the team, after that, for a while. And I sat and I analyzed what I did wrong, and improved on a lot of things, and it was good that I decided to take that criticism and actually change the stuff I needed to.
Evan: I think criticism is a double-edged sword. I think, on the one hand, if all you do is listen to other people, then you're never going to be really who you are. Right? You're just going to be living to other people's expectations. You're just going to be doing things because other people tell you that that's what you're supposed to do, and that is never going to be the path for you to really be amazing at something.
But on the other hand, you don't have all the answers, either. Right? You have a path that you're going down, and you need help. To figure it out. And you're going to make mistakes. Not everything you do is going to be perfect and amazing. And so it's, being able to understand the difference.
Being able to understand what the feedback is that's going to help you get to the path that you want, and ignore the rest. I think it's really important that you use criticism as a counselor, but not a jailer. A lot of times, people use criticism as a jailer. Where, they're afraid to do something because somebody else doesn't agree with them. Because somebody thinks that your video is bad, now you're not going to post it.
"Being able to understand what the feedback is that's going to help you get to the path that you want, and ignore the rest." – Evan Carmichael
Now you're never going to post another video again. Because of one person's opinion. And I've had people tell me that some of my videos are bad. My famous story about how the Littleman was created. Industry executives said that the video was too long, and should be cut down, and here it is, over a million views later, coming up on two million views. I didn't listen to him. He's the expert. But I didn't listen to him, because it felt like I needed to go and do this. Even just to prove to myself. Even just to try it.
But there's been other times, when industry experts have given me advice on how to be a better speaker, how to be a better YouTuber, how to come up with better points, how to be more effective on-stage. So being able to understand the difference between the feedback that will help you grow, and the feedback that, whoa, I think isn't important, and that comes from experience. And it comes from being able to listen to your gut, right?
Trust in your heart. Almost all the feedback that I've gotten from people that have made me better, was almost never exactly what I needed to hear. I had to take their advice, try it, right, if you're unsure, if you think maybe it's just your ego getting in your way, then try it, and see how it works, and then I always have to make a tweak to it.
I remember I had a media coach for two years helping me with my videos, helping me get better, helping me improve on camera. And all of her advice was so amazing, but always seen through her own lens. And I always had to take that advice, and adjust it. I would try what she asked me to do, and I never succeeded at doing it (laughs). It felt uncomfortable, it felt awkward, it felt like it wasn't me, but I appreciate the push. And from that push, I hit a wall, and then I swerved and made my way through.
I grew, and I had to figure out on my own how to make what she had given me, that advice, and make it better, make it more me, 'cause she can't be me, to make me better. Just like when you model success. If you look up to Steve Jobs or Oprah Winfrey or Bill Gates, or Martha Stewart, or any of these entrepreneurs that we prop on this channel, you can't do exactly what they did, because you are not them.
You can take what they did, apply the lesson, and tweak it, to make it your own. And then you're going to have that success. And so I think a lot of entrepreneurs are really stubborn. I think that's a really good trait a lot of times. But I think that stubbornness can also hold us back from hearing feedback, that can help us become better. I like to say that I'm open until I'm not. At the start of any project, I'm really open to feedback. If I don't know what I'm doing, I have a goal, I want to accomplish this goal, and I don't know how to do it, I'm very open to feedback.
"You can take what they did, apply the lesson, and tweak it, to make it your own." – Evan Carmichael
Do you have an idea to help me get better? Amazing, let's hear it. You're an industry expert, awesome. You've never seen this before, but you still have an opinion? I want to hear it. I'm collecting as much information as possible, until I make a decision. Until I'm certain. Until I know that this is the path I want to take, and then I'm not open. Then I'm closed. Then I'm, this is what we're doing. At least for now, right? Like, I need to test it out like this. This is the plan, let's stick to it. If it doesn't work, we'll adjust, but for now, I'm done with the feedback, let's take some action.
And I think too many entrepreneurs just hold themselves back. Either from their stubbornness, to not taking the feedback, or, all they do is take in the feedback, and that holds them back from actually taking any action, because they're afraid of being judged so harshly the next time. Use feedback as a counselor, and not a jailer. (whoosh)
So my Question of the Day today is, what was the single best piece of feedback you've ever received, for your business? Leave it in the comments below, I'm going to join in the discussion, I'm super curious to see what you guys have to say. I also want to give a quick shout-out to Peter Borstner.
Peter, thank you so much for picking up a copy of my book, "Your One Word," it really, really means a lot to me. Thank you guys so much for watching. I believe in you. I hope you continue to believe in yourself. And whatever your one word is. Much love, and I'll see you again tomorrow morning for another shot of Entspresso.
Hey Believe Nation, for those of you who want a little bit more about taking criticism, here's a few bonus clips that I wanted to share with you. I hope you enjoy.
---
BONUS
Sri Sri Ravi Shankar
I am one who always welcomes criticism. And I encourage people, you should welcome criticism. And be bold enough to give criticism. If the criticism is coming out of benevolence, that I want, that someone is criticising me so that I can become better. Then it is always welcome.
But if someone is criticising just out of jealousy, or trying to pull someone down, then that is not good. Then that is coming from a malific mindset. So, constructive criticism I feel everyone should welcome.
Criticism with compassion, criticism fits love. It's most a durability, and it should always be welcomed.
Brendon Bruchard
You need to get in a community where you can get feedback. You need either a coach who can give you some direct, one-to-one feedback, or a community of friends you just go out with.
Maybe you go to lunch with them once a month. You share everything you're doing, they give you some feedback. Or you shoot a video, you send that video out to everybody, get some feedback on it.
You create a PowerPoint? Practice if with five people before the bit meeting. Get back in the game, where you have a community of people who are giving you advanced feedback, before you release it.
"You need to get in a community where you can get feedback." – Brendon Bruchard
Feedback before you do it, so that you get smarter at all of this. Because nothing makes a dream come more into life than when you start getting feedback from other people about your movement toward the dream, you know? And before I shoot a big sales video for one of my online courses, I'll send it out to 15, 20 people, and get feedback, and then I'll often go re-shoot it again.
Or I'll put it out into my community, and I'll see the clips and the conversions and say, it's not, let's do it again. And it's that willingness to get feedback, that will keep your dream alive, because if it's just in your mind, and you're just doing it by yourself, but you never actually get a positive community, giving you constructive feedback towards it.
It will never be in the social realm. And when it is in the social realm, it feels more real, you know? When people actually comment. It's one thing to be an artist, and in your studio painting for yourself all day.
That's great. But once you get some feedback on it, and constructive feedback, you get that self-awareness, and that social awareness, to contribute and create at another level.
Vinod Khosla
Experience in your business is important. But is experience is a bias. And much of the biases people have from understanding a business, is not useful. And I was going back to what useful advice to give. So I always say, have some people on your team, who understand they not see you are angering or attacking, but be driven by original thinking. And what's more important than experience, is the rate of learning.
Right.
Some entrepreneurs I find, respond negatively to critique. I think entrepreneurs should look for critique, and people who agree with you are not being useful to you.
Quentin Tarantino
Well you know, I have to say, you know, all that criticism that came out, it ended up being kind of a good thing. Because one of the things that I wanted to do, was I wanted to actually start a conversation, about slavery, about America's role in it.
And to actually take an audience member from the 21st Century, and stick them in the Antebellum South, and have a sense of what America was like back then. And, so even the people that have criticized the movie, and a lot of people don't like it, and I can understand, though a lot of people do like it.
And they've been kind of going back-and-forth. And that back-and-forth is really what I really wanted for the end of the day of this movie, and I hope that continues for the next few years.
Stephen King
[Audience Member] If you have ever dealt with self-criticism in writing, and if so, how have you dealt with it?
Well I deal with it every day. You want it to be the best that it can be. And so, my assumption is always, that what I've written first needs to be improved, and sometimes, when it's really bad, it has to be scrapped. I'm not sure that's what you mean. The process that I go through with a book is first draft, second draft, polish, and, I can polish every day's work, so that I can produce a clean manuscript at the end of X number of months. Or in the case of a book like "11/22/63,"
A little bit longer but, you know, that was like historical novel, and that was a lot like work. And I still got this huge stack of books about the 60s, and Kennedy, and Oswald in the corner. And I don't even try to look at it, it gives me the horrors.
But you have to be careful, and you have to be willing to take outside criticism too. From editors, and the more successful you are, the more you need to try to do the right thing. That's all I can say.
[Audience Member] Thank you.
---
You might also like
---
More from Entspresso
---
Today's message is be confident. Good morning believe nation, it's Evan. My one word is believe and I believe that …