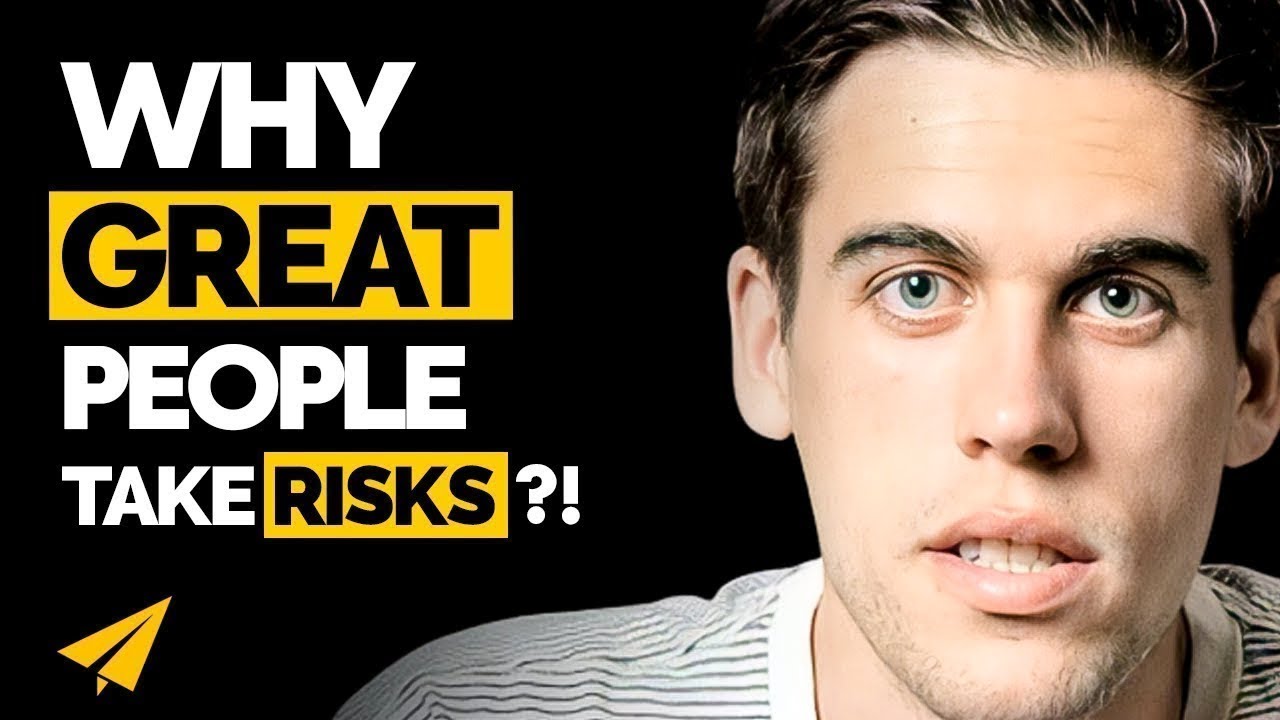 Hello Believe Nation, today we're going to talk about how you can take risks.
And as always if you hear something that is really relevant to you, that you love the message of, please leave it in the comments below and put quotes around it so other people can be inspired as well. Enjoy.
Ryan Holiday
"Just because you're doing something and you're successful at it does not mean you have to continue doing it and in some ways your willingness to take big risks defines where your life is going to go." – Ryan Holiday
It's like right now, I got a great house and I got this cool stuff. If the right opportunity comes up, am I willing to leverage all that to bet again? Your willingness to take those risks, especially when you're young is the difference between an average life and an extraordinary life.
Ashton Kutcher
But I took this big risk and quit school. I quit the one thing that was sure-fire and became a model and got really bored really fast. I didn't love being a coat hanger and then I became an actor, which was like a coat hanger that talks. And then I ultimately skipped full loop and came back around and by the way when you talk you're generally not speaking your own words you're speaking somebody else's words and trying to make it sound really real.
And then I did full loop around and started looking at technology again. So I started getting interested in technology and started getting interested in engineering. And started really getting interested in solving problems. Solving my own problems and then solving other people's problems. And what the value of that is.
Whether it's technology or philanthropy or actually even performing or being an actor. I started to make it about solving problems and I think that's probably the single biggest thing that as an Angel investor I look for in entrepreneurs is people who genuinely want to solve a problem.
A real problem. A problem that exists not just for themselves but sometimes just for themselves and then it sort of turns into this wave effect that solves other people's problems. And sometimes by trying to solve your own problem, you're solving everybody else's problems.
Because generally if you want to affect the world you have to change yourself first, everybody tries to go out and change the world by changing other people and other things but the real way to do it is by changing yourself.
"And sometimes making those really uncomfortable choices to go up against everyone in your life that you look up to and take that risk to go be a model."  – Ashton Kutcher
Or go do this thing that nobody else is doing.
Natalie Portman
People told me that Black Swan was an artistic risk. A scary challenge to try to portray a professional ballet dancer but it didn't feel like courage or daring that drew me to it. I was so oblivious to my own limits that I did things I was woefully unprepared to do. And so the very inexperience that in college had made me feel insecure and made me want to play by other's rules now was making me actually take risks, I didn't even realize were risks.
When Darren asked me if I could do ballet, I told him that I was basically a ballerina. Which, by the way, I whole heartedly believed. When it quickly became clear in preparing for the film that I was maybe 15 years away from being a ballerina. It made me work a million times harder and of course the magic of cinema and body doubles helped the final effect.
"But the point is, if I had known my own limitations I never would have taken the risk and the risk lead to one of my greatest artistic and personal experiences in that I not only felt completely free, I also met my husband during filming." – Natalie Portman
Pitbull
When I visit students, I also tell them that the greatest risk they take is not taking one. Which, by the way, Miss Martinez taught me that. And I use it to this day. Anytime I feel that should I?
"I feel nervous, like I feel right now. I take the risk." – Pitbull
And for all the students, for all the teachers and for all the educators here, we have to take risk. If we don't take that risk, I go back to it. It's the biggest risk we take.
Sundar Pichai
You'll have many opportunities to reinvent yourself.
"So I think it's worthwhile taking risks, trying to do something you're really excited by and if the first attempt you don't do it you can try again and you know things tend to work out in the long run." – Sundar Pichai
In Silicon Valley you know is in poverty and so many people start up a company. You know, starting up a company and even having failed you know you can wear it like a badge of honor. Right? And I think that's important, you know culturally risk is rewarded.
I remember when I started working at Google, if I went and people are discussing ideas. The other people who heard the idea and started building on those ideas, they encourage you. So it's a culture of optimism, it's a culture of risk taking and I think that's really important.
Paulo Coelho
"I think that you have to take risks all the time. If you don't do that, you don't move forward." – Paulo Coelho
We are trying to be too conservative in the way that you think life. And the results is that nobody is the first up to say I don't agree with this, I agree with that so we have to push our individuality. To make sure that our voice can be heard.
Stan Lee
There was one time, and I don't even remember it. Might have been the Fantastic Four or some other book. We had a story that I thought wasn't that good. But we were stuck with it. We had to send it out, it was the due date. I didn't have time to do it over.
And on the cover I wrote a little note, I don't remember the exact words but something like hey kids! I've got to admit this isn't the best story we've ever done, but we've given you so many good ones before we think you owe it to us to buy this one also. Everybody thought I was crazy. That book sold better than most of the others in that period and I got a ton of mail saying you guys are great! Nobody else would have written anything like that!
Paul Orfalea
I don't know now a days if rejection is part of your every day life. So, I think a lot of business in doing things is just the idea of having resilience. I'm going to ask you all a question. If your little five year old comes to you with a painting from school, what are you going to say?
[Audience Member] Good job!
Absolutely the worst thing you can say. Because what you do by saying good job is you teach a child to please others rather than please themselves. What you might want to say is tell me about the painting and why did you do it.
"I don't know if today people are risk takers." – Paul Orfalea
They want a lot of atta boys. You have to get it from within sooner or later. So I'm not sure. Can I amplify a little bit?
Interviewer: Absolutely, please.
Here I am, I'm at UFC and it's really not complicated. I saw all these people in line, Xeroxing. What a discovery. If they're Xeroxing at UFC why wouldn't they Xerox at Santa Barbara? Was this? Such a brief search. I didn't invent the Xerox machine. They were just in line Xeroxing.
And at one point all the customers could see I had all the customers in line. My own workers could see how much money I was taking in. We expanded every college in America. What always baffled me is why I didn't have more people across the street competing with me.
And I think even back then we weren't risk takers. But look back on your grandparents. If your grandparents had seen that I had something good with customers in line, you think they would've been out there competing with me in a heartbeat? So I'm not sure risk taking is as rewarded as it should be.
Carlos Ghosn
Interviewer: You had pretty ambitious sales targets. Are you going to be able to hit those?
You never know until the last minute. You know? The objective of when you make a long term plan is not to make sure, from the beginning, that you're going to hit that because if you are sure from the beginning you're going to hit all your targets that means your targets are conservative. That's the only way you can be sure.
So you want to maintain a certain stretch inside the company and be innovative and creative and finding new products and new solutions in order to hit the target. So it's risky but that's the price to pay for the company. – Carlos Ghosn
Ben Carson
"Almost any accomplishment in the history of the world has come at the hands of the people who have taken risk." – Ben Carson
People who ar willing to push the envelope. People who are willing to explore the unknown. Even if you go and you look in the Bible. The people that are held up as the heroes they're not the ones who were sitting in a tent under an olive tree. You know?
They were people who were going out there and doing stuff. And you know the key thing about taking risk is learning. And if something doesn't work out, learn from it. And then you're able to move further. We have to always recognize that knowledge frequently comes at a price.
Thomas Edison said 999 ways that a light bulb did not work. Many of us are familiar with the cleaning formula 409 Why do they call it that? The first 408 didn't work. You just put these things into perspective and you learn from them.
Walter Dandy, the great neurosurgeon at John Hopkins many decades ago, was the first one to do operations on the posterior fossa, the back part of the brain. No one thought it could be done. First 13 patients all died. Now can you imagine how devastating that was? I can't even imagine what he said to the 14th patient when he said how the other 13 did.
But the fact of the matter is we now are able to do that operation routinely and safely. I did one last week. So, we just have to put all these things in perspective and recognize that we will never make progress unless we're willing to take risk. But, we have to take them in an appropriate fashion.
Host: Right.
Because there's a large group of people who never get anywhere because they're afraid to take a risk. There's another group of people who never get anywhere because they take too many of the wrong risks. They're always getting knocked back into the pond. So that's where this tremendous brain comes in where you are able to analyze the appropriate risks.
Evan: Thank you guys so much for watching. I hope you enjoyed. I'd love to know what you thought of the video. What was your favorite clip and why? How are you taking risks in your business? Leave in the comments down below. I'm going to join in the discussion.
I also want to give a quick shout out to William Chilton, William thank you so much for picking up a copy of my book Your One Word. And for posting the picture, I love it man. And I really really appreciate it. So thank you guys again for watching. I believe in you. I hope you continue to believe in yourself and whatever your one word is. Much love. I'll see you soon.
You might also like
---
More from Motivation
---
Watch Ralph Smart's Top 10 Rules For Success video. Famous Entrepreneur Quotes Ralph Smart's Quotes "We're so caught up in the outcome …
Watch Kris Jenner's Top 10 Rules For Success video. Famous Entrepreneur Quotes Kris Jenner's Quotes "You need something to be excited about …
Watch Mark Hamill's Top 10 Rules For Success video. Famous Entrepreneur Quotes Mark Hamill's Quotes "I love the allure, the danger, of …