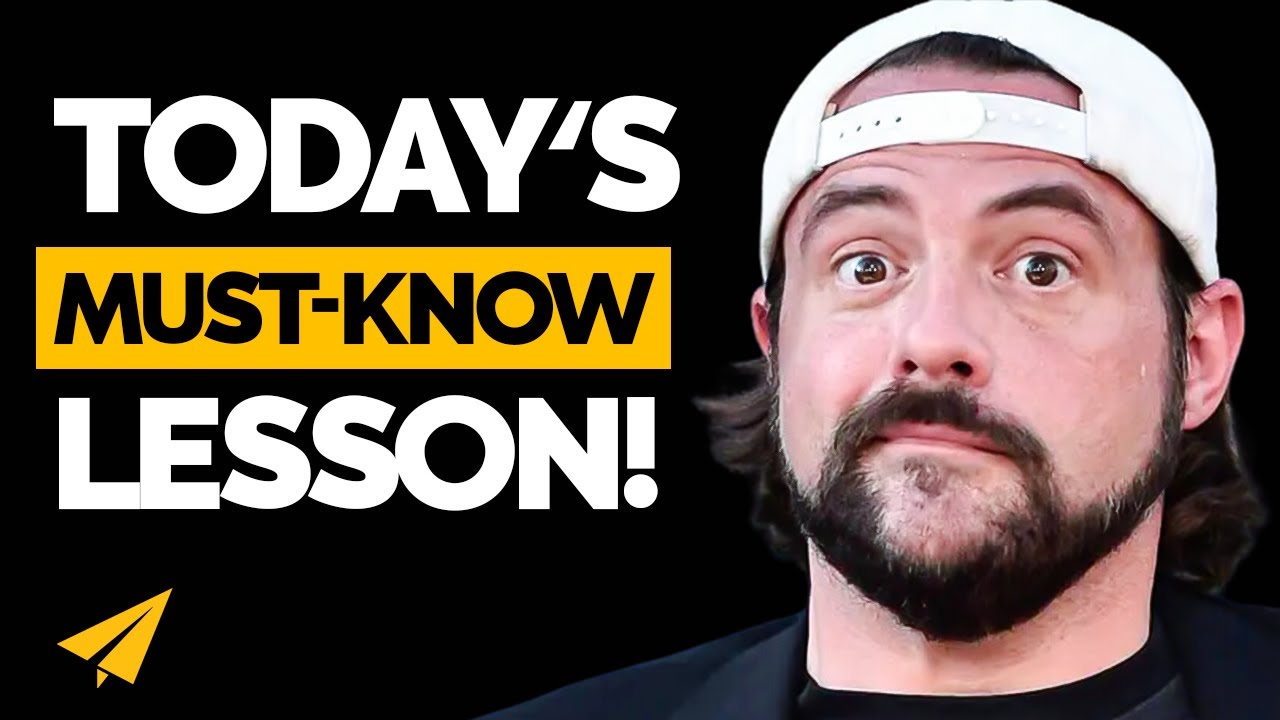 Kevin Smith speaks the truth here.
Good morning, Believe Nation. Today's message is take your shot. Over to you,  Kevin Smith.
I go into the emergency room, and I was like, "Donald Smith?" and they're like, "I'm sorry, he passed," and they took me  into the room.
There's my father laying on a gurney, just  dead. He still has a tube sticking out of  him where they were trying to intubate him  or something like that, but just  motionless, quiet, no breathing whatsoever, and it was weird to say the  least.
You always know eventually your parents are going to go, but I wasn't ready, I wasn't ready for that moment.
And then I walked out, and I went outside and had a cigarette, I was still a cigarette smoker in those days, and I was just thinking about being half an orphan
or halfway to being an orphan or something like that.
My brother comes out, and I was like, "Oh, can't believe it, right?"
He goes, "Yeah, it's pretty tough." And I said, "How was it?" because my brother was  there.
He was staying with my parents. And Donald, without missing a beat, my brother goes, "Dad died screaming," and I was like, "What?" and he goes, "Dad died screaming."
I said, "What do you mean?"
He's like, "Well he woke up, and he was kicking the sheets off and screaming about being on fire, and he was so hot and so hot and get him water and fucking screaming. The screaming got louder and louder, and it reached a fever pitch, and he died. And I don't know how else to say it but dad died screaming."
And that hit me like a Mac truck, and I remember thinking, "Oh my god, in this world, where even a good man like my old man is going to die screaming, there's no point in not trying to achieve every dream that I have. This is my eventual end. One day, that's it." And I really felt like, man, that's like…
"This is my future, we're all probably going to go out screaming so the best thing to do prior to that is to try to pack that life with as much wonderfulness, fun, productivity."
Surround yourself with people that are going to help you do that because in this world, there's not a lot of support.There's a lot of negativity, there's a lot
of cynicism.
Even as I sit here and tell that story about my father dying I guarantee you there's a cynical head in this house, maybe more, sitting there going, "Who cares? Move on, tell a dick joke."
The world is full of 'why.'
Man, you tell people something, they'll tell you why. Throw a rock, and you'll hit somebody with why. "Like, "Hey, man, I want to make a movie."
"Why, why do you think you can do that?"
"Why, nobody else is doing it, why are you doing it?"
There's so much why.
You go out and you find why not. You surround yourself with why not. People that are just like, "why not," when you're like, "hey, man, I'm going to try something."
They're like, "Why not, let's give it a shot."
People who try to help you do your dreams, make your dreams come true, and shouldn't you do the same for them?
We're all in this together, and it cost nothing to encourage a artist.
That's why I get up here for almost 20 years now after the movie, man, there ain't a lot of filmmakers get up after the movie and spend more time than the movie itself talking, but I've been trying to impart one simple lesson for nearly 20 years, anybody can do this, you know what I'm saying?
Like, I wasn't born into a business or the film business or born with a mic in my hands. I have no discernible talent whatsoever, man. I have no connections to the business. We're from New Jersey and stuff. I got lucky, somebody picked up the movie and boom, I was off and running, and part of that manifests, when you're brought into the indie film community, part of your job, part of your honor, part of your privilege is to make sure that keeps going to encourage other people.
You know, to tell people it's worth the shot just like Wayne Gretzky said, you miss 100% of the shots you never take.
It's always worth the shot.
Now, if you're talking about, like, if what your shot is, you're just like, "I've always wanted to kill 12 children, Kevin."
Don't take that shot at all.
I'm not talking about that, you know, I'm talking about artsy shit.
---
You might also like
---
More from Entspresso
---
Today's message is be confident. Good morning believe nation, it's Evan. My one word is believe and I believe that …