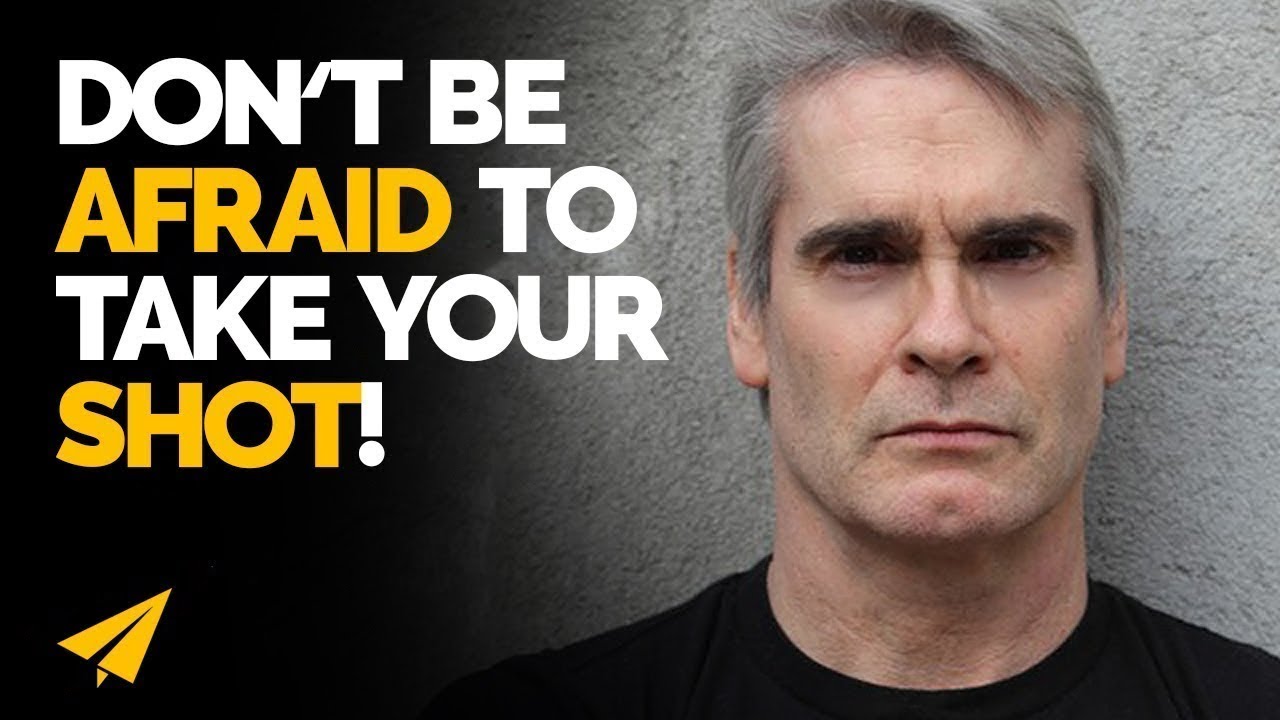 Good morning Believe Nation, today's message is take your shot! Over to you Henry Rollins.
The last straight job I had was 1981. Head manager of a Haagen Dazs in Georgetown, the Washington DC on Wisconsin Avenue at the intersection of Wisconsin and O Street making $3.75 an hour or $4 an hour something like that. Working 40 to 60 hours a week. I had a small apartment which I shared with an old pal of mine.
I had a small record collection, an ailing V.W. automobile, and a little tiny life with my minimum wage job which I liked. And I looked at my life and realized this is probably about as good as it's going to get for me. I might quit this place and go work at my friend's record store, cause I liked being around records that I could probably run his store very well, knowing what I knew about retail at that point. And then I got a very lucky break.
Cause at that same time I was very frustrated. I'd say well, this is going to be a very tough life. It's going to be a life of a lot of standing on my feet, a lot of work, taking it from other people, and having very little to show for it by Friday evening. Then Black Flag, the famous band who is friends of mine, they played in New York. I was in Washington. I took a ride up to go see them cause they weren't coming down to my town. I jumped on stage and sang with them that night a song.
Cause I had to go back down to DC and go work some awful shift. They called me a few days later at the ice cream store and said we're looking for a singer cause the rhythm guitar player wants to, I'm sorry the vocalist wants to move down to rhythm guitar. You can tell I've told this story before. And we're holding auditions, do you want a crack at this? Cause we saw you on stage the other night, you're pretty wild.
I looked at the ice cream scoop in my hand my chocolate spattered apron, and my future in the world of minimum wage work, or I could go up to New York and audition for this crazy band who is my favorite. What's the worse that's going to happen to me? I miss a day of work. Ooh, there goes 21 bucks. And I get humiliated in front of my favorite band. Humiliation and young people kind of go together. I was use to it. So I took a train up there, I walked into this practice place in the East Village.
I'm standing there with the band with a microphone in my hand. They said pick the tune. I sang every song they had, improvising most of it, two times through, we did the set. They said okay, you have a seat. We're going to go have a band meeting. Whatever that means.
And they came back like ten minutes later and they said okay, you're in. I said what do you mean? They said you're the singer in Black Flag. I said so what do I do? They go, you quit your job, you pack your gear, you meet us on the road. Here's the tour itinerary, here's the lyrics. We'll see you soon. So fairly numb, I went back down to Washington with this passel of lyrics in my hand. Went to my boss and said I'm not exactly quitting, but here's this thing that happened. He said, it's your shot, I said yeah. He said, take it.
***
Evan: When I was 20 years old, I missed my shot because I was scared and I vowed never to do it again. I was in Paris, I was on vacation, I was in University. I'm sitting here with my map, outside the Notre Dame Cathedral in Paris. And a girl comes up and asks me for directions. But she was a French girl.
And it didn't twig until later, that why would a French girl be asking me for directions in English, didn't really make sense right? And then I thought, you know what I should ask her out. Just see what she's doing tonight, should take her to, ask her out for coffee or dinner or something. See what she's up to. But I was afraid.
I was afraid to do it. I let her walk away, because really I was afraid of rejection. As she's walking away, the Notre Dame is on a river, and I'm on one side of the river, and she crosses over to the other side of the river. I was so upset at myself that I didn't' take my shot.
I was so upset that I didn't try. At least try. What I did was I ended up taking a picture. As I took the picture, she actually walked behind one of the market stalls, and I didn't actually get her picture, it's fine. So I have this beautiful picture of this French riverside.
What I did when I got home, I was still upset about it. I blew the picture up, and I put it on my wall. I was actually trying to find the picture to show you guys. But I couldn't find it anywhere in my files. I blew it up though and I put it on my wall, so I'm at University, everybody who walks in asks me about the picture, and it just looks like a nice beautiful French scene. But I didn't' tell anybody what it really represented to me.
"I didn't want to live with the regret of not knowing what happened with my business." – Evan Carmichael
Why it was really so important. And I looked at that picture everyday, because the next time that I had to take my shot I wanted to go out and do it. I didn't want to be afraid, I wanted to conquer my fear and say yes. And this served me really well A year or so later when I had to make the really tough decision, do I take this job that I always wanted. That had these high paying job opportunities 80-100 thousand dollar starting salary with a company that I really wanted to go at.
Or continue with my start up that was failing, that was making $300 a month. The logical, practical, safe, easy thing to do would have been to take the job. It's what I thought I always wanted, it's what my friends wanted, it's what you're suppose to do coming out of University. I didn't want to live with the regret of not knowing what happened with my business. Looking at that picture daily reminded me to take my shot the next time it comes around.
"Next time, I'm going to take my shot. I hope you take yours." – Evan Carmichael
I gave myself a year to say, I'm going to push off those jobs. They'll still be there in a year. Even if it's not those jobs, it's some other job. I'm going to give this a shot. I can deal with the failure. I can deal with the rejection. I can deal with it not working out, even though that's really kind of short term intense pain. What I can't deal with is the regret of not knowing because that's not some short term minimal pain, that's forever.
If I chose not to focus on my business, and I took that job. I would forever look back on that moment and think what if? What if I just tried a little bit harder? What if I gave it a little bit more? Yeah you know but it wasn't working, it wasn't getting results. But what if I gave it a little bit more? I did not want to live with that regret.
I'm sure you've had moments in your life too, where you didn't take the shot. Where you had an opportunity right in front of you and you didn't go for it. Like Eminem says, if you had one shot, one opportunity to seize everything you ever wanted, would you take it?
"What I can't deal with is the regret of not knowing because that's not some short term minimal pain, that's forever." – Evan Carmichael
That picture on the wall helped me take my shot. I hope sincerely that the next time you get your chance at something, that you don't shrink down, that you don't say no out of fear. That you don't say no because you find some practical reason why you can't do it. That you take your shot, and if you've had those moments that you regret, where you wanted to take your shot and you didn't. Give yourself a visual reminder like I did in my room. To say this is not happening again. Next time, I'm going to take my shot. I hope you take yours.
So the question of the day today is I'm curious; What is a shot you didn't take? What's your biggest regret in life or business for you right now? Write it down, make it painful, go back into that terrible memory. Cause I never want that to happen to you again. So write it down, leave it in the comments. I'm looking forward to seeing what you guys put down.
Finally I want to give a quick shout out to Ingrid Prescott. Ingrid thank you so much for picking up a copy of my book. "Your One Word," I really appreciate your support. Thank you guys so much for watching. I believe in you, I hope you continue to believe in yourself, and whatever your one word is, and I'll see you again tomorrow morning for another shot of espresso.
---
BONUS
Evan: Hey Believe Nation, thank you so much for watching. If you want to learn more about this subject, get a little bit deeper on it, I'm going to share some extra bonus clips that I hope you'll enjoy.
Bruno Mars
Interviewer: After you moved to LA from Hawaii, you got there and what's the reason to leave Hawaii in the first place?
I think I needed to take a shot at the big time. I wanted to make my album, and start writing my own music, I've been performing my whole life in Hawaii, in Waikiki and parties, wedding, and shows. Anything you could think of. Restaurants, bars, and clubs. I feel like I did a lot in Hawaii and I wanted to, as soon as I graduated high school, I wanted to take the next step and hopefully do it even bigger.
"You need to be rejected over and over. And everyone telling you you're not good enough, to kind of break though that, that's what it takes." – Bruno Mars
Interviewer: You got there to LA with just your suitcase probably?
Wasn't even my suitcase.
Interviewer: Any money?
Absolutely not. I probably had about 600 bucks I'd saved up. 700 maybe.
Interviewer: What was the plan then? How did you feel at this special moment getting there and having no clue what's going to happen next?
It was exciting, I was young, my sister helped me out. She let me stay with her for a year and I got signed to Motown records. That didn't really work out, but I had to learn. It's such a learning process and a lot of rejection. I think people have to understand that it's just a part of what it takes to finally come up with your own album. You need to be rejected over and over. And everyone telling you you're not good enough, to kind of break though that, that's what it takes.
Lin-Manuel Miranda
Interviewer: You sent unfinished work to Stephen Sondheim for him to critique.
Well it was pretty well by the time I sent it.
Interviewer: So Steve, just tell me what you think. How does that work, and are you really …
Yeah, it's … It's a crazy idea. But in my head it was a really good idea. Sometimes what you need are people to just not say that's a terrible idea. You have to be very careful about who you let in when you've had a good idea, because people can crush it for you.
People can go no, I would stick to this other thing. If you trust that person, and you love that person, it can really affect your own view of your work. I learned that the hard way, I've had ideas die in front of me. Because people I respect go, maybe not that one so much. When I was on vacation and I picked up Chirinos' book and I started reading it and reading it to my wife and being like, there's something here. Being like I'm not a crazy person.
"You have to be very careful about who you let in when you've had a good idea, because people can crush it for you." – Lin-Manuel Miranda
My wife was like no that's a really cool idea. That's as responsible for this as anything I remember when I first met Sondheim, it was to do translations for the last revival of West Side Story. We talked shop, and we talked about what should translate, and what I shouldn't, and we kind of talked about that for about a half an hour. Then he asked me about what are you thinking about next. Heights was running at the time, it was it's first year.
I said, I think I have this idea, Alexander Hamilton. He threw up his head and made this, and he's a really reserved guy, and he went that is the most incredible idea. I just instantly got up and I was like … That's also as responsible for us being here as anything. That early encouragement, his whole thing. He's proved it with his career. Continue to bury and like lean into what scares you and lean into what people don't think makes a good musical and make that.
---
You might also like
---
More from Bruno Mars
---
Watch Bruno Mars's Top 10 Rules For Success video. Famous Entrepreneur Quotes Bruno Mars's Quotes "It's not about the tabloids, it's about …