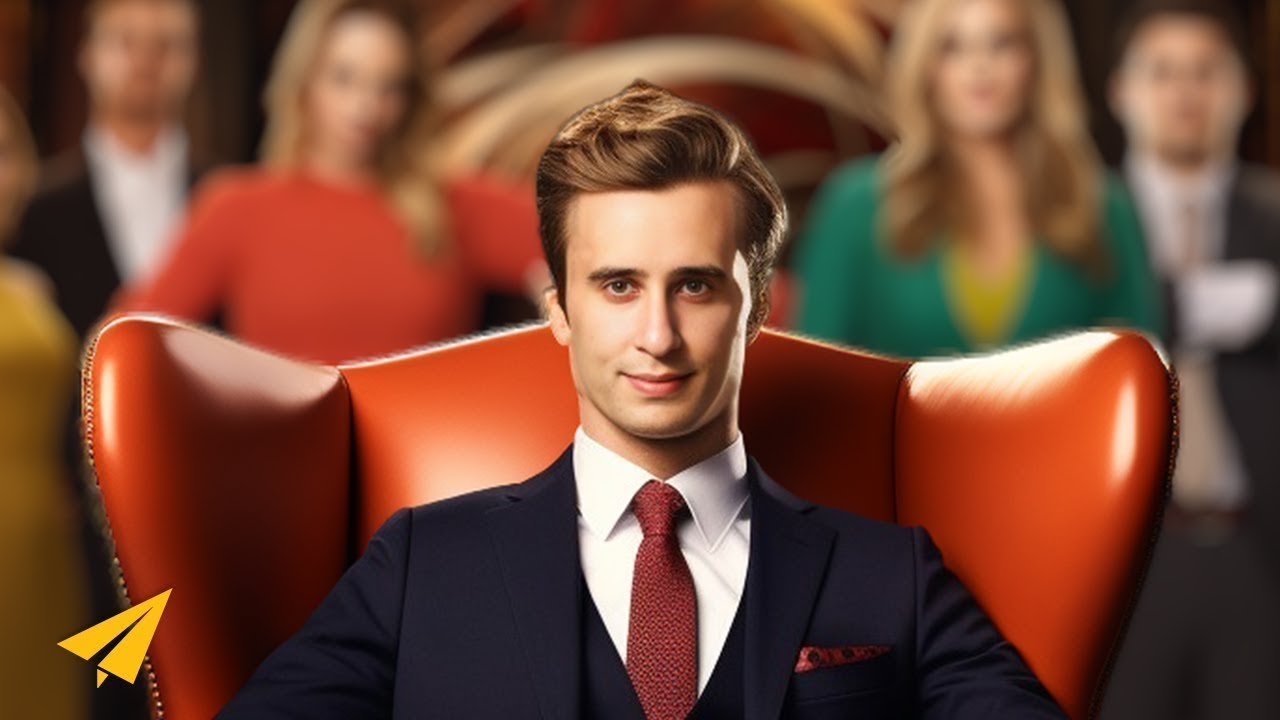 Hello Believe nation!
I'm Evan Carmichael, my one word is believe and I believe that entrepreneurs will solve all the major problems of the world. And so to help you on your journey today, I'm going to talk about the seven must-watch TV shows for entrepreneurs.
The 7 TV Shows EVERY Entrepreneur Should Watch
#1: The Profit
Number one for me is The Profit. It's a show put on by CNBC with Marcus Lemonis. Marcus is an angel investor and he goes in and he invests his own money into failing businesses and tries to turn them around.
It's part entertainment and part education and he also breaks things down in really easy to understand ways so that even if you're just getting started as an entrepreneur, or you may not have a total comprehension of finances and balance sheets and income statements and all that stuff, he makes it easy for you to understand and so it's a must-watch, number one most important one that I think entrepreneurs need to pay attention to.
#2: Silicon Valley
Number two for me is Silicon Valley. This is more of a comedy show. It's loosely based around things that happen in Silicon Valley. It's meant as a spoof on the businesses and the entrepreneurs and the investors that are all down there kind of in their own different world.
It's extra funny for me because I used to be a venture capitalist and so I come from that world a little bit and understand it. I think if you are not from the world as much or you might be English as a second language or you may not have the context, it may not be a great show for you.
Nina, as an example, doesn't like the show, so I have to watch it by myself. Sadness. But if you want to learn a little bit about the venture capital community and have some fun laughing at it, Silicon Valley is worth checking out.
#3: Billions
Number three is Billions, this is a pretty new show that came out, I think they're in Season Two right now. I love watching this show. It's another one where Nina won't watch it with me.
I think some of the language can be really fast as well and hard to keep up with and if you don't really know the stock market and how the rules kind of work and the players there, it may not be interesting for you, but it's basically about this guy who's a billionaire who manipulates stock markets to his own benefit and this district attorney who's always trying to catch him and beat him and send him to jail and the fights that they go through, webs they try to leave for each other and traps that they put each other into. I really like this show, and I think it's worth checking out.
#4: Mr. Robot
Dude, we totally hacked in! Alright, go now before Evan finds out. Hey guys, it's Marcus here from Affiliate Marketing Dude. And today I'm bringing you the fourth best show on TV to watch if you are an entrepreneur. And as you could tell by now I've hacked into this presentation to show you Mr. Robot.
Mr. Robot is a great show that talks about entrepreneurship, life, mental issues and all kinds of things like that. And the reason I chose it, first and foremost, is because of the mental struggle that Elliot goes through. He's a guy, he's a computer hacker and he's going through this mental struggle constantly to get the things done that he wants to do. And one of the quotes that I like from this very quotable show is by Elliot himself.
He says, "Sometimes I dream of saving the world. Saving everybody from the invisible hand, the one that brands us with an employee badge. The one that forces us to work for them. The one that controls us every day without us knowing it. But I can't stop it. I'm not that special. I'm anonymous. I'm just alone." Now this is a struggle that entrepreneurs have all the time.
Feeling like what they do isn't going to make a difference. But one of the quotes I have on my desk here in my office is something I came up with years ago that says "From this desk I can reach the world". And in today's day and age with technology, as an entrepreneur most of the struggle you are going to have is a mental struggle whether you do something or don't do something.
And it's the struggle of decisions. And this show is ripe with examples of deciding and the mental struggle and how businesses can go bad and how businesses can go good and what you can do as an individual to make a difference. Another quote that I like from Mr. Robot talks about the life of hacking and how a computer works. This also goes into the mindset of the entrepreneur. The quote is, "There's a saying, 'The devil is at his strongest when we're looking the other way.'
Like a program running in the background silently. While we're busy doing other stuff." How many programs do you have saying I can't, I won't, I'm not good enough, I don't have enough money, I'm not strong enough? And these things limit us.
They're like a program running in the back of our brain as if it's been hacked by society and by life in general and by our experiences, trying to stop us from doing what we want to do. And I think a big point that this show points out is that those background processes, those thoughts that have been implanted in our brain, we don't have to listen to 'em. We can change the world one step at a time. Do what we were born to do and be the entrepreneur we've dreamed of being. Marcus from Affiliate Marketing Dude, over and out. Back to you, Evan.
#5: Shark Tank
Number five is Shark Tank, you guys probably are familiar with it, a super hit TV show. And what I'm really grateful for 'cause it helped put entrepreneurship on the map. It's fun to tune in and watch some of the ideas that are pitched, sometimes they're crazy and you laugh at them, sometimes you tune in just to see the Sharks fighting with each other and the drama that happens.
But for me I really like to see how these successful investors break down a deal, what they look for, how they negotiate the deals, what the counters are for the entrepreneurs, and seeing the pitches I think is really good business education as well as providing some entertainment value too. So if you haven't already seen it, I don't know what rock you're living under but it's definitely worth checking out.
#6: Suits
Number six is Suits. This is a fun show that's actually filmed here in Toronto, woo N-city! It's about a law firm, it's about these Harvard Law students and one of the lawyers, super successful, is the killer, always wins and always has a ton of attitude and confidence and ego and bravado and the new upstart guy doesn't have as much confidence but also has a lot of heart and caring and he wants to fight for the little guy and his boss doesn't really see it all the time.
There's a lot of fun banter in between them and a lot of movie references and pop culture references that you may understand or may slide under the radar but it's a good show to kind of, I like it because you see business people doing their thing, having confidence and bravado and winning in their arena and so it's worth checking out Season One at least.
I loved Season One, it was amazing. As it got on, I think they're in Season six or seven now, the in-between seasons felt like they went a little too heavy on the drama for me, too much drama happening in each episode but then they kind of brought it back to this last season I'm really enjoying again so watch Season One and see if you like it. If you do, it's worth continuing on.
#7: Planet Of the Apps
And number seven is Planet of the Apps. This is a yet to be released show. I heard about it from Gary Vanyerchuk. It's him, Gwyneth Paltrow, will.i.am, and Jessica Alba and they are basically judging people who are pitching the apps so people have to go on this escalator ride down and while they're on the escalator they have to pitch their idea and one of the four judges has to say I like you and then the judges pick a winner and they personally work with that person to help them build their app and there's some competition to see who ends up winning from all the apps and the coaching with the experts on there.
So it hasn't come out, I've only seen the trailer but there's some interesting people on it and I'm looking forward to seeing the show come out and anything that's supporting entrepreneurship generally I'm a pretty big fan of.
Thank You!
So that's my take on the seven must-watch shows for entrepreneurs. I'd love to know, what did you guys think? Have you watched all seven of these? Do you have a favorite?
Did I miss an eight, nine, 10 that you want to add to the list? Leave it down in the comments below. I'm super curious to find out.
I also want to give a quick shout out to Kevin Fiedler from kevinfiedler.de, thank you so much Kevin for picking up a copy of my book, Your One Word and making the animated review on it as well. I'm so glad you loved it and I really appreciate the support.
So thank you guys again for watching, I believe in you. I hope you continue to believe in yourself and whatever your one word is. Much love, I'll see ya soon.
---
You might also like
---
More from 7 Ways
---
Today we're going to look at seven different ways that you can make business alliances. What's up Believe Nation? It's Evan. …
Today I'm going to talk about the seven ways to discover your strengths and weaknesses. What's up believe nation? It's …
Today I'm going to talk about seven ways to be more disciplined. What's up Believe Nation it's Evan. My one word …