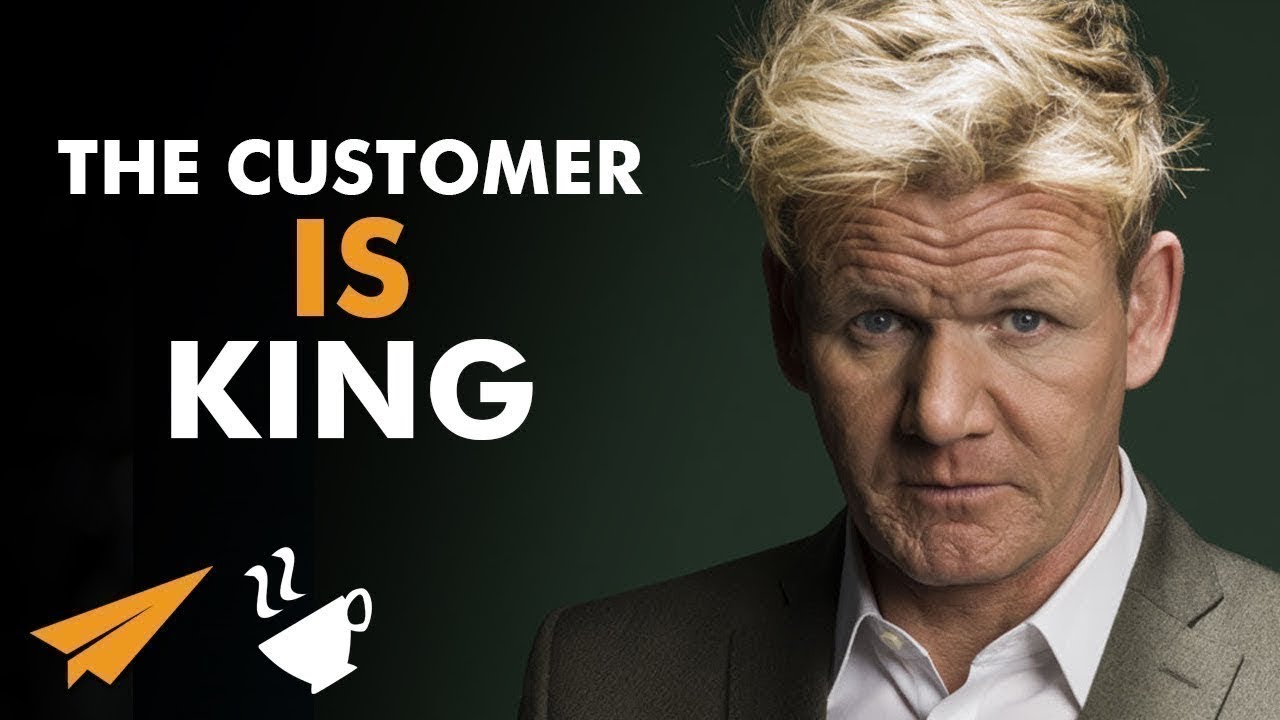 Today's message is The Customer is King.
Good morning, Believe Nation! It's Evan. My one word is believe, and I believe in people more than they believe in themselves. And my sincere hope is that if you see in yourself what I see in you, you'll be able to change the planet.
The Customer is King – Gordon Ramsay
Key to a successful business is remembering the customer's king. Because without them, we're nobody.
And so I, from a chef's point of view, always put myself in a customer's situation, where I see it from their eyes.
I don't cook for chefs. Every time chefs come into the dining room, first thing they do is turn all the plates upside-down and start photographing the food.
And they're constantly dissecting the food, as opposed to enjoying it. So, I always look at it from a customer's perspective, because they're king. And without them, we're history.
My thought about The Customer is King
So, when I first took over Toronto Dance Salsa just over a year ago… Wow, almost two years ago. How long has it been, Alex? January. January last year, and it's August. So, yeah. Wow, it's been awhile!
So, I took over Toronto Dance Salsa, and I sat down with Alex, I hired Alex away from his full time job to work at Toronto Dance Salsa. And I said, "okay, how are we going to grow this business?" Here are 10 ways that we can grow our business, I gave him a list of 10 things that he could do.
Because if you try to do all 10 things, you're going to suck at all of them. I think we try to do that as entrepreneurs, we try to do everything, and then nothing gets done properly. And so, we had 10 things on our list, 10 ways to market our business and to grow it.
He had to pick two. Now one, I picked for him. One was being a thought leader, one was sharing content, one was sharing his opinions, being on Snapchat, being a leader, making videos, that had to be part of the plan. If you're going to work under me, if we're going to create this relationship, if I'm going to mentor you, being a thought leader has to be a part of it.
"If the customer loves the service, they love the experience, they're going to come back, they're going to be more loyal, and they're going to tell their friends." – Evan Carmichael
That's why Alex is in some of the videos, you've seen him on Entspresso, you've seen him on #SevenWays, you see him a lot. The second way, you pick! Pick the thing that resonates the most with you. And the one that he picked was having a remarkable customer experience. So that anytime somebody came into our studio, or anybody, somebody visited our website, or wrote in to our team, or tried to call us, they would have an amazing customer experience.
Because if the customer loves the service, they love the experience, they're going to come back, they're going to be more loyal, and they're going to tell their friends. And so, we made the decision to invest our resources, our time, our energy, our dollars, on how do we make the experience better for our customers. And that extends to everything that we do in the business. So, it's not just about the service that we provide, right?
People come here, and they want to learn dance classes. Great, you want to give them a good experience, right? So, they're in class, they're learning the steps, they're learning the moves, great. Understanding why they came here. Trying to tap into the deeper reason, and then give them a better experience that hits the core of why they signed up in the first place.
Most people don't come trying to learn dance moves, they're coming because they need a break from their crappy life. They hate their job, they're trying to meet somebody, they just broke up with somebody, they're looking for some new friends, it's a thing to do.
And I want to turn the business from not just being something that is a thing to do, to cross off your bucket list, but something that has a meaningful, lasting, long-term impact on the lives of our customers. So, you then expanded out to the entire chain of a lifetime of a customer.
So, when did they first write in to us? Or do they call in to us? How is that first conversation going? What can be better about the email that we respond to? Or how can we pick up the phone faster, or give them a better experience on the phone?
"The entire experience of dealing with your customers is not just a pleasant, positive one, but is an outstanding one." – Evan Carmichael
Then they come to the class, and then what happens after class, and what happens in between the classes? And so, using the lens, right? This is how we look at our customers lookin' at our business, how do we create a more remarkable experience?
You can go through every little step, every little touch point, every little interaction that a customer has with us, and a customer has with you, you could find a way to make it better. And think of it not just as providing a great service, or providing a great product, not just giving them what they paid for, but the experience in dealing with you has to be amazing.
So an example, one of the things when we're in a phone call, people have questions. And it's a lot of the standard, same questions. But it's not just about answering their questions and being friendly, but it's always lookin' for a way to over-deliver.
If you understand their why, that they're signing up, why they're interested, it's looking for something else that you can offer at the end after answering their questions, that can be that extra bonus to them where they leave with their life and their day feeling better, because of the interaction they had with us.
And so, if you look at your experience, look at every touch point you have with your customer, think about how you can not just provide them with the answers, not just provide them with a great solution that solves their problem.
But the entire experience of dealing with your customers is not just a pleasant, positive one, but is an outstanding one. That they want to rave about their friends to, that they can't wait to come back and deal with you again, and they want to spread the mission, spread the word for you.
---
So the question of the day today is, I'm curious, what is something that you do to really wow your customers above and beyond just giving them a great product or service?
I'd love to hear from you, maybe learn something as well that I can apply to my businesses. Leave it down in the comments below.
I also want to give a quick shout-out to Neal Kerr. Neal, thank you so much for picking up a copy of my book, Your One Word. I really appreciate the support, man, and I'm so glad that you enjoyed my book. Thank you guys again, I believe in you! I hope you continue to believe in yourself, and whatever your one word is! Much love, and I'll see you again tomorrow morning for another shot of Entspresso.
---
BONUS
The Customer is King
Robert Herjavec
I used to work for Warren Avis, the guy who started Avis Rent a Car. And he said to me one day, "Robert, what's the purpose of business?" And I said, "oh, make a profit." And all these other things, and he said, "no, the purpose of business is to create a customer."
He goes, "Everything else takes care of itself. "If you can create customers, and create value for them, "because the answer to that question is different "for every single customer, "then you're going to have a great business."
Ashton Kutcher
I like to sit down with founders, and I like to work on removing friction from process, whatever it might be. And creating products that are intuitive. And one of the things that I get from working in the creative space, and being an actor is really understanding feeling, and touch, and art.
And you know, it's an art. Being able to create an impulse within a consumer to do something is an art form. I could probably give you 10 or 20 examples of companies that have really just taken software that was archaic software that was untouchable by consumers, and actually brought it down to a consumer level.
That is becoming the process to building a great software company these days. You could look at a company like Zenefits. Where it's like, there's always been HR software that's been out there in some way, shape, or form. Or you could look at Robinhood.
And there's always been ways that you can interface and do stock exchanges. But making it something that the average consumer can intuitively understand, and touch, and play with, and use, and have it be beneficial in their life, is about understanding the intuition and the feeling of the consumer.
Josh Altman
I thought that right now would be the perfect time to share a customer service story with you. True story. Couple years ago, I got a call from a young lady. And was all excited, she tells me she's looking for a property, and then she says the word lease.
Our favorite words as realtors.  "I'm looking for a lease."  You know, unless it's an $85,000 a month lease, I don't know. But I was in a good mood, so I took that call. And I said, "Sure, I'll help you find a lease." And it turns out, it was a $5,000 a month lease.
And I took her around for six months.  The term was only a year.  Anyways, I like to finish what I start. So, I went through with it, found her an amazing place, she couldn't be happier. In fact, she was so happy, that she called her father that night, and she said, "Dad, I got the greatest place! "My realtor's amazing! "He doesn't care about money at all!"
And it happened to be that her father was sitting next to the CEO of his company. And he heard the story, and that CEO said, "Actually, I'm thinkin' of selling my penthouse. "Maybe I should use that guy!" Sure enough, I went in, I met the CEO, and I got the listing of his $4,000,000 penthouse.
While I was sitting that open house on that $4,000,000 penthouse, cause that's my favorite thing to do,  a celebrity walked in. And that celebrity walked around, and he checked out that incredible penthouse.
And he looked at me and he said, "yeah, this is cool, do you have anything cooler?"  I said, "Sure." So I went back to the office, and I put together the list of the coolest penthouses you could find. And I showed that celebrity around, and that celebrity ended up buying an $11,000,000 penthouse.
Which broke the record for Santa Monica. So from that lease, that $5,000 a month lease, which led to that $4,000,000 penthouse sale, which led to that $11,000,000 penthouse sale, and it is the gift that keeps on giving, on, and on, and on. That is why customer service is so important to everybody's business.
---
You might also like
---
More from Ashton Kutcher
---
There are dumb questions. There are questions that waste your time and my time and everybody else's time. And I've never …
Good morning, Believe Nation, today's message is push more! Over to you, Jennifer Aniston. I wake up every morning ? Entspresso …