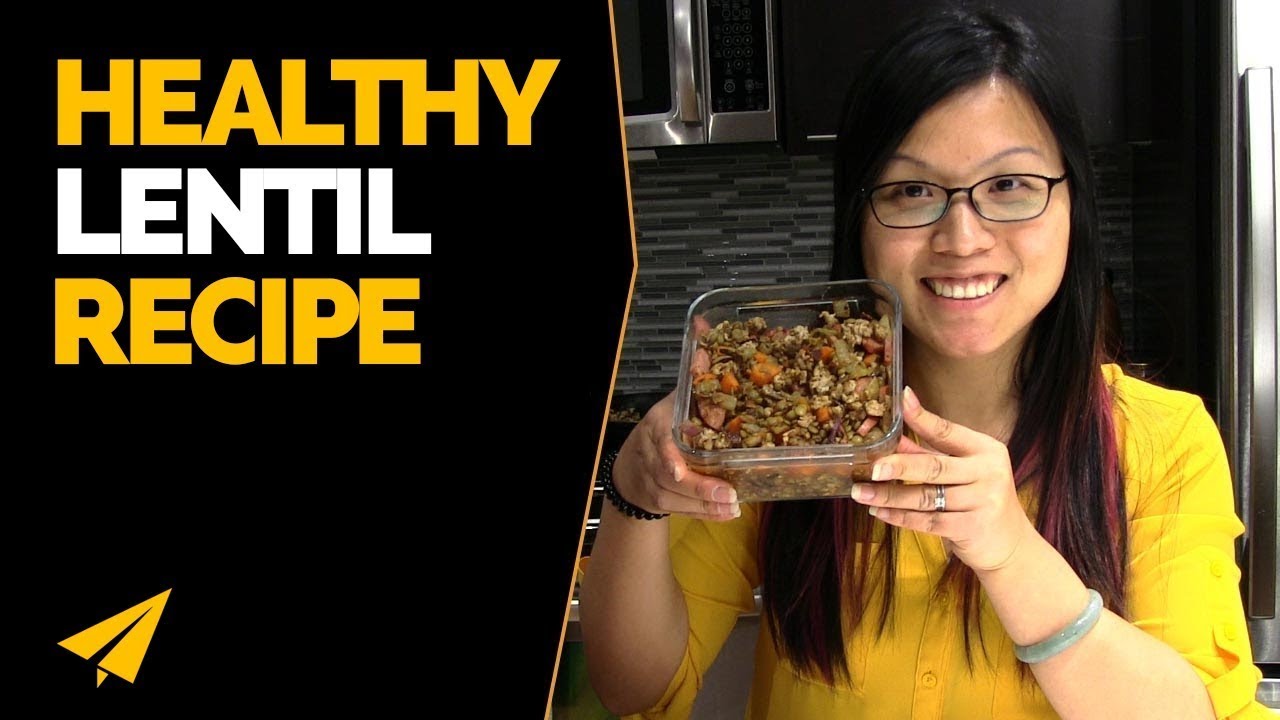 Oh my god. The last ten minutes I was telling you a story and I was saying something and it did not record. Cooking is an exercise, if you guys know, you use your muscles. Anyways so that's all the whole story I'm trying to follow Sean's guideline.
Hello everyone, this is Nina. Today I'm going to make lentil breakfast.
Actually made the lentil breakfast video before. The reason why I'm making it again because last night when I went to TDS for chatter night DJ Doug Wester, he was telling me how he likes my the egg tart quiche thing, the snack or breakfast, and he said he really like it. He was huge and he lost a lot of weight. Now he's trying to maintain it, he runs, he works out, he want to build up his muscle.
And he was telling me that he needs to eat more protein, and he needs a healthy, like, meal, healthy breakfast, so I was like, hm, maybe I will make this lentil breakfast, so he can get an idea how to make it and he can always modify it. So we're going to make some lentil breakfast but I'm going to modify it a little bit more from what I had made before, and also, I eat lentils every morning, Evan eats lentils every morning, sometimes I mix some chicken in there, I mix some sausage, it depends on what I have in my fridge.
It doesn't have to be the same every day cause I don't like to eat the same thing every day so I like to have some different flavor, mix it up. First thing you will need is lentils. You don't have to soak it every night, you can cook in a half an hour, but you want to wash it thoroughly though cause there are some skins in here. This is four cups of lentils. I usually just rinse it three times. And for the water level, I just let it cover by less than an inch, and then let it boil.
Okay so we're going to let it boil for half an hour. I will add some onions, and I cut up carrot. Carrots, and they're diced. Also today I'm going to add some, this is turkey sausage, and this is ground turkey. I will stir fry them and wait for the lentils to be ready, and then I will mix them together.
The reason why I've started to add light meats in my lentil because my trainer Sean, every Monday, Wednesday, Friday, we work out at TDS Studio, and then one day I'll say, Sean, I need to lose some weight, and I've been trying, but I guess I'm not doing a good job to lose some weight. So he gave me this booklet, basically telling me how much protein I should eat a meal, and how much vegetable I should contain, consume every meal, and how much carbs I need a day.
He told me to skip phase one Because I've done it before with him. So phase one basically will tell you protein for men, you will need two palms, 50 to 60 grams of protein, female you need one point five, 40 to 45 grams of protein, these are based on per meal, each meal.
He did this booklet for his 30 days challenge, for his client, whoever joined the challenge, but I asked him for it because I want to make sure I eat enough protein, enough carbs, vegetable, to lose weight, to gain muscles, basically. And work out too. I'm actually doing the phase two, so I'm doing phase two.
So for phase two he added the carbs. For carbs each meal for men you need two cupped handful of carbs. One cup is when you don't work out, two cup when you work out. And for female, one cup of carbs or half cup or carbs when you don't work out. One cups of lentil is 16 grams of protein. If I add some sausage or add some ground beef, or ground turkey, ground chicken, whatever you added, so I will make sure that I will eat like 30 to 40 grams of protein a meal.
And try to eat more protein in the morning so I don't have to eat that many at night. One cup of lentil is equivalent to 40 grams of protein, so, if I eat one cup of lentils in the morning which means I'm done with my protein, I'm done with my carbs, I don't need to eat anything more. Anyways, so that's a whole story.
I'm trying to follow Sean's guideline to consume the right amount of protein and vegetable, and my carbs, to gain muscle, lose weight. Okay so, we still have 23 minutes left, I'm going to wait until the last 10 minutes and I'm going to stir fry them and I'll mix with my lentils. (static buzzing) Oh my god. The last ten minutes I was telling you a story and I was saying something and it did not record. (yelling) So what I did was, I add salt and some water into the lentils, turned the heat to medium, and I was telling that I don't really measure how much ingredients I put in, for those who cook out there, you know, when you cook you don't really measure, you just feel.
Right now I'm going to stir the onions, carrots, and the meat. And then we will add it with the lentils once it's cooked. So this is already heat up, I heated up earlier, when I did not record. (sizzling) So you just caramelize the onion. It's a little brown right now. I'm going to add ground turkey. I'm going to add the carrots last because Evan likes his vegetable crunch, crunchy, crunch. The ground turkey is 250 grams so that's about 50 grams of protein. And we'll add some salt so it's not very bland.
So the turkey's actually all cook, I'm going to add the sausage, got the sausage. Evan loves eating lentil with his sausage. I'm going to turn this stove off, ready! For the lentils it's ready, the lentils it's cook, let me just try, let me just try one.
Mm, it's soft so which means it's good. You can mix with tomato sauce or a diced tomato, can. I got this from Johnvince, they have, like, they sell bulky stuff, but they have the whole tomatoes in there, Italian whole tomatoes. so I'm going to add this in to my lentils.
Because it's whole tomatoes I have to crush the tomatoes. Cooking is an exercise, if you guys know, you use your muscles. 'Kay anyways, so, it's done. So the lentils is all cook. You can see with the tomato, tomato sauce in here, and you can still see tomato, the whole crushed tomatoes. I'm going to add some oregano, basil.
This is basil, so I'm going to add the oregano here, and then mix well. It looks a lot of the condiment but it's not a lot cause it's such a big pot. I'm supposed to stir fry these carrots but, you know, I'm just going to dump into the lentils. And let it shimmer for another five minutes.
So, on low, simmer, shimmer, simmers? I think that's how you say it. I can never say this word, my friend always correcting me, but I can never get it right. So let it simmer for five minutes and we will turn it off and mix the meats together.
What I normally do, I actually measure my food, but I get to the point that I know how much food that Evan and I need every day, every meal. So I don't really measure anymore but for this time I'm going to measure, see how I do it. He needs two cups of lentils in the morning because tomorrow we're going to work out at five o'clock, so he will need two cups. This is two cups. So that's two cups over here. Wait, I don't think this bowl will fit all the food. Oh we'll see, so two cups.
No, yes, I'm right. So this bowl does not fit, I need to get a bigger bowl. So I'm going to transfer into this bowl. That's two cups so that's what he needs. And then usually for meats, I usually give him a bit more. Well actually I usually have my meat wrap into individual wrap. He usually have like 60 gram a meal, I'll usually wrap 30 grams because I eat 30 grams of protein.
But this time I didn't really do that, but it's about half, this is a bit more. So half, we have 50 grams of turkey and 10 gram of turkey sausage, so that's 60, that's 30, so that's Evan's breakfast.
And I'm going to give him a little bit more turkey sausage because he eats more and I love him, I want him to enjoy more. So, that's turkey, and you mix well. This one has two cups of carbs, because this lentil is carbs, also contain 32, because one cup lentil is 16 gram of protein, so he has two cups, so 32 gram of protein, plus the 30 gram, bit more, 35 gram of protein, so he has 67 gram of protein.
So that's what he needs in each meal. This is how it looks like. So this is my usual, well, our usual breakfast. Lentil with different kind of meat. If you're a vegetarian you can always substitute with tofu. At one point I was, I'd actually really don't want to eat meat, so I'd eat a lot of beans, I ate a lot of tofu, but now I've slowly get back to it.
Sometimes I will substitute my protein with chia seeds, hemp seeds, cause these, they have a protein in there. So I hope you guys enjoyed this video Please let me know what you think. If you like it or not. And if you guys try this recipe then also let me know. I'll see you soon. This is my first youtube video.
So I just got home from TDS. I'm super hungry right now. I'm actually (yelling) I'm actually starving. I'm going to make some smoothies because I want something to snack on so that I don't eat junky stuff.
Evan: Beef, carrots, apple?
My 10 years old niece tried to teach me to play piano.
Hayden: Twinkle, twinkle, little star.
Yes, I'm trying to learn twinkle, twinkle, little star, it hurts.
---
You might also like
---
More from Life With Evan
---
Hello everyone, this is Evan, this is Nina. Wow. What's up, Believe Nation? Nina and I are heading on a vacation …
Happy weekend everybody, today I'm taking you to the Canadian National Exhibition with Nina, she just wanted to get in. …
What's up Believe Nation? Happy weekend, it's Evan. I'm thinkin of launching a new potential t-shirt and I need your …