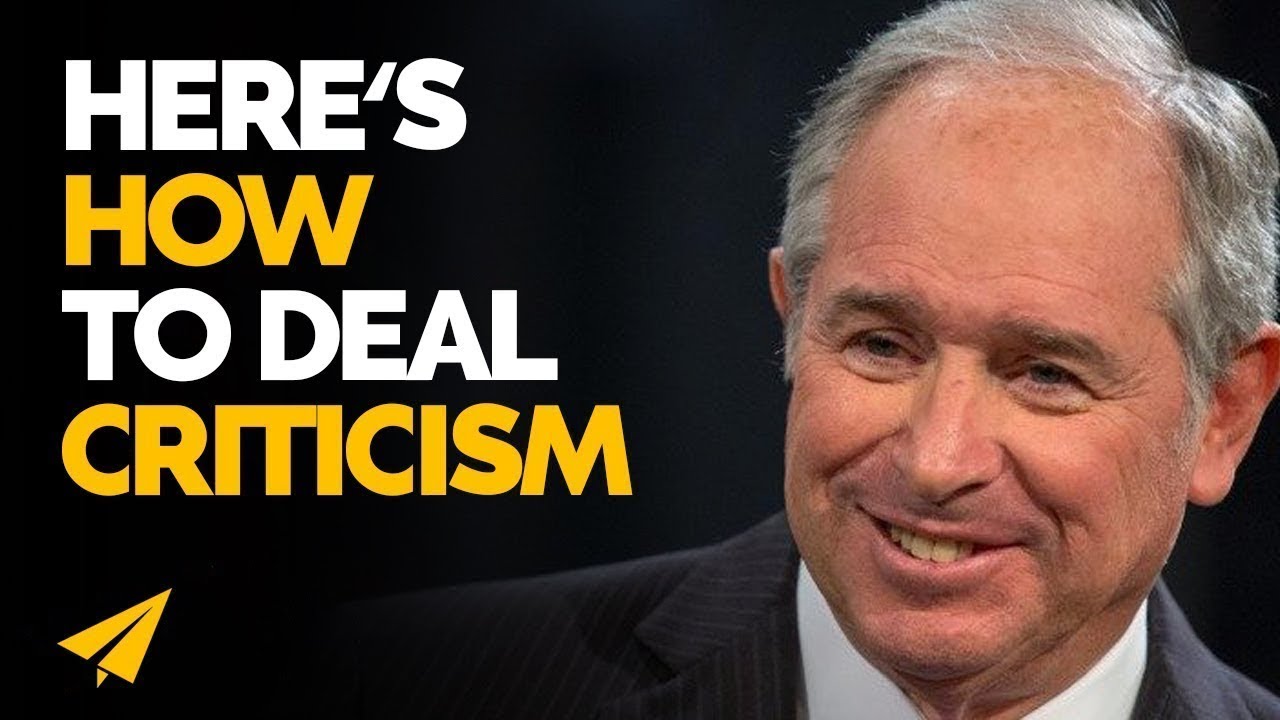 Good morning Believe Nation. My name is Lily Ma and my one word is extraordinary. I believe that people are capable of doing extraordinary things, when they embrace who they are. So, today's message is, Have a Thick Skin. Over to you, Stephen Schwartzman.
Have a THICK SKIN – Stephen Schwarzman
Stephen Schwarzman
So for all of you people out there who want to be entrepreneurs, you got to have a thick skin. You almost need some friendly psychologist training traipsing around with you. To buck you up from all the setbacks that you have. It's always great after your Jack Ma, but it's not so great if you file a chapter. And the difference in that, Jack's a 10. He almost did go down several times. It's that scrambling ability, the ability to take that kind of abuse and rejection and believe in your basic plan, but be adaptable and just keep going.
Lily Ma
So one of the most important things I'm working on right now is to be a great storyteller. So, I wanted to incorporate telling stories in the classes I teach at Toronto Dance Salsa. And I started telling stories about my husband, my parents, and started to really show my vulnerable side. And then I got the most brutal feedback I've ever had in the entire time that I have taught here. So he said that I spend too much time talking about aimless, personal stuff.
And immediately, I became very defensive because I was really hurt. You know, I didn't want to think that stories about my parents and about my husband as aimless, personal stuff. And I just started to think, oh well, you know, this person doesn't know what they're talking about. They don't know about story-telling. Whatever. They could go somewhere else. I don't need them in my class. But that all came from a place of pain.
Because I knew, deep down inside, that I wasn't good at telling stories. I did take too long. I did tell things that probably did not relate to the students. But I couldn't see it past the hurt and I just felt really defensive. So, as a result of that pain and that harsh criticism, I just stopped telling stories altogether. And that wasn't the answer either because I really want to tell great stories. And then I struggled with it for a long time.
And I wasn't sure what to do. And then one day, I saw a quote from Brene Brown. The quote said, "When you're brave enough, you will fall." And immediately, I felt like this was just a fall for me. And I realized that this dream of mine is very important and I needed to be brave to continue on. So I decided to get feedback and learn about how to tell better stories and practice it even more in class, even though I was so scared of getting that harsh criticism again. I kept on going.
And eventually I got better. So I decided to shift my perspective. I decided to see feedback as an opportunity for growth versus a personal attack. So now, every time I get feedback, I apply it right away. So that way I can grow and become a more confident speaker. I still have a long way to go but I'm getting better each day. So next time, when your faced with criticism or failure, shift your perspective. If this dream is important enough for you, you have to be brave enough to pursue it.
Question Of The Day
So the question of the day is: What is that one harsh criticism that you received and now by shifting perspective, you were able to learn from it? So leave in the comments below and I will join in on the discussion.
I also have a quick shout out from Michael Lardizabal. Thank you so much, Michael, for picking up a copy of Evan's book. Your support means a lot to us and I hope your enjoying the read. Thank you so much for watching.
We believe in you and I hope you continue to believe in yourself and whatever your one word is. And we'll see you again tomorrow morning for another shot of Entspresso.
---
BONUS
Have a THICK SKIN
Jeff Bezos
The best defense to speech that you don't like about yourself as a public figure is to develop a thick skin. It's really the only effective defense because you can't stop it. You know, you are going to be misunderstood. If you're doing anything interesting in the world, you're going to have critics. The only way, if you absolutely can't tolerate critics, then don't do anything new or interesting. And then you can insulate yourself. Then think how wonderful your life will be. If you see something, I don't know, you're kind of a public figure, things have probably been written about you that you didn't think were nice.
That's true.
And my advice, if you came to me and said, "Jeff, this, you know, somebody wrote this and it really hurt my feelings. What should I do?" I would say, "Go stand on a street corner in a crowded urban area, and watch all the people walk by and think about what they're thinking about. I bet you none of those people are thinking about you." Really, in your mind, you can do this thought experiment. Like, okay, there's a woman who just walked by. What's she actually thinking about? Probably maybe what she's going to cook for dinner that night, or the argument that she had with one of her employees, or whatever it is, it's not about us.
Lloyd Blankfein
Who is an entrepreneur where everything is a smooth ride and you go through these things and I'll tell you and you'll get criticized and you have to have a thick skin. Yeah.
Interviewer: You've been there?
I've been there. And by the way, you don't buy a thick skin and you don't even know you have it until somebody starts to try to puncture it. And then you discover what you're made of.
Chris Rock
I also heard that you went to a school that was out of your initial neighborhood.
Yeah, I was bused to school. It was pretty, you know, whatever. People were mean, and they called you nigger and whatever, and spit on you and threw feces and piss and whatever at you and you know. It is what it is. There's nothing I can do about it. It made me stronger. Um, I'm not here without it. You can't phase me with meanness because of it. So, you know, that was my grade school experience. Grade school, high school, junior high school.
---
You might also like
---
More from Chris Rock
---
Watch Chris Rock's Top 10 Rules For Success video. Famous Entrepreneur Quotes Chris Rock's Quotes "If it's the right person telling me …
Good morning, Believe Nation, my name is Evan Carmichael, my one word is Believe and I believe that entrepreneurs are …