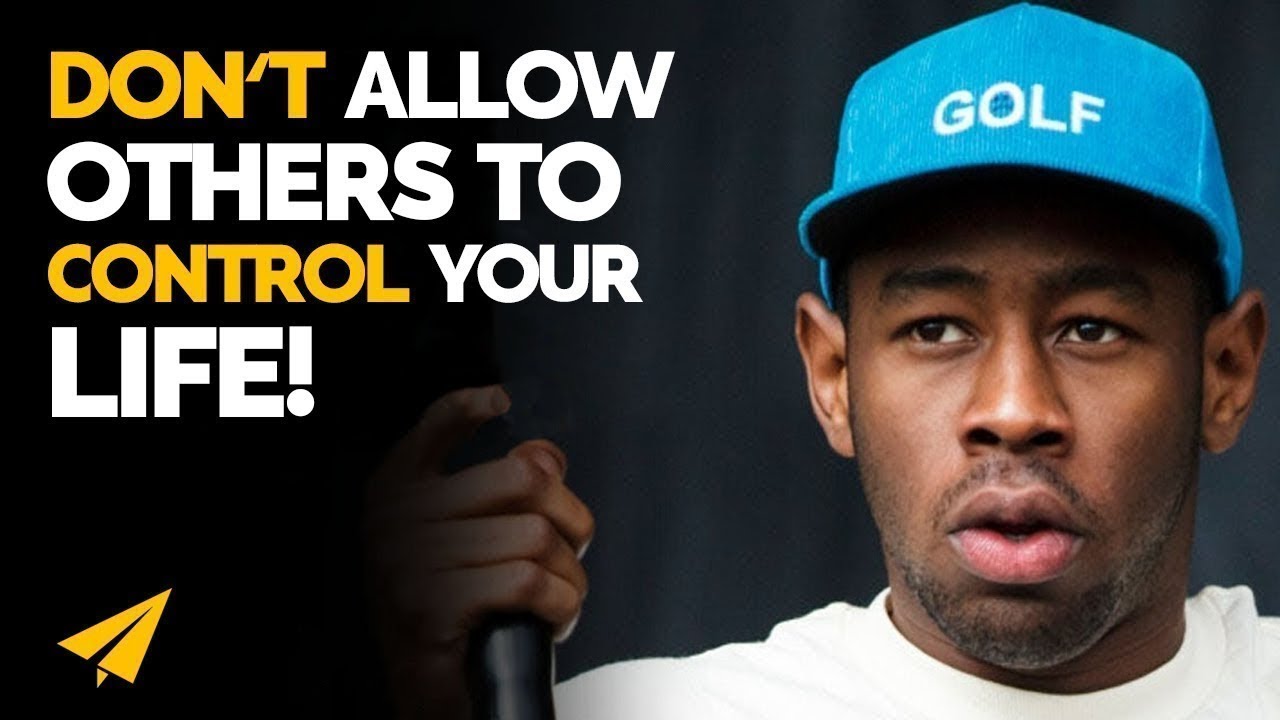 Good morning Believe Nation!
Today's message is Think For Yourself. Over to you Tyler, The Creator.
♫ I wake up every morning ♫ Espresso keep me going
We live in a society where a lot of people are followers and they can't, you know, make their set opinions. Like I have friends goin' to college for stuff that their parents want them to go for. And they're not even happy or anything. But they're just tryin' to please them and in the long run, like, I mean, what's going to be there? Your parents die and you're stuck there like. Payin' debt, payin' debt for somethin' that you didn't even want to learn in the first place.
"So, I just try to tell people to just think for themselves and they'll be way happier in the long run." – Tyler The Creator
Evan Carmichael: So listen, I think as we grow up, we are influenced by our parents and our family and our friends and the people around us. Right? You think the way your parents think. You've got the values that your parents have.
If you think money's evil, it's probably 'cause your parents thought money's evil. If you think money will solve everything it's because your parents thought money will solve everything. You have the mindset, the values and beliefs of your parents.
It's what it is. And they did it out of love. Chances are, they loved you, you know. Unless they didn't. But they loved you and it was all out of good intentions. And you now have their mindset. Great.
"At some point along your path, you need to break free and understand that this is your life that you're living, and not for anybody else." – Evan Carmichael
If you are in a job, if you are in a school class, if you're taking something only because somebody else wants you to do it, and you realize that. Then it's on you.
Right? At some point, you need to break free and say, this is my life! I want to live my version of my life and not yours. And it doesn't have to be angry and aggressive.
Right? It can come from a place of understanding. And if you look at some of the most successful people in the world, it came from breaking free of what their parents thought they should do, right?
Michael Dell started Dell Computers. His parents wanted him to be a doctor. He was a doctor. He went to school to be a doctor. He was starting his computer business on the side and it started to do well. And he said to his parents, listen. Let me take the summer off. Let me not go intern at whatever, you know, hospital. Let me just take the summer off and focus on my business. And if it does well, I'll keep running with it. If it doesn't, if I don't do well, if my business tanks, then I'll go back to school. And they agreed. And the business took off. And he never went back.
And I'm sure his parents are really proud of him now for what he's done. And it's the same story over and over and over and over again. I think of the founder of Sony, Akio Morita, whose 11 generations of sake breweries. And he was expected to take over the business as the eldest son. And you look at Japanese culture as being super rigid, right?
You have to follow the structure. It's family honor. You need to take over this business for 11 generations. And he said, no! I want to start my own tech company. Which led to Sony. Which led to reshaping the Japanese economy.
"You know, at some point, you need to decide that, I'm taking accountability for my life, that I'm not going to just listen to what other people want for me. And that you accept responsibility too!" – Evan Carmichael
That you claim the responsibility for when things work out and when they don't work out too. If it doesn't work out, if that new business doesn't work out, you can't go blame your parents. You can't go blame the president. You can't go blame your lack of resources. It's on you.
Taking that personal accountability. And yes, you can take feedback from other people. You can still listen to your parents, or friends, or whoever it is if it helps you along your path. But at the end of the day, it's a powerful day when you decide that you are in charge of your life.
You and only you. You're responsible for your life. You and only you. You're accountable for your actions. You and only you. That's a powerful day.
And I hope that day's coming soon for you if it hasn't already happened.
So the question of the day today is, I'm curious. What was the hardest decision you ever had to make to think for yourself as opposed to somebody else's expectations?
What was that decision you had to make.
Leave it in a comment below. Curious to find out. Thank you, guys, so much for watching. I believe in you. I hope you continue to believe in yourself and whatever your one word is. Much love, and I'll see you again tomorrow morning for another shot of espresso.
♫ I wake up every morning ♫ Espresso keep me going
Evan Carmichael: Now we're also looking at making a top-10 moves for success for Tyler, The Creator. Here's a sneak peek at some of the clips we're looking at. I'd love to get your feedback. Do you like it? Do you not? Tell me below.
Interviewer: When you think about catalog, when you go in and do Cherry Bomb the album, are you thinkin' now like, Man, I got so much out there that, not that you're in competition with yourself, but is there a expectation, is there a pressure, and what's the process of goin' into an album?
I just try to be better than I just try to make the music it's like songs that I'm like, damn, I would never make a song better than that. I would never make a song better than Stevie Wonder's Where Were You When I Need You. So I always use that like, God dang, I have to make somethin' good like that! And that's what pushes me and the fact that in my own head, I think I will never make something as good as the songs that I love will always and that's that thing I said.
Interviewer: Give you some excuse to step into.
I can never grasp it so I'll always push myself. That's why, I don't know what the word potential means. 'Cause potential, that's a gap. I mean, you stop. That's a wall.
"I don't know what that means so I'll always push myself harder, and whether people like it or not, at least for me, I'm trying things and trying to be better." – Tyler The Creator
I think a lot of people are forgetting that. A lot of people, especially in rap, it's either like, for the most part, people are like, Where's the deep lyrics? What does he mean? I want, I need substance. But a lot of things are feelin'. That's why, even though I'm not a fan of a lot of the popular maybe trap music or whatever. It's all feelin.' That shit feels good. So what they say, it's just a good feelin.' At least on my album, every song is like a photo for me.
Every song is like a moment. It's a mood. You know, it's, Blow My Load is two minutes of just and eatin' pussy.
Interviewer: Sure.
Interviewer: Yeah.
That's what it sounds like, Yeah.
That's the score for that. Every song for me is a score for moments in my life.
Interviewer: And it's visual to you.
Yeah. I'm very, so, Two Seater? That's what it sounds like driving from Hollywood to where I live during the sunset in LA. That's actually my car noise. I recorded on my phone. That's what it. Everything I'm talkin' about on that song is real life. Doin' 100 on the street but its OK 'cause my car is a stock, my brakes are good.
Cherry Bomb the song, the crazy one? That's what it sounds like when I'm in mosh pits. Sounds like, you know? Deathcamp sounds like that. Okaga, the last song, sounds like that moment when you're with someone that you really like and time doesn't matter.
And you're just enjoying company. And you're just like, we should just leave this place and fly.
Interviewer: And never come back.
Smuckers sounds like God and, like. God, like I'm the man. Keep Da O's sounds like this. This is Keep Da O's. This is that right there? This shit right here? The skating down the street with. That's what Keep Da O's sounds like. And my verse on there is about knowing I could lose all of this.
And I need to make sure I'm focused and shit. That's always in the back of my mind. Fucking Young sounds like being in a sunflower field. That's why it's in the video.
Yeah it does.
Interviewer: It does.
Brown Stains with Q sounds like a sherm. That's what PCP sounds like, when the nigga flips. Like that's why I's just chillin' and shit. Then out of nowhere it's like, boom boom. That's the feeling of it. And a lot of people are forgetting what feeling is. All they want is deep lyrics. Or some bullshit that.
It's feeling.
Interviewer: You've been successful for a few years now. Have you ever had a regular job?
I worked at a Starbucks and Fed Ex. And oh my God. Horrible.
Interviewer: Oh was it really bad?
Starbucks was cool 'cause I stole cheese danishes every day.
Fed Ex was so depressing. It was just. The spirit there. Just older dudes like just pushing boxes but OK with it. And it scared the livin' hell out of me. So I quit after a week and four days.
Interviewer: How long did you work at Starbucks?
Two and a half years.
Interviewer: Oh.
And this lady named Cindy, she was a new manager. She hated on me and she fired me. And I hope she's watching 'cause I still hate her.
I hate you Cindy.
Interviewer: Cindy, eh?
I hate you so much.
I hate you Cindy!
Interviewer: Is Cindy aware of your success?
I hope. I hope, her firing me was the greatest moment of my life!
Interviewer: Was it really?
Ah, my chains was free!
Interviewer:- Wow! How did she do it? Did she sit you down and say, it's time to go?
Nah. Dude, somebody, one of the shift managers warned me like 10 minutes before she fired me. So I had nine minutes to call my mom, askin' her what I should do.
Interviewer: Oh.
Yeah. It was tight. I didn't even, like, somebody was like, Yo. You gettin' fired in nine minutes boy.
Interviewer: And what did your mom tell you to do?
First she was going to sue the Starbucks. Then we figured out they did nothin' wrong.
Interviewer: That's no reason not to sue.
So OK. That was nine minutes. So I had about four minutes left to figure out what to do. So, I manned up and said, all right. I'll get fired, and I ate like three cheese danishes.
Interviewer: You did the right thing.
---
You might also like
---
More from Entspresso
---
Today's message is be confident. Good morning believe nation, it's Evan. My one word is believe and I believe that …
Today's message is The Customer is King. Good morning, Believe Nation! It's Evan. My one word is believe, and I believe …