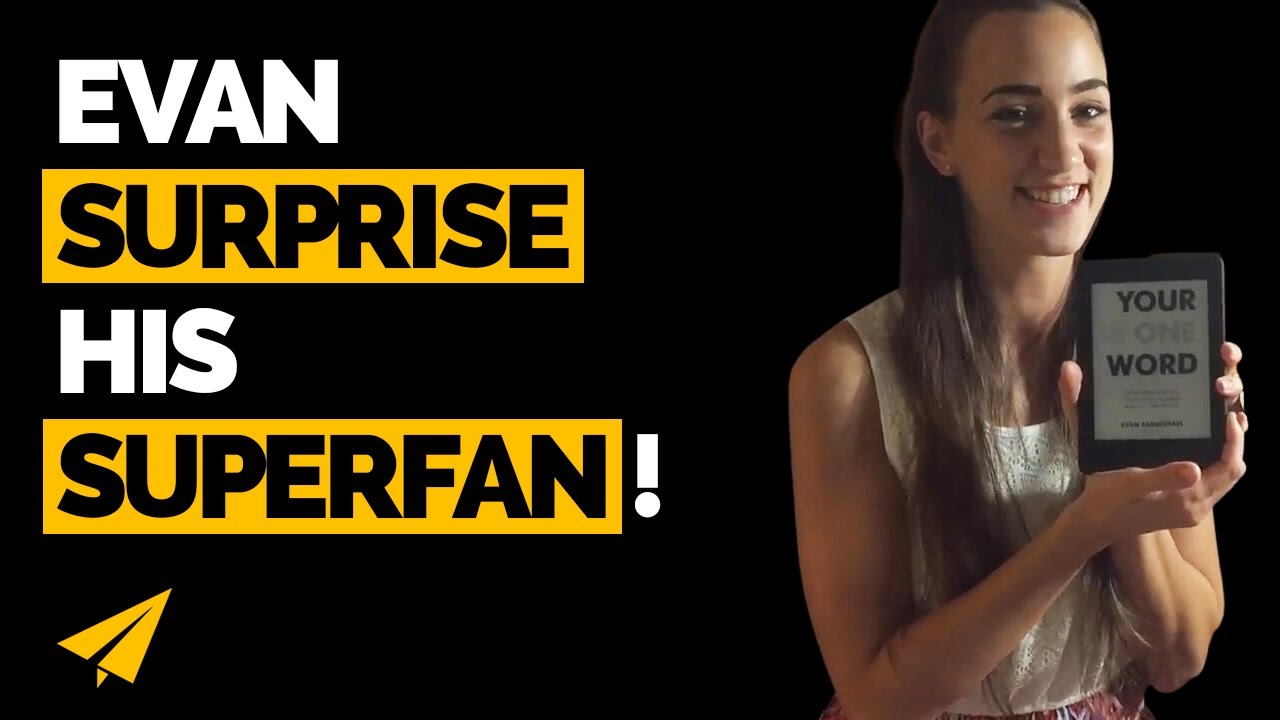 Camera Man: Alright girly girl. Oh, before and after.
Hello.
Camera Man: You ready for special surprise for you?
Oh my goodness.
Camera Man: No movies tonight, this was all joke, hoax. Big hoax. Be my guest.
Oh my goodness! Oh my god, oh my god. Oh my god.
What is up, Alexandra? Happy Tuesday. I wanted to thank you for being a fan and thank you for being excited to read my book.
Your husband, Daniel, reached out to me and he wanted to get you my book as a surprise gift and then wrote to me to say that he was worried you might either go out and buy it yourself before he gave it to you or that you might discover on your joint Amazon account that he did, bought it for you and he wanted to keep it a surprise.
He mentioned that you're a big fan. I really appreciate that. That he is also a fan, but that you're much more of a fan so we got to work on Daniel to get him to be more of a fan.
Come on, Daniel bro, let's go. We got to get watchin' some videos. But, you know, I don't know that much more you're up to, Alexadra, but one, that's the name of my sister so that's pretty cool and two, I know you have a pretty special husband who really cares about you and that goes the extra mile to make things special.
So I admire that and I'm a Daniel fan as well. So, I hope you're having a great night. This is launch day for me so it's an insane day and I just wanted to make sure that I got this video up for you as an extra special thank you as part of the surprise gift. So that's it.
Thank you for your loyalty and all the awesomeness. I believe in you. I hope you continue to believe in yourself and whatever your one word is. Enjoy the book. Much love, go out, seize it.
Camera Man: And book arrives tomorrow but I got you Kindle edition.
Thank you so much. You have no idea how much this means to me. Thank you so much for doing this with my amazing husband. Oh, I'm so, so happy, speechless.
Have your book right here. Going to start reading it tonight. And my truly copy arriving tomorrow. Oh, I couldn't wait for months.
You changed my life. You don't even know like my every day little things my habits that I'm doing. Like, I'm so grateful for you, and thank you for putting this awesome awesomeness on the internet for everybody.
Thank you for showing me how much you care for your fans. I'm up to some amazing and huge things. And I know I'm going to see you.
I'm going to meet you. I'm going to tell you all about it. And that's it. Thank you so much. Thank you for doing this. Good luck with your book and with everything you do.
Say hi to Nina and your little boy. And I'm going to continue to believe. I'm going to share the love with everybody around me. Thank you.
---
You might also like
---
More from Believe Life
---
Today we're going to learn how to communicate effectively.  Good morning, Believe Nation. It's Evan. My one word is believe, …
Today, we're going to talk about how you can create a massive action plan. Good morning, believe nation. My name …
Today we're helping you to stay motivated, and to learn how to motivate yourself! How to MOTIVATE Yourself - #BelieveLife Why MotivationGrid We're all …