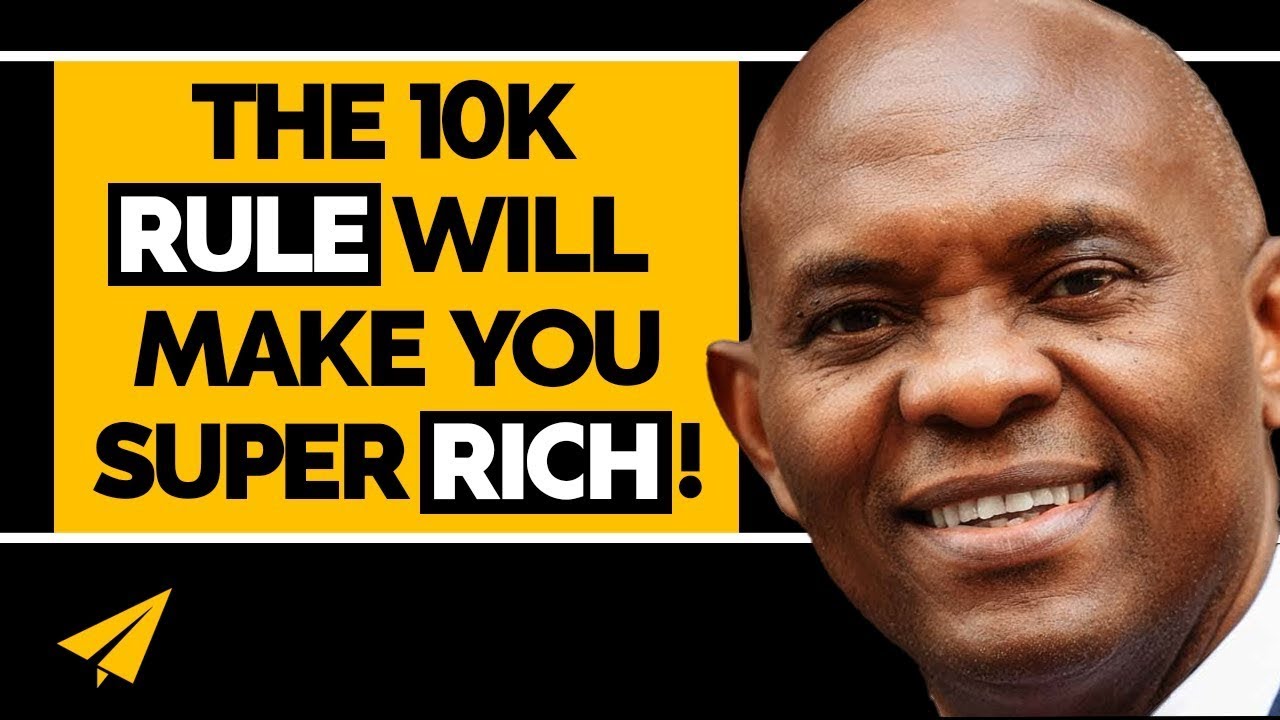 Entrepreneurship is a long-term journey.
And when you envision, and take position, and that vision comes through, then significant opportunities crystallize.
They say that success to a large extent is dependent on being at the right place at the right time.
Tony Elumelu's Top 10 Rules For Success
Evan: He's an economist, visionary, entrepreneur and philanthropist.
He's the chairman of the United Bank of Africa, and has a foundation named after himself.
He has an estimated net worth of one billion dollars.
He's Tony Elumelu, and here's my take on his top ten rules for success.
Rule number six is my personal favorite and I'm curious to figure out which one you guys like the best.
Also as Tony is talking, if he says something that really resonates with you, leave it in the comments below and put quotes around it so other people can be inspired as well.
---
ELUMELU'S RULE
Stay focused
Have a vision
Read & Execute
Seize the opportunities
Be disciplined
Work hard
Impact others
Don't disappoint
Create good service
Think about your legacy
Rule #1. Stay Focused
So entrepreneurs who are listening, quick one. Short one, straight to the point, entrepreneurship is a long-term journey. Stop seeing it as a short-term goal. Long-term journey, great companies, great and accomplished and entrepreneurs did not make it in one year. They did not make it in three years. It's a long-term journey, so move in. Dare to dream, implement your dream, and stay focused.
Rule #2. Have A Vision
I grew up with certain beliefs and certain motivations and when you envision, and take position, and that vision comes through, then significant opportunities crystallize and that is what drove interest initially in taking over a distressed bank.
We saw a banking industry that was going very fast, and we didn't think the requisite human capital capacity was available to support the continued existence of those banks and so we took early position in putting in place a company that would help to guarantee the survival of banks and so, when an opportunity presented itself, we were ready for it.
We took advantage of it. We turned it around. We grew value for stakehold shareholders and when we needed more capital to do other things, people were ready to invest in us because we delivered value.
Rule #3. Read & Execute
When I read, I try to see learning points, you know, from, you know, fictions or non-fictions. People conceive ideas, conceptualize ideas, based on history, past, or based on certain environmental factors and influences.
So when their mother read, the kids are someone, people…I love the plot and I thought we should try it out. So the message for people who are listening, 'cause for me that's important, is at some point in time in their life, and that's why I'm commending this initiative, we all, you know, there comes a time in our lives that we are fertile and it depends on what you plant in us. So we need to read as young people.
Autobiographies better, but if you can't, to identify some role models and three, say to yourself, if this role model achieved this, I can even do better, and then make sure that you don't only dream, or you dream dreams, you have to work hard to actualize the dreams and that is the difference between a successful person and one that is not successful.
Some have read more books than some others, but those who decide from reading, not just for entertaining yourself, but reading to adopt a shape or pattern for your future and realizing also that even if you've read and agreed it's what you want to do, the most important element is the ability to translate that idea to reality and that is what is important.
So, to everyone, I'm saying let us decide who we want to be, what we want to be, and let's work hard. Night to night, the hard work that we put into making it a reality.

"What makes a difference between a dreamer and an achiever is that one dreams and works hard in a smart fashion to actualize the dream." – Tony Elumelu
Rule #4. Seize The Opportunities
Man: What do I want? I want a partnership with UBA. I want UBA to be the payment, the transaction operator for my platform. That's what I want. That's why I'm here.  
I see, I see, while unleashing a lot of entrepreneurs there, and aggressive entrepreneurs on the continent. So better be careful what you ask for, eh? So this young man, as in the case of Nasu and Izonas, okay, this is what we want. By the way, entrepreneurs also, aspiring entrepreneurs, some other points I forgot to mention, one in particular is what just happened now.
A business, an entrepreneur…I would say situationer, must be quick and fast in your ideas and be able to add very quick, and be able to add very quickly. Know when an opportunity presents itself and don't fail to seize the opportunity. They say that success, to a large extent, is dependent on being at the right place at the right time. So this man, what just happened, so he's taking advantage of this opportunity.
Rule #5. Be Disciplined
What my dad always told us when we were growing up that if you end a dollar, you don't save anything. If you end a billion dollar, you won't save anything. And so that discipline of investment, keeping something, don't consume everything you get, actually helped me significantly.
Rule #6. Work Hard
What I say to people who work with me and people I mentor and try to this, I say, no substitute for hard work. If you read this book Outliers, you know, tells about the hundred thousand, ten thousand work rule, okay. Hard work rule to hard work, you know, success.
You, I tell you I work with that. This is not to me. It's not just about working smart. You can work if you are diseased. It was important. I said, "okay, okay". I want the combination of working smart and working hard. If you work hard in a smart form, a cooperative to be extra would be super.
So the comment and address I have for young entrepreneurs is let us remember what I said about dreaming dreams. What makes a difference between a dreamer and an achiever is that one dreams and works hard in a smart fashion to actualize the dream. The other dreams and believes that manner will fall from heaven, and most time, it doesn't fall.
"Dare to dream, implement your dream, and stay focused." – Tony Elumelu
Rule #7. Impact Others
I realize that entrepreneurship was key to the development of this continent and that as a successful African private sector business leader, one's success should not be measured in the amount of money that he has in bank account, but how it's been able to truly impact others and if you are successful because you are an entrepreneur, then the question there are many entrepreneurs we have to create so that you have more successful people on the continent and so the Tony Elumelu Foundation was founded basically to promote entrepreneurship across Africa.
Rule #8. Don't Disappoint
My parents and my mom in particular had so much confidence in me and I wonder, there are times they would think I always call life a second and I think, I don't think I'm this intelligent, but well, since they think I'm intelligent, let me work hard not to let them down.
So that puts a lot of pressure on me so this idea of parents criticizing your children a lot, maybe you need to let your children accommodate them, but be very realistic in the way you guide the areas where they need to improve.
Well I felt that was… I thought that was a greater impression of my intellectual capabilities, but then it helped me because it was always, if I read a lot because I thought like, I can't let them down.
They think I'm very brilliant, so that was very good and it has always helped me in life in making sure that I'm always, I always try not to disappoint my people who have confidence in me, be they my colleagues in the office, my associates, people I do things with. What's confidence is they, you know, one rather dies than let people down.
Rule #9. Create Good Service
Okay, you end a dollar, let's encourage it to save 20 cents. And the only thing that will make you save 20 cents or 2 cents, one is that it's capital you're ready to risk and two, service is good, so that if service is good and you think you're risking 20 percent of what you're earning, over time, you grow confident, and you grow confidence and now begin to impress.
That was what happened. So if I'm shopper of time, the confidence level grew and people were now patronizing more and we grew very far where the facets growing by entity and over a hundred the shopper of time and grew to acquire the third largest bank in the country and Tony created the huge pan-African bank that existed as a native of Africa.
"You have to work hard to actualize the dreams and that is the difference between a successful person and one that is not successful." – Tony Elumelu
Rule #10. Think About Your Legacy
When I feel that I've been born some reasonable criticisms of wealth about myself, my family, and people we invested in, my shareholders, and I told a time now in my life, a defining moment. Okay, so that question about the finding, so this is that defining moment.
A defining moment in my life to…for a higher calling, a higher purpose to think about legacy. We all pass through this world. One day we'll all be passed too. How do I want to be remembered?  We all talk about Rockefeller Foundation, Forbes Foundation.
These are foundations that celebrate their hundred years of existence. The founders long gone, but they continue to impact society and mankind in different ways and across geographies and I have the wealth to do this, and I thought if I endow hundred million out of my money to do this, of course I could use that hundred million to buy more suits, do other things, but if I use a hundred million in this manner, it would give me and my family a kind of psychic benefit satisfaction return that no…I don't know the investment that can give you.
Seeing all of you here, one thousand Africans from across the world, is satisfying.  And, to me, it's about legacy. It's about legacy defined as, you know, ability to touch many lives in a manner that's beyond yourself, oneself.
Thank You!
Evan: Thank you guys so much for watching. I made this video because Victor Columba asked me to. So if there's a famous entrepreneur that you want me to profile next, leave it down in the comments below and I'll see what I can do.
I'd also love to know which of the ten rules had the biggest impact on you and why. What change are you going to make in your business or life after watching this video. Leave it down in the comments and I'm going to join in the discussion.
Finally, I also wanted to give a quick shout-out to Thomas and Nina Assenmacher from sambatours.co.za Thank you guys so much for buying a copy of my book. Really means a lot to me. For those of you watching, you want your chance at a shout-out in a future video, make sure to pick up a copy of the book and email in your receipt so we can keep track and send you the bonuses.
Thank you guys so much for watching. Continue to believe or whatever your one word is and I'll see you soon.
---
You might also like
---
More from Tony Elumelu
---
Hello, Believe nation! Today we're going to talk about how you can develop discipline. And as always, guys, as you're watching if …