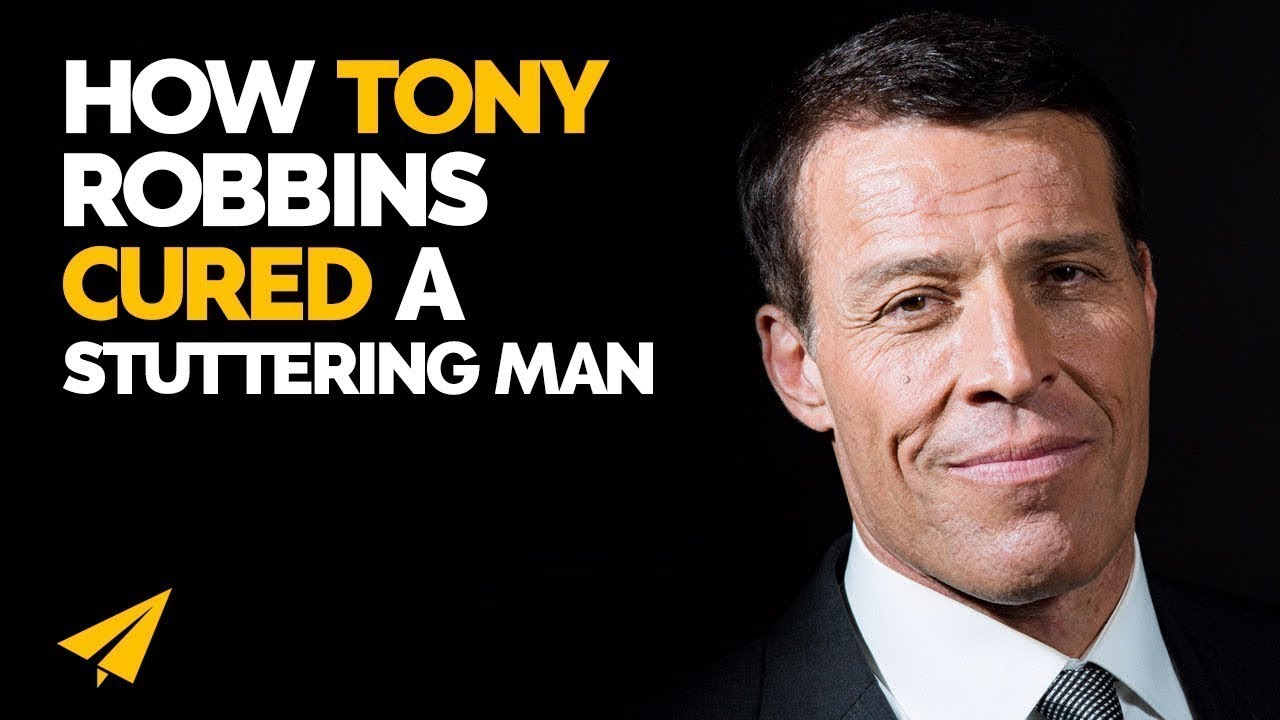 What's up Believe Nation. My name is Evan, my one word is believe, and I believe in people more than they believe in themselves, and my sincere hope is that if you see in yourself what I see in you, you'll be able to change the planet. And so to help you on your journey, I started the Best of Tony series as an experiment, as a test. Tony Robbins has had an impact on me, and a lot of the viewers on my channel, and so I thought maybe once a month, maybe bring some of his best content that I really enjoyed to inspire, enlighten, motivate you. And so today we're going to learn from Tony about how he turned somebody who had a lifelong stutter that really held him back in life and he turned it around and transformed the man's life as well. I hope you enjoy.
Tony Robbins Cures a Stuttering Man
Rechaud Bell: My name is Rechaud Bell. I've stuttered for as long as I can remember. My freshman year of college, one of the first courses I took was a speech class and I froze. The grade I received was an F. I went from a full time college student on scholarship to stocking shelves on the graveyard shift at minimum wage. The industry I'm in is basically a sales industry, and stuttering has gotten in the way of closing a deal, or even to schedule an appointment. I could have a more successful career if I spoke fluently.
Rechaud Bell' Wife: Tony it would mean so much to me if you could help Rechaud with his stutter. He is such an incredible man, and I know there is so much more potential that he has. Everyday is a struggle for him. His stutter holds him back a lot, and makes him question himself. It's so hard, because I can't do anything about it. Tony, if you could help, that would just mean so much to me and to our family.
Tony: Rechaud, nice to meet you.
Rechaud: Nice to meet you too.
Tony: Well, tell me a little bit, if you would, about what's going on in your life. I understand you're having difficulty in terms of a speech impediment or stuttering.
Rechaud: I just know, and my life I rejected it. I was ashamed of it. I drew back and was extremely introverted, but accepted.
Tony: You've gone through several stages that are perfect stages. You've gone through ashamed, you've gone through rejection, and you've gone through acceptance. You've accepted this experience. Now that you've accepted it, you can eliminate it.
Rechaud: Yeah. Sign me up for that right now.
Tony: Okay, now I want you to notice what you just said. Do that exactly like you said. Yeah, sign me up for that right now. Say that again.
Rechaud: Yeah. Sign me up for that right now.
Now you just spoke perfectly. Now there were other parts of your speech that were perfect as well, but you just demonstrated what I'm going to show you. It's hard as human beings to figure out what makes people do what they do. But because I spent 30 years in a 100 countries, with more than three and a half million people, at this point I could be an idiot and I'd have to see there's patterns that make people crazy, that make people happy, that make them fulfilled, that make them stutter. Once you know what the pattern is, it's so easy to change.
Almost every unconscious pattern happened a long time ago when we make a decision about something. We model something. We model a behavior or we reject a behavior. Deep in our unconscious it becomes a pattern to avoid pain or to gain pleasure. When did you start stuttering? Tell me the moment. What's your earliest memory? What's your earliest memory in life? Take a moment. Your earliest memory in life.
Rechaud: Probably two years old, get up on a Saturday watching cartoons and eating cereal. I believe it was Rocky and Bullwinkle.
Tony: And Bullwinkle, does he have a stutter? R-r-r-rocky?
Rechaud: Wow.
Tony: And that's your earliest memory. And when Bullwinkle got himself in trouble, how did he get out of trouble when somebody was going to like torture him or do something bad to him?
Rechaud: He would scream out, 'R-r-r-rocky,' right?
Tony: And he always stuttered when he said it. So I want you to do this, all patterns like that happen because you've forgotten something right before that moment. And now you're locked in by the pattern. There's the decision you made or something you experienced, or life was very different right before that moment. Go back to right before that moment, and I want you to recapture what you forgot.
Rechaud: My parents were probably arguing. That was happening quite often.
Tony: Yes.
Rechaud: Like to the point where my dad got physical.
Tony: And you didn't know what to do, did ya?
Rechaud: Needed clarity and assurance.
Tony: Yeah. And did you get it?
Rechaud: I guess I got that from, 'Hey, R-r-r-rocky.'
Tony: Because the one thing Rocky always responded to was
Rechaud: Help.
But not just a cry for help, a stuttering cry for help. Even a child who can't consciously understand that he feels helpless will find a way to intervene and stop pain going between those he loves. And one of the ways to do that is create a new problem. So you found a way to protect your mother, stop your father from beating her, and it worked. That was perfect for a two year old. Not good for a 30 year old Rechaud.
Rechaud: Right.
Tony:So now what? Do we stay two?
Rechaud: No. No we don't stay two. We don't stay two.
Tony: You're a man, you're 30 years old. You've lived life. You've been through all kinds of stuff. There's a warrior in you Rechaud. Feel him and where he is. Breathe him in. The warrior is one that can face anything and storm through it. Warrior, once he sets his mind to it, he will do whatever battle is necessary, for his wife, for his family, for himself. Make the sound of the warrior, the first sound that comes to you. Make the sound, make the sound of the warrior.
Tony: The warrior does not stutter. Ever.
Tony: Own the warrior.
Tony: Tell me what the warrior says. Now.
Rechaud: The warrior says I am free.
The warrior says …
Rechaud: The warrior says, I am brilliant.
That's right. The warrior says …
Rechaud: The warrior says that I am electric.
The warrior says …
Rechaud: I am awesome.
Ask the warrior, do I need to stutter anymore?
Rechaud: No. That was awesome.
You're awesome.
Rechaud: Thank you, Thank you. Wow. So, what's next coach?
Give him a hand. Rechaud, ladies and gentlemen. Rechaud. Give it up for Rechaud.
Oooooh, yes. Just a quick question. Just a quick question. Would you just share, Rechaud. What was going on before, and what had changed for you?
Rechaud: Tony, it's just been locked up inside of me forever. I've had a speech impediment, I've stuttered my entire life. Guys, 30 years of stuttering, stammering, but that was a condition that I chose. I chose to stay there. I chose to identify as a stutterer. That's why I was afraid of greatness. I was afraid of my light shining. But, no more. Because today, I am the voice. Today, I am the warrior. Today, lives will be changed. Today, I saw this moment as a child. I knew that I would be on stage talking to countless of thousands of people. Thank you for the pain. Thank you for the obstacles. Because that brought me here today to talk to you, to give you my story, to give you me. Now you got me, I got you, and do it.
Thank You!
Thank you guys so much for watching. I hope you enjoyed. I'd love to know have you seen this video yet? If not, did you like it? If you've seen it already, did you like it too? Let me know your comments, leave it down there below. I'm really curious to find out. This is also an experimental series, this Best of Tony series on this channel, so if you want it to continue, let me know. Leave it below, share the video up. If this series has the impact that I'm looking for, then we'll continue. If not, we'll find something else. Your viewership makes a big difference in the deciding factor here. So thank you guys for watching, I hope you enjoyed it. I believe in you. I hope you continue to believe in yourself, and whatever your one word is. Much love. I'll see you soon.
---
You might also like
---
More from Best Of Tony
---
Hello believe nation, I am a Tony Robbins fan and I've learned a lot from his teachings. And so I …