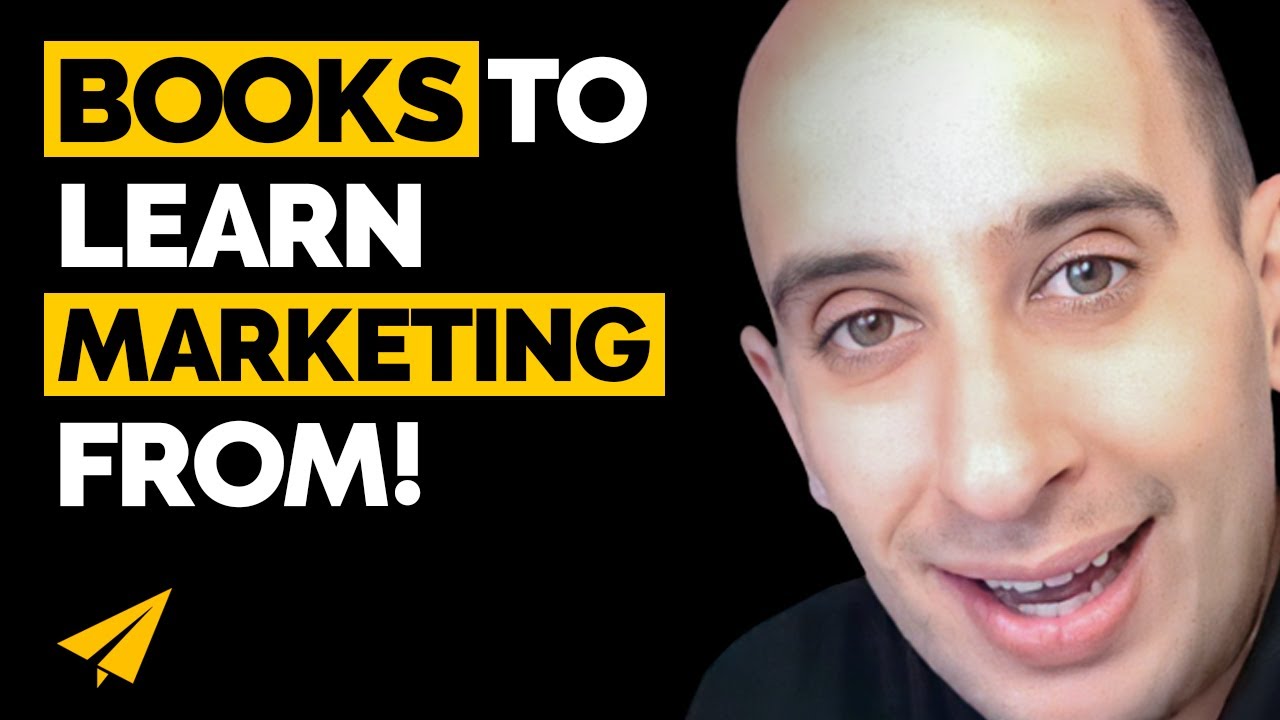 What's up believe nation? It's Evan, happy weekend. I am testing a new series that I want your feedback on and we'll see out it goes. This is the official launch, soft launch, test of the series. The idea is to basically look at different categories of books to try to filter down to some of the best books from different topics to help you build and grow your business. And so to launch it, I want to talk about the top five marketing books. I'm going to list off the books and then we're going to hear from the authors about what's inside the books to give you a little bit more context. I hope you guys enjoy. I'd love to know your thoughts on this video. Whether this series should continue or not with other topics. Leave it in the comments below and let me know. Alright so coming at number five, is The Power of Broke by Daymond John.
The Power of Broke by Daymond John.
This book is called The Power of Broke, and when you open the book the first thing you read is "The power of broke is a mindset. "It exist in all of us, "whether we have money, opportunities or advantages. "Trouble is, most people don't recognize the power "for what it is. "They leave it alone, "or maybe they don't even know it's there." What is the power of broke? What do you mean by that?
That's that hunger. That's that drive. That's that instinct that nothing is ever going to stop you. Listen, I'm not sitting there saying that to be broke and not have those resources to feed your family and get great medical attention is something we should celebrate.
I'm not saying that by far. But I'm saying that, if you're going to be in a situation where you don't have the things that you want in life and you're hungry, then that's the situation, let's tap into it. And the people that I see utilize The Power of Broke, more than anybody at all, are the people that when they reach a level of success they still use it and that's how they maintain their success.
That hunger and drive. And we grow up at a time and age where it was, you need money to make money, you got to know somebody. Well, you know, I mean look at me. Look at half this room. I grew up African American, short, dyslexic, got left back one time, almost got left back a second time, can't dribble a basketball, can't sing, can't draw, didn't know anybody, didn't go to college, that didn't stop me at all, right?
I had a mother that really loved me dearly and I had some like-minded frugal partners and friends, who would never let me stop and I never let them stop, and I had a will and a drive and I still have all those same things. I still rise and grind every single morning.
You see me in a suit on TV handing out millions of dollars. Looking like another just buttoned up executive. But it wasn't always like that. You see, I had a secret tool. It was there for me when I had absolutely nothing. When I thought I was nothing. Until it lead me to everything. You may think it's your biggest weakness. But if you wield it properly, it will definitely be the key to your success. This is The Power of Broke.
You tell me you couldn't be authentic, or original, or come up with some concept. No matter what you have, there's enough to do it.
Broke can break you or give you immense energy. If you're someone that refuses to lose, it's going to give you all the fuel you need to continue to push further.
The level of rejection, and the height to which we're trying to aspire to at times feels so insurmountable and crazy.
The people who are in a position to buy my book where not my target audience, and so it didn't register for them.
One of my favorite sayings is, "Try, fail, try again, fail better."
Being without capital is one of the greatest gifts you can have if you're an entrepreneur.
Capital isn't the most important ingredient for business any more. It's now creativity and passion.
And I want people to believe that they can actually be whatever they want to be. Do whatever they want to do. And really the sky's the limit. You know, it's people.
There will never be a perfect time there will only be you making time perfect.
Coming in at number four is Hooked: How to Build Habit-Forming Products, by Nir Eyal.
Hooked: How to Build Habit-Forming Products, by Nir Eyal.
My name is Nir Eyal and I'm the author of Hooked: How to Build Habit-Forming Products. I wrote Hooked for two reasons. First, I wrote it for the product makers, the designers, the innovators, the entrepreneurs. People who are struggling to build products to help people live better lives.
This book provides a framework to help them build the right thing sooner, to use the deeper psychology of why users do the things they do, so that we can help them live better lives. The second reason I wrote Hooked is that I'm concerned the world is becoming a potentially more addictive place.
Technology is not only becoming more pervasive, but also more persuasive. And so, if we need to learn how to live with these technologies, how to put technology in its place, we have to understand the deeper psychology driving why we use these goods and services.
And so, by understanding how these products change our behavior, we can make sure that we control our habits, as opposed to our habits controlling us.
Go Pro: 7 Steps to Becoming A Network Marketing Professional by Eric Worre.
Coming in at number three is Go Pro: 7 Steps to Becoming A Network Marketing Professional by Eric Worre.
Go Pro: 7 Steps to Becoming A Network Marketing Professional We talk about the skills that you need to develop and a road map to start developing those skills. A lot of people are surprised to learn that there's only seven skills that you need to develop in order to be a network marketing professional.
Seven skills, not seven hundred. These skills are all learnable, they're all doable, and they're all repeatable. You can teach them others but you need to know what they are, how to develop them, and how to practice and get better. I want to help the people involved in the network marketing profession.
I love the people in the network marketing profession more than any other group in the world, because they're courageous, they're entrepreneurial to their core, they go against the grain. This book can help you to really kind of formalize the skillsets that you need to develop, number one, that you need to teach, number two, and you need to replicate, number three.
You may have heard some of these concepts here and there, but I haven't seen anywhere, anywhere in network marketing, where we put it all in one place. The thing about this book is it's an easy read. It's 160 pages. Pretty logically laid out.
We're going to be talking about the principles of network marketing and also the skillsets involved in network marketing. But when people pick this book up, what I want them to do is not just read it. Because you can read it logically kind of understand it in one read, but I want them to underline it.
I want them to highlight it. I want to go back with a fresh mind on a regular basis and say, "Okay let me take a look at "how to find people to talk to "about my network marketing business. "Let me take a look at how I'm going to present, "or how I'm going to promote for events, "or how I'm going to get people started, "these different skillsets." Right?
I want you to learn it so well that you could teach it, okay? Because when you can do that then your organization is going to really take off.
The Tipping Point: How Little Things Can Make A Big Difference by Malcolm Gladwell.
Coming in at number two is The Tipping Point: How Little Things Can Make A Big Difference by Malcolm Gladwell.
A couple years ago, I was covering the AIDS epidemic. So I got very interested in the internal dynamics of epidemics, because their own, sort of weird logic.
And it just began to occur to me that I didn't understand why, when we talk about contagious things, we confine our conversation to viruses or to diseases, because clearly-
The phenomena of disease could be attributed to other places, to other ideas.
Yes, exactly. Those same principles, I mean, so many different things or other things, ideas, trends, song lyrics, are contagious in precisely the same way. I mean, I talk in the book about the word "yawn".
If I say the word "yawn" long enough you will start yawning, and people watching this show will start yawning. That's an incredibly contagious word. And it's contagious in precisely the same way as-
Contagion meaning everybody catches it or contagious–?
Everyone's catching it and it's spreading from one source everywhere. The same thing is true for, I think, for products or ideas or behaviors, especially.
I talk in the book about all kinds of contagious behaviors. Well, the tipping point is the word that comes from the study of epidemics, is the describe that moment in the epidemic when it explodes. The moment of critical mass. And if you look at every epidemic, there is always that moment when the curve suddenly shoots up very sharply, and dramatically.
And so understanding how you can get to the tipping point is really this, is the critical question. The word-of-mouth epidemics are something that I spend a lot of time on in the book. People use that phrase without ever saying what they mean. I hear it all the time. So-and-so is great, what about-
And I had never read an explanation, an actually attempt to pin down what that phenomenon is. If there is such a thing as word-of-mouth, who starts it? Who sustains it? Who creates it? So I decided-
Interviewer: Did somebody start it?
Oh yeah, absolutely. The whole first part of the book is an attempt to say "Alright, this personality is responsible "for starting word-of-mouth." This personality, and I have profiles of each of these kinds of people, is responsible for spreading it. This is the kind of person.
Because it comes directly from, it's and idea borrowed directly from disease. From diseases. If you look at disease epidemics, they are started and spread by a tiny, tiny group of exceptional people. That same idea, I think, is a really powerful way of understanding this previously amorphous concept of word-of-mouth.
Jab, Jab, Jab, Right Hook: How to Tell Your Story in a Noisy, Social World, by Gary Vaynerchuk.
And taking the number one spot is Jab, Jab, Jab, Right Hook: How to Tell Your Story in a Noisy, Social World, by Gary Vaynerchuk.
If you look at what's happening in the current state of social, there's too many people trying to close on the first move, right? Every piece of content is, buy my home, buy my wine, buy my agency, just too much selling, and so to me, what I'm trying to transition, organizations, people, everybody really into is, listen you've got to be come a media company.
And a media company writes articles, writes articles, and then has an ad. Writes articles, writes articles and then has an ad. And to me the thing that has converted the best for me, as salesman, remember I'm not Mother Teresa, I'm doing this stuff under the context of business, sure it matters for education, world peace, and all that, but this is business for me, the best thing that's worked for me is give, give, give, and then ask.
And to me, I translate that into Jab, Jab, Jab, Right Hook. The book is about the pieces of content and auditing a hundred of them and showing people how to do it, but it ladders up to a thesis, which is what I'm going to talk about today more than anything, which is not theory but being a practitioner.
There's way too many people watching this right now that talk about being a social media expert, or knowing social media but aren't in the depths, in the deep sea of knowing exactly what to do on Facebook, Twitter, Tumblr, Pinterest, Instagram, to convert ORI. I'm getting more on that kick. Because I've come to realize people like to do a lot of talking and not as much executing.
Narrator: Bill asks, "What's the best way "for a right hook to seem like a jab?"
Bill, Bill, Bill, Bill, Bill. Am I happy with you, because you've asked a question that means so much to me and is something that so many of you are confused by. Bill, I really appreciate you and I'm not trying to sting, but it might feel a little like that.
Trying to make a right hook feel like a jab is what 99% of sales people and businesses do that end up failing. It is in the clear honesty and clear track of when I want to do something nice for you, I just do it. Allah this show. I just want to take 15 to 20 minutes of my day to share the God-given wisdom and the work experience and I want all of you to watch it, and I want this  in return.
Now, come 15 months from now, 18 months from now, whether it's a book, whether it's a seminar, whether it's an event, whether it's me selling rare toys, who knows what it might be, then I will clearly say, "Buy this friggin' rare toy. "It's 9.99. "Buy it now." But, up until that point I will have very clear … They'll be no show, where you're watching the show and behind the scenes right now there's subliminal music pumping, "Buy the damn cat for 9.99." There is none of that.
And so, there's a massive confusion in the marketplace, Bill, that people want to disguise the sale and there is no disguise. Authentically, all in, all of it. All in. Give when it's time to give. On the flip side, there's a crap load of Mother Teresa's and think it's so nice and awesome and if you're just good it's good.
No, you need to sell. So when you sell, you say, "I'm selling. "I am selling this "and I feel comfortable." When I put a link out buy my book. It's out, buy it. If I've done anything for you, buy it. So, the answer to the question is very simple. There is no version of that.
That is a losing mentality and execution and I highly recommend that you take it and you split it very hard apart where the jabs are clear and where the right hooks are clear.
Thank You!
So those are the top five marketing book suggestions for entrepreneurs. I'd love to know, what do you guys think? This is the test of a new series. Did you enjoy this? Show we continue it? Are there other categories you want me to cover? Your views, your engagement, your loyalty to this series, will determine whether we continue it or not, so let me know. Leave it down in the comments below.
Thank you guys so much for your support. I hope you enjoyed this video. If there's a six, seven, eight, nine, 10 that you want to add to this list that we missed out, also share that down in the comments. I believe in you. Hope you continue to believe in yourself and whatever your one word is. Much love, I'll see you soon.
---
You might also like
---
More from Evan Carmichael
---
What's up, Believe Nation? Greetings from London, England. It's Evan. My one word is believe and I believe in people, …
Watch Evan Carmichael's Top 10 Rules For Success video. Famous Entrepreneur Quotes Evan Carmichael's Quotes "Changing my environment had a dramatic impact …
Today we're going to look at seven different ways that you can make business alliances. What's up Believe Nation? It's Evan. …