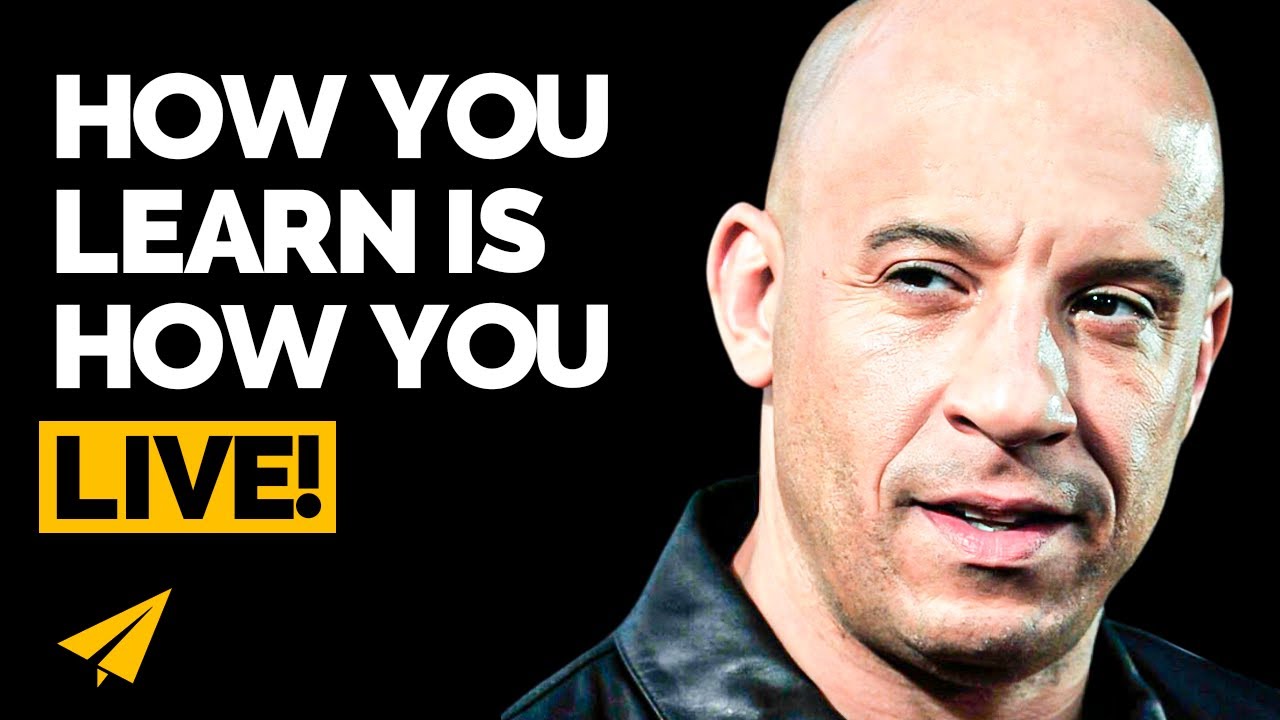 I remember coming home on night after a big fight and I run up to the kitchen and I get ice and my hand's swollen. Just another day at work.
"There was a time in my life when I said if I don't, if I'm not a star by the time I'm 18 I'm going to have to get out of the business. – Vin Diesel"
I remember the studio exec looking at me and his food almost coming out of his mouth and going "Vinnie, we're not even sure we want to make this one, how could you talk about three movies".
Evan: He's an American actor, producer, director and screenwriter. He's best known for his role as Dominic in the Fast and the Furious series. He made his stage debut at age seven in the Dinosaur Door Play and has been acting every since. He's Vin Diesel and here's my take on his top ten rules of success.
Rule number one is my personal favorite and make sure to stick around all the way til the end for special bonus clips. And as always, if Vin says something that resinates with you, please leave it in the comments below and put quotes around it so other people can be inspired as well. Enjoy. 
Rule #1: Share Positive Energy
I, as you know, was a bouncer for many years. I remember coming home one night after a big fight and I run up to the kitchen, I get ice and my hand's swollen and just another day at work. And I was feeling like, just bummed about the fact that I was still doing this job after all this time. At that one moment I was like, why are people– why do people have so much anger?
Why do I have to, you know, why is this my daily life, to suppress everybody's anger or check everybody's anger that comes into the giant 3,000 person nightclub. And my father, it was so simple, but my father said "you know Vin, I've traveled around the world. I've been to India, I've been to Russia, I've been to China. I've been all through South America and I've realized something". I said "what". He said "people, by and large, are good people".
Sounded pretty simple and yet it meant so much. And if you look at my Facebook page, or if you look at the way that all that positive energy, I don't think there's a page in the world in history that harbors as much positive energy as one would see on this Facebook page.
Interviewer: It's what you put out it.
And it's really that.
Interviewer: Right.
And I say that because, I say that because if you believe that in your heart and not everybody watching this can say that or is ready to say that or is comfortable with themselves enough to say that, but if you really believe in your heart that people, by and large, are good people it affects the way that you address the world.
"But if you really believe in your heart that people, by and large, are good people it affects the way that you address the world." – Vin Diesel
As you see, post in and post out, I address a world that in my soul I feel is comprised of good people.
Rule #2: Make Product
My advice to people who want to pursue their dream is to find any way that they can to make product.
My philosophy is that product is the most important thing. I started acting when I was seven years old and I didn't get paid as an actor until I did Saving Private Ryan and I was 30 at that time.
So, there were many, many years of unemployment, obviously. What I learned later was that I had to have something. I had to have product regardless of how big or small it was and the first thing that I did was direct a short film called Multi-Facial.
Rule #3: Challenge Yourself
No, Groot, you can't, you'll die. Why are you doing this, why?
We are Groot.
Interviewer: So, Vin, voice of Groot and possibly my favorite character in the film. What were the difficulties of kind of expressing yourself with such limited vocabulary?
Clearly the challenge and clearly a challenge that a thespian would never expect to be confronted with. And yet, thank God that I did have the opportunity and the challenge to do it because he is such a special character.
Yes, when Kevin Feige called me he said "let me prefect this phone call by telling that the character we're about to discuss is the strangest character Marvel has ever attempted to put on the big screen". And then he said "however, because Iron Giant is a family favorite we believe that you can bring life to this, even though most people will only hear you say I am Groot".
And it was a shocker and something very challenging and something very interesting. It was really my son, my three year old son, when I came home with the book of conceptual art and showed him all the characters in the Galaxy, he pointed to the tree as a character that he thought was daddy.
Interviewer: Everyone loves the tree, everyone loves the tree.
Rule #4: Be Confident
Interviewer: Sometimes you see someone having enormous success and there's just something about them, you say good for him and I think not just me, but when I read about the response to you lots of people are saying that. Cheering for you to have the accomplishments you have had.
I feel that. I've always felt the sense of support. And I think that my struggle to achieving this goal and achieving this dream is something that speaks volumes.
I started out acting at seven years old and I struggled for so long. There was a time in my life when I said if I don't, if I'm not a star by the time I'm 18, I'm going to have to get out of the business.
And then of course it jumped to 21 and then 25 and then I'm looking in the mirror, just past my mid 20s and I haven't, I haven't received health benefits from SAG. And we all know that with the Screen Actor's Guild you got to make $7,000 in order to be eligible for health benefits.
So, in fact, I didn't get health benefits until I was 30 years old, even while I was shooting Saving Private Ryan I wasn't covered. And I think that that kind of rise to fame is something that's empowering for people.
So, when they celebrate that story I think that they are also celebrating a, you know, a story that's about a guy who was proactive and resourceful and did pay his dues and did struggle and persevered.
Interviewer: And believed in himself?
I think you have to.
I think the only thing I had for so many years was this confidence that I held onto very tightly. – Vin Diesel
Interviewer: Now, was it a difference in confidence and arrogance?
Oh, absolutely.
Interviewer: You just knew that you were getting the skills necessary to be good. Then when moment came you'd be ready and could deliver.
Right. I needed to be confident at the risk even of being arrogant. I needed to be confident because I had nothing else. And if you go into a situation where you're dedicating your whole life to something, literally your whole life, all of your decisions are made with one common goal, then I think that you'd better believe in yourself. Especially if you start to work, to save money to make films.
Rule #5: Focus On Growing
I think you could ask most people in the world and they would tell you that I'm not Hollywood.
Interviewer: I know, I was speechless.
I knew, but in a good way. And it's not a bad question to ask because it's not even so Hollywood. How do you stay ground when you have 90 million people waiting for you to say something?
So, while I'm here right now, and this will go out to however many people, at home, I know the second I hear "boom" and my computer comes on, there are 90 million people waiting to hear something.
That's tricky. How do you make sense of that? What would Marlon Brando have done if he could have, would there have been a sequel to On The Waterfront? Maybe, if there was some fan out in Texas that said I can't wait to see another On The Waterfront.
Interviewer: So do you feel the pressure constantly
Family
Interviewer: to deliver?
I do feel pressure. Family keeps you grounded because– My toughest task is not going to be unlike that other guy's toughest task. The toughest task is to be the best parent you can be.
We all share that, we all– to be the best person you can be.
"We're all growing as individuals. We're all growing into our better selves. Those are the things that I stay focused on." – Vin Diesel
And I don't even know if I'm that grounded. I live in a fantasy world of scenes in my head and future– When I came here and I was about to do Fast and Furious four, they didn't think I was grounded when I said I can shoot three movies at the same time.
They thought I was insane and they were like, security, get him off the lot. They never imagined it. I remember the studio exec looking at me and his food almost coming out of his mouth and going "Vinnie, we're not even sure we want to make this one.
How could you talk about three movies? Who cares what happens in five and six?" And now the only thing they want to know is what's going to happen after this. How surreal.
Interviewer: Incredible.
Rule #6: Invest In Yourself
It's incredible. One of the interesting things about the way that I did it was or one of the interesting things about being paid the amount of money I'm being paid now for film is back in 1996 I was working to make movies. So, whether I was saving $3,000, putting a savings of $3,000 together, which at the time was a feat.
Interviewer: Yeah
Or working the whole year telemarketing to save $47,000, I was taking that money and investing it in my career and investing in something that I believed in.
Interviewer: How do you invest in your career?
Well,
Interviewer: At that stage.
At that stage, if people aren't offering you roles. The interesting thing about being an actor, it's different than the other art mediums. If you're an actor you're dependent upon on a director, a screenwriter, a producer, a studio to fund it, a studio to market the film.
Even after I made Strays, I didn't have– and I went to dramatic competition at Sundance, I didn't have a distributor. So, I could only make the film and thank God there was a forum. Thank God Robert Redford had put together a forum for these films to be shown.
And even then, even after you make the film and you put the film in the can, you still have to have somebody come along and spend money to distribute the film. So, as an actor, you need all these external factors to be artistic. If you're a musician you could, you know, woodshed and make music. If you're a painter
Interviewer: You could do it alone.
You could do it alone. And being an actor is a lot less autonomous. So, I needed to find a way to fulfill all those other positions. I had to learn how to write screenplays. So I went to college and learned how to write screenplays and I was horrible in English in high school and became an English major in college.
I started directing and learning how to direct. And learning really about the film business which is probably the number one thing that separates the unemployed Vin and the employed Vin.
It was the understanding of Hollywood and the understanding of the business and the understanding of strategy. Because so many years I was just concerned with the craft and all I thought about was how to make the craft as good as possible.
Rule #7: Enjoy What You Do
I've been acting since I was seven years old so that's always been a comfort zone. People would often ask me what do I enjoy doing more, acting or directing, 'cause I started my career as a director.
And I would say directing offers me the opportunity to tell a story. Acting is more of a therapeutic process for me because as a kid I was always, like most kids, curious about my identity, in search of my identity.
And when you play a character the parameters of that character and that identity are clear. There's something therapeutic about that. There's no guessing games when you fall into character.
So, if I'm not in character and I'm usually in character, unlike other actors that can turn it off when the director says cut, I've never had that ability. I'm usually somewhat in the character even after the director says cut.
Rule #8: Always Keep Learning
Interviewer: If you could talk to your younger self, knowing what you know, in those days when you thought maybe it's not going to happen, what would you tell yourself?
"Play it cool. I'd say, I'd say play it cool and learn as much as you can because everything you learn you're going to need. You won't have enough time to learn. Everything is an education." – Vin Diesel
Rule #9 Pay Attention to Feedback
Interviewer: I see that the way you use social media, the way you reach out to your fans, and there is a very direct approach that you utilize.
Yeah.
Interviewer: And some people don't do that and some people can't do that, but I think it, for you, really embodies who you are as a person and when you meet people. Embracing something like that, is that ever scary for you or is it just, look, these are the people that want to buy your tickets and you'd love to talk back to them?
I think you have to be, I think there's something scary about talking to a group of people anywhere. If you walk up on stage at Comic-Con, you, yourself, you can feel, we all feel that, that little bit of anxiety before speaking to a body of people.
So, it's no different on Facebook. So, if you're, when you sit down, there are times I could sit down to write a post and be at that chair for two or three hours and scrap the whole post and not put anything up because you do want to be thoughtful about what you're saying, even if what you're saying is something kind of trite or seemingly insignificant.
As everybody on the page knows, there's always something cryptic behind every damn thing I say. And I embraced it differently than I think other people have or looked at it differently than other people did early on, when, you know, no one had a million fans and it was brand new and Obama had just gotten elected and he used the social media platform to do that and it was still new.
"I looked at it as an opportunity to for the first time in my life, be able to hear the audiences thought-out reaction to my work or whatever film I had done, or characters that I might not have done, for example Riddick." – Vin Diesel
And so, I feel like if I didn't have that social media, I don't think I would have ever been pushed to make Riddick at the same level. It was the audience saying, I remember this one comment on a Riddick post where, and this was years before we ever made the movie, when it was still kind of, we were uncertain if we'd ever have the rights to make the movie and someone said "hey, Vin, there really needs to be another Riddick and we're really happy that you're doing Fast, but we need another Riddick and I'm sure that if all of us gave you $10, you could surely get the money to make it then rated R, the way you want to".
And this was before Kickstarter and all that stuff and there was something so endearing about that and that sentiment that I felt even if I have to go make this movie for free, I've got to go make this movie. It's something that has resonated and sometimes the audience, the film-going audience, vetoes the studio and in this situation that's exactly what happened.
The studio initially, the last decade, didn't think, didn't know whether they were going to be able to revisit this at the high level and still maintain that rated R and it might not have been made, but it was that audience that said it has to be made and that's how we–
Rule #10: Honor Your Friends
Back in 2002, it was you, the MTV audience that first acknowledged this brotherhood between Paul Walker and myself by honoring us with the Best Team on Film.
So, it's surreal to be standing here 12 years later and that you have been so generous to give us this award again. I wish he could be here to see this, but I know he's here in spirit.
Thank you for honoring me and more importantly, thank you for honoring that angel, my brother, Paul Walker.
Evan: Thank you so much for watching. I made this video because C.J. Jones asked me to. So, if there's a famous entrepreneur that you want me to profile next, leave it in the comments below and I'll see what I can do. I'm also curious to know which one of Vin Diesel's top ten rules had the biggest impact on you and why. What did you learn from it, what are you going to apply to your life or your business? Leave it in the comments, I'm going to join in the discussion.
Finally, I want to give a quick shout out to Sadaf Virji. Sadaf, thank you so much for picking up a copy of my book and taking that picture and posting it on Facebook. It really means a lot to me and I hope you enjoy it and find your one word. So, thank you guys again for watching. I believe in you, I hope you continue to believe in yourself and whatever your one word is. Much love, I'll see ya soon.
BONUS
Play D&D
Interviewer: So, Vin, I've heard you're really into Dungeons and Dragons. So, I have two questions.
Yes.
Interviewer: What character do you play and would you be willing to join our group?
You know, it's whenever anyone asks me to join their campaign, there's a good old feeling I have where I feel like, you know, I'm not alone in the world.
And it's okay to be a dweeb. I played a lot of characters and I played, my most famous character you might have read about, which was my witch hunter, my half-drow witch hunter. The irony is I'm about to next month do a movie called The Witch Hunter.
Kind of freaky. I mean, I never thought in a million years, when I was rolling the 20-sided die 20 something years ago that Hollywood would make a movie about a witch hunter, but that's another story. Where are you playing in, on the east coast?
Interviewer: Well, we actually do it over video chat.
You are doing video chat.
Interviewer: Yeah. So, we've got one guy down in North Carolina and he will video in.
Are you using modules, I mean
Interviewer: It's mostly second edition rules, but they have some holdovers from the first edition, so.
Okay, okay.
Interviewer: He's thinking about it.
I mean, we played with everything. That's were the witch hunter, witch hunter wasn't created by Gary Gygax, as you know. It was the aftermarket books, that we were trying to incorporate and create new games and trying to create. It was a special time. D & D was a special time. Yeah, man, we might have to get into that. We might have to get into that. I could get into that, man. Did you know that Gary Gygax– I'm sorry, guys.
Interviewer: I told you it was going to get dorky, yeah.
Interviewer: Let's split up into breakout sessions where everyone gets their own Guardian of the Galaxy.
Well, I'll tell ya later, it's Gary Gygax, so.
Create something Unique
The movie opens up tonight at midnight in America, so.
Interviewer: How do you explain the success? All over the world, I mean. In Australian and in the U.K.
Well, I have a Facebook page.
Interviewer: Yeah, I know.
Almost 23 million people.
Interviewer: Yeah.
That doesn't hurt. But I think the audience really appreciates the integrity that goes into this film.
Interviewer: Yeah.
So many action films of this size are gratuitous and don't take the time to work out story and character and add heart, and feeling and emotion and romance.
I think that's what elevates this movie. I think this movie, if you didn't see it and if you didn't see the last one, you could write it off as just an action movie.
[Interviewer] Yeah.
But I think that, the fact that it's deeper than that, and the fact that it's multi-cultural.
Interviewer: Yeah.
No action movie has subtitles of people talking in Spanish.
Interviewer: Yeah.
But that's, or Portuguese, but that says something about what kind of franchise this is.
You got some serious balls, man.
I've been told.
You know, you're lucky I missed my shot.
I think you hit your mark.
Really? What is it with you? What'd you got, a death wish or something?
If that's what it takes. I just want to race.
You might lose your car.
Let's do it.
Your funeral.
Ride or die, remember?
---
You might also like
---
More from Top 10 Rules
---
Watch Ralph Smart's Top 10 Rules For Success video. Famous Entrepreneur Quotes Ralph Smart's Quotes "We're so caught up in the outcome …
Watch Kris Jenner's Top 10 Rules For Success video. Famous Entrepreneur Quotes Kris Jenner's Quotes "You need something to be excited about …
Watch Evan Carmichael's Top 10 Rules For Success video. Famous Entrepreneur Quotes Evan Carmichael's Quotes "Changing my environment had a dramatic impact …