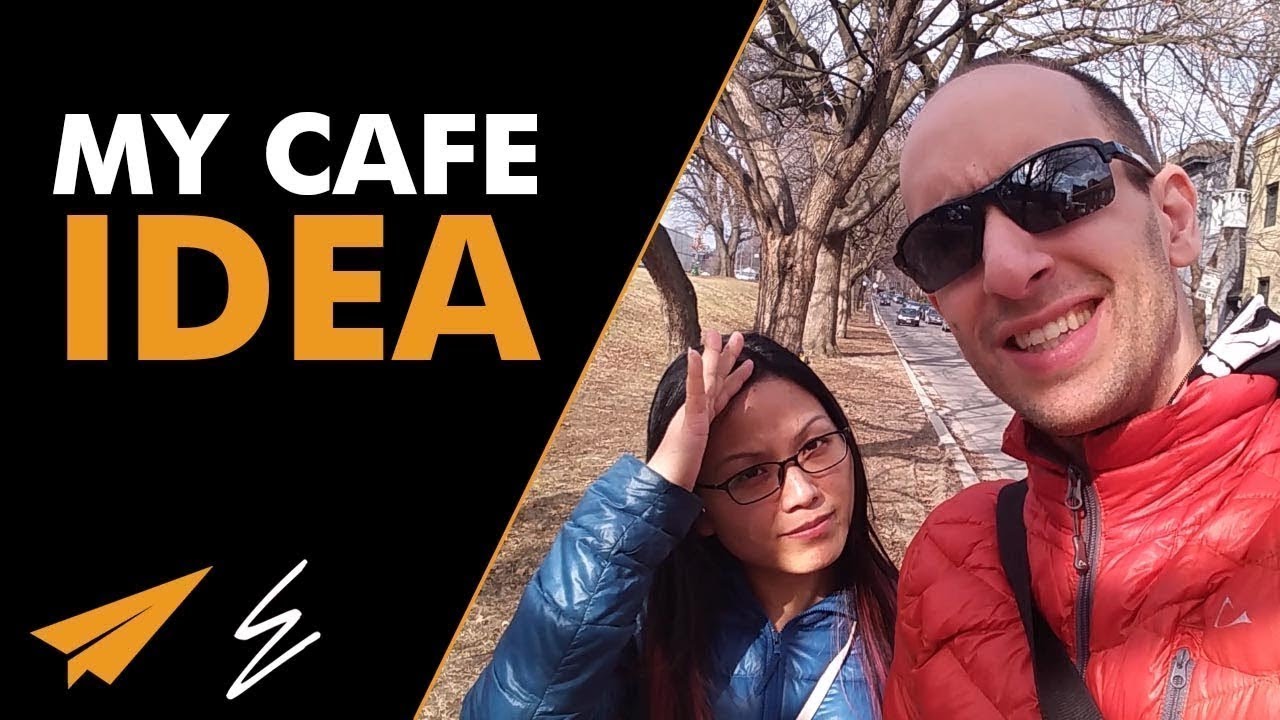 What do you guys want in an entrepreneur coffee shop?
Happy weekend everybody. Hope you've been having an amazing one. Nina's happy. One of the things that I've been thinking about is starting an entrepreneur cafe.
A destination place for entrepreneurs to come to and work and be surrounded by an amazing environment. Where there's entrepreneur videos happening, and business plans to look at, and quotes on the wall, and stories.
And just a home for entrepreneurs to work at so we don't just have to go to, you know, a Starbucks. I like Starbucks, but a real place for entrepreneurs. And so, part of our plan here is, I want to check out different independent coffee shops here in Toronto to get a sense of what they're doing that might be different than going to a chain store.
Maybe get some inspiration for my future coffee shop. Check it out "Believe". We're off to a good start. Here we are. Sam James Coffee Bar. I'm back on the street now. They don't have a bathroom. Nina needs to go to the bathroom.
So we have to find some place to go to the bathroom, so we can go back and have some coffee. So, first lesson in having my own cafe, is we need make sure there is bathrooms close by. Check. Bathrooms. Success. Nina feels
Nina: Better.
Evan: Better.
Nina: All restaurants should have a bathroom.
Evan: It was a cafe.
Nina: Well, cafe's a type of restaurant.
Evan: Nina's feeling happier. Her bladder is empty. Ready to fill it up with some liquid now. Alright, here we go. Take two.
Evan: Nina's getting a cappuccino. I'm getting the chai latte. Oh, and a butter croissant.
Nina: And a croissant.
Evan: And a butter croissant. She's excited. This is it. This is what Nina's going to eat. Yummy yummy yummy.
Evan: Nina's filming for her YouTube channel too. We're filming each other, this is what we do on the weekends.
Evan: Go check out Nina's channel. It's got hearts. Just like you. Love. I got a chai latte. Nina wants my reaction first. Chai latte. Very creamy. Try it. No, I don't think it needs it. Try. Try. Stop filming yourself. Try. It's good. Some froth on the top.
Nina: Very strong.
Evan: Strong?
Nina: Yeah.
Evan: You want some sugar?
Nina: No, it's okay.
Evan: I like the design.
Nina: I like it without sugar.
Evan: I like the design. Alright, what do we think Nina?
Nina: Uh, It's just okay.
Evan: Just okay? We need details.
Nina: They don't have bathrooms.
Evan: No bathrooms.
Nina: The staff was not very nice.
Right?
Nina: They don't smile at us,
Nina: At all. They don't smile. I feel like the main person does not know how to smile.
Evan: That's a not great first introduction. Okay, we need friendly staff at our place. Friendly staff and washrooms, okay? Next.
Nina: Yeah and need to be more comfortable.
Evan: Right?
Nina: Yeah.
Evan: It's this big bench that everybody just sits on. There's no tables. There's no Wifi.
Nina: Yeah.
Evan: No wifi. Nowhere to like, it's weird leaning back.
Nina: Yeah.
Evan: Uncomfortable. You can't really stay there. It's like a take-out place almost.
Nina: Yeah.
Evan: Okay. What else?
Nina: It's a very boring place.
Evan: Boring.
Nina: Yes, it's just a plain white wall.
Evan: Yeah, we need more inspiration on ours, okay?
Nina: And the lights are just …
Evan: Not great?
Nina: Yeah.
Evan: It had natural light. That was good. I like the natural light. Got some good windows. Fun to be on a main street and kind of look out and see what's going on. That was good. The music was not great.
Nina: Oh yeah.
Evan: Hard rock. I guess it fits an audience. What's entrepreneur music? Better figure that out. We need some good entrepreneur music. Pros, the natural light was good. The coffee, mine was okay.
Nina: Uh, yeah.
Evan: It was decent. It wasn't bad.
Nina: I like the heart.
Evan: The display was nice. Okay, anything else? Cash only. Holy cow. Cash only. Constantly bothers me. I might walk out of a cash only place. Anyway, my place will not be cash only. Pay however you want to pay.
Alright. That's it. Guys, we need to hear from you. What do you want in an entrepreneur cafe? Leave it in the comments below and I just might make it happen for you.
We hope you had a great weekend. We believe in you. We hope you continue to believe in yourself and whatever your No, you go to point to the camera. Your one word is much love. We'll see you soon.
---
You might also like
---
More from Evan Carmichael
---
What's up, Believe Nation? Greetings from London, England. It's Evan. My one word is believe and I believe in people, …
Watch Evan Carmichael's Top 10 Rules For Success video. Famous Entrepreneur Quotes Evan Carmichael's Quotes "Changing my environment had a dramatic impact …
Today we're going to look at seven different ways that you can make business alliances. What's up Believe Nation? It's Evan. …