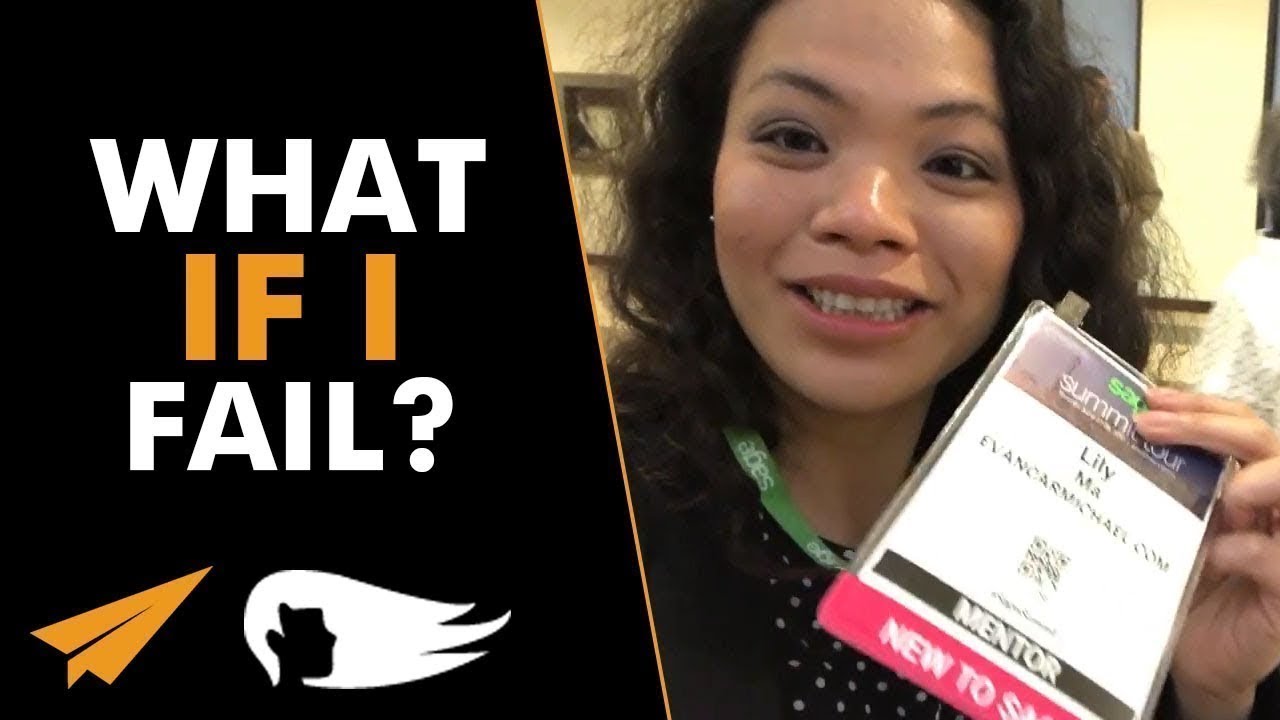 Hello everyone. Welcome to another episode of Unlocking Lily. It's always been my dream to be a speaker, where I can inspire people to do extraordinary things.
A few months ago I decided to make a life altering decision. I quit my day job to pursue this full time and you guys are all coming along for the ride with me.
Every challenge that I take on is to help me grow as a speaker. My challenge this time is my first corporate gig with Sage Summit, which is a two day business conference.
I'll be taking part in the Mentor Lounge, where people can come in and book one on one coaching with me and talk about two specific areas. The first area is leadership and vision, and the second one is attracting and retaining talent.
When Evan surprised me with this opportunity to be part of Sage Summit I was so incredibly excited. I was like, "Yes, this is exactly what I want." I am so so grateful for this opportunity.
And then I started to think, oh, I actually have to go out there and be courageous and show up and answer peoples' questions and be someone's mentor.
What if I go there and I sit there by myself and no one shows up to talk to me?
How am I going to deal with that rejection?
What if everybody wants to talk to me and I have nothing to say?
What if people ask me questions that are way above my head and I completely make a fool out of myself?
What then?
And then that's when I was like, no, no, this is ridiculous. I need to stop thinking like this. Obviously Evan recommended me, because he believed I am qualified and capable to do this. Amazing, great.
Well what if I let him down? It's his name on the line here. He vouched for me. I have to perform well. What if I fall flat on my face and now he feels like he made a mistake in recommending me? What do I do then?
That's when I thought about something that was quite interesting about me. All my life I never feel that I'm worthy of the things that happen to me. I lean into the gratitude a lot. I'm so grateful for Evan, for giving me the opportunity.
I'm so grateful for all of you for supporting me, but I never give myself credit that I have worked hard for something, that I do deserve it and am worthy.
And that's when I thought, you know what I need to really change my mindset around it. Yes, of course I'm new, and yes I'm very grateful for all the opportunities that are coming my way, and it wouldn't happen unless Evan was helping me out. But at the same time, my intention is pure.
My intention is to add as much value as possible. My mission is to help people become extraordinary. As long as I keep that in mind and work really hard to prepare myself to show up and say, "Hey, you know, I am qualified to do this." And I am ready and prepared and I've spent the last couple of weeks really really preparing and getting ready for this event.
Then if things do kind of go wrong, which it will, things are never perfect, I can learn from those mistakes and I can use this as an experience as long as I know that my intention is to help others. My intention's about the mentees that are going to be coming in.
It's not about me freaking out and being panicky. If I'm panicking, they're going to be panicking too. It's my job to stay calm and provide them with a great experience, and know that this is why I'm doing this in the first place.
So when I thought about all of that it immediately gave me the excitement, which was great, and also the confidence to go and continue on and feel great that I'm not only incredibly lucky to be given this opportunity, I also deserve it, because I've been working so incredibly hard towards this goal.
I'm so excited for this. Good morning everyone. Today is actually the big day. It's about 5, 5:15 a.m. I'm an early morning riser. This is amazing for me. This is like the best time of the day for me, where I can reflect and start my day right and see what are the things that I need to do.
The first thing that I do, after I get dressed and shower and everything, is actually do a walking meditation. What that is is that I look at the environment around me and just focus on that. For example, if I were just to look at these trees, for example, I just focus on the leaves. I focus on the color. I don't think about anything else but that. So I'm going to do that quickly, for about five minutes or so and then I'll see you very soon.
I finally ended up in the exhibition grounds where the Sage Summit is taking place. So I'm just following the crowd and hopefully I'm going to find it. And whoever's ahead of me, hopefully they're going in the right direction, and then meet up with Evan very very soon. He's here already; so early. I got my badge and I see Evan. This is so weird. This is so meta. Look who it is.
Evan: It's Lily, she's filming. Look at this. Yours says New to Sage, look at that.
Yeah
All right.
Maybe people will be nicer to me.  We're going to head inside soon.  I got out of two back to back mentoring sessions. I think, overall, it went really well. People left really happy. With the first one I feel like I could have done more with his limiting beliefs. I could have dug a little deeper.
Given the situation, I kind of hesitated. Any time I hesitate I don't end up following through the way I want. I still think he left with tons of value, but he didn't actually get to the real issue that he was facing, so I definitely needed to change that.
And then the second one, I was able to take the immediate feedback that I gave myself and I started asking more important questions right away, so that way I could get to the solution a lot faster. I think I still could have gone a little bit faster than I did.
Better, better, but I could have been faster and I could have helped him a lot more with a solution, and helping his business and how to create his messaging around what's important to him, but in the end, what made me really happy is he left and he says, "I'm going to start doing this right now. "It's going to be this afternoon, and thank you for helping me take immediate action", and that, to me, is the biggest thank you someone could give me.
So I feel really good. Tomorrow I'm back at this again and I'm going to try to find ways to get to the problem a lot faster than I have been. And that's been an ongoing progress for me. I'm really excited for tomorrow, but super pumped about the two mentees that I had today. Okay, bye.
Today is day two of Sage Summit. I was just thinking about the two mentoring sessions that I had, this morning and how much joy that brought me. I always approach any kind of mentoring session or coaching session with a lot of nervousness, because I'm always worried that I'm not adding enough value.
What are the things that I could do better? And then once I have the person face to face, everything else just kind of fades and I just focus on them and the things that they can do to inspire themselves. So really thinking about the two people that I had yesterday and how happy they were when they left and how they're going to take immediate action; I actually received an email from one of them saying that his day went from a 7 and 1/2 to a 11 and he wanted to thank me for that.
So all of that makes it so worth it to wake up at 4:45 in the morning to get down there and to do the mentoring session. I don't know, that's why I do what I do. It's to see other people happy. It's to see them getting inspired. It's to see them taking action right away, whether if it's in their life or business or relationships, whatever it is that they need.
And I'm going to just take that with me this morning. And I feel a lot less nervous. I feel way more excited than nervous. So it's all good. It's going to be a great day. It's the last day of the summit, so it's going to be a fabulous day. All right, just got out of the keynote with Rick Mercer. I'm going to head over to the mentor lounge. I think Evan's already here, so let me go find him.
All right, day two of Sage Summit done. Overall it was a really great experience. I haven't been to an accounting conference before, and who knew that it would actually be a lot of fun. There was a keynote with Rick Mercer this morning.
To be honest, I didn't know who he was. For those of you who don't know, he is a Canadian comedian and his keynote was really good. Today I didn't have any coaching sessions, but I used the opportunity to learn from Evan. I had some questions for him, so he guided me through that.
And I was right beside him, so I was able to kind of sit in and eavesdrop, a little bit, into his sessions and learn from him and see what he does, so that way I can use some of that method myself too and see the way he asked questions, looking at his thought process and all of that.
Overall it wasn't' a waste, even though I was looking forward to meeting more people. But every opportunity is an opportunity to learn So it was great. Being part of the Sage Summit was such an incredible experience for me.
Not only did I get to mentor people, help them out with their business and lives, I got to watch some great speakers deliver their message to us. I also met a new friend. Her name is Rebecca. She shared her favorite quote with me, which is-
Say yes, and figure the rest out afterwards.
Which basically sums up this entire experience for me. When Evan came with a challenge, I just said yes. I had no idea what was expected of me. I didn't know the details. I didn't know where I needed to be at what time, what day, wherever. I just said yes and it turns out to be one of the best experiences I've had in a very long time, and I'm so glad I said yes.
For my next challenge I'm going to be bringing all of you behind the scenes in my mentoring sessions with Evan. I learned from Tony Robbins that success leaves clues. If there's something you really want to be successful at, you need to study and mentor under someone who has been there and has been successful consistently.
And to me, Evan perfectly embodies that and is such a great mentor for me. The question of the day is, what is that one scary thing that you said yes too that turned out to be an amazing experience for you. Thank you so much for watching. Your comments and encouragement really really gets me excited and wants me to keep going and making all these videos for all of you.
I actually have a special shout out for Jason Bean. Jason Bean wrote, "this is so cool." Honestly Jason, you've been there since day one and I'm so incredibly honored to have you on this journey with me. Once again, thank you so much guys. I love you all and I'll see you very very soon.
---
You might also like
---
More from Lily Ma
---
Hello, everyone. So welcome to another episode of Unlocking Lily. It's always been my dream to be a speaker, which …
Today's message is create your own luck. Donald Trump Knowledge. Knowledge. But if it's one word. One word's very hard for that, …
How to OVERCOME your FEAR #1: Fear Is Holding You Back The number one thing to always think about is how is …