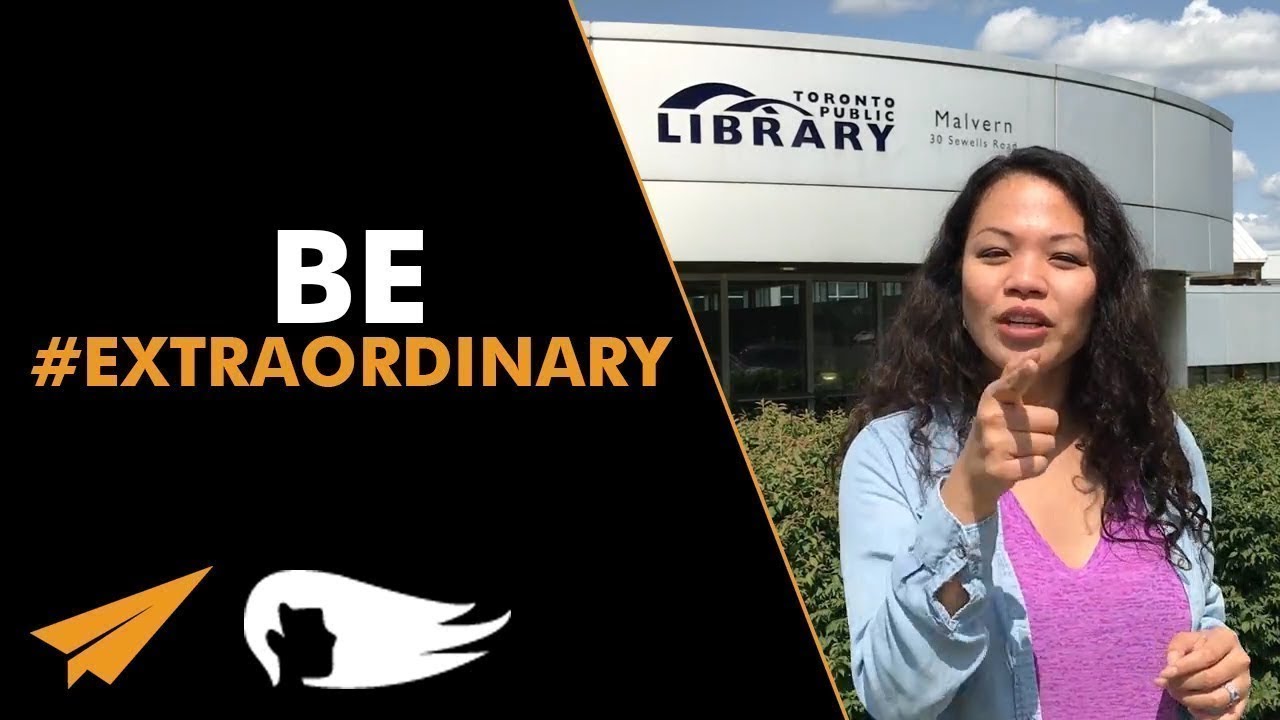 Hello, everyone. So welcome to another episode of Unlocking Lily. It's always been my dream to be a speaker, which led me to quit my day job to work and mentor under Evan full time. And all of you are coming along for the ride with me.
What is Your WHY? – #UnlockingLily Ep. 8
In every episode, I take on a different challenge to really help me grow as a speaker. In this video, I'm going to be starting with my why, because I learned from Simon Sinek, it's important for you to know your why before you know your how and what.
Hey, everyone, so today I'm going to be teaching a one word workshop at the library. I'm going to do something a little bit different than usual. Instead of telling people what I do, I'm going to start with my why.
I'm really excited, because it's something I have never done before. I'm going to go in, grab my husband, and we're going to be on our way. I'm going to take you all there, too.  Hello, husband.
We live really far away from Toronto, and usually our rides span anywhere from an hour to two and a half hours to three hours into the city, so the husband and I like to trade interesting information, and today he has something interesting to tell you all.
So I did some pretty intense research on Wikipedia, and I checked out the history of Innisfil, and it comes from the Irish term for the mythical name for Ireland, which was Inis Fail. So yeah, that's probably Gaelic, too.
The reason why the husband did the research on Innisfil because we live in Innisfil. So to my Irish friends out there, is that true? Does Innisfil translate to Ireland? Tell me. Leave in the comments below. I'm curious to find out.  Hey, everyone.
So I'm finally here at the Toronto Library, the Malvern division. This workshop is extra special for me, because I am from Malvern, and to be back here feels great. It kind of reminds me of when I was a teenager walking up and down these streets, and before … There's some music pumping.
That's what I remember about Malvern, too. Before I go to any workshops or any kind of encounter with people, I always think about the intention that I want to set. What is the intention that I want when people are leaving?
And the intention today is for them to feel something that sparks inside them, inspire them to go take action and go out there and live an extraordinary life. So I'm really excited, a little bit nervous, but mostly excited. And we're going to go inside, and I'll catch you guys soon.  So I just had the workshop. It was great. I couldn't record much of the people inside.
It's just a part of library laws. But it was good. It was really good. It was different. It wasn't the big group that I'm used to, but it became like a one-on-one coaching, which is what I love. And I think a lot of people are going to take action, and hold themselves accountable, and do something great. A lot of great words came out of it, too, which I'm really excited about.
Anyway, we're going to go and spend some time with the family. See you guys soon.  I just got back from doing the workshop at the library. When I was there, I had so many great memories coming back to me. I remember when I was a 16-year-old girl who had nothing, just big dreams and a strong work ethic, and how a lot of people took a chance on me.
I had these great teachers, these great guidance counselors, who helped me form a path for myself to be able to go out there and achieve my dreams and how they believed in me, believed that I was capable of doing a lot more than I was doing at that time. And when I was there, I realized that I can be that for someone now. Number one, I'm not that girl anymore.
I have a lot to give. And number two, I could do that for someone. I can be the guide for someone. I could help them pave their path. I grew up in a really poor neighborhood where a lot of people don't get out. I was able to get out. I could go back there and do that for someone else, and then hopefully they could do that for someone else, and it all just kind of comes a full circle.
And that further solidifies my why. My why is to inspire people to be extraordinary so they could inspire others to do the same, and then how we can all do this together as one. That's the reason why I make these videos. That's the reason why I want to go to speak. That's the reason why I coach people. Everything I do is because of that, and being there really, really confirmed it for me even though I was uncomfortable with it at first.
I didn't know how to say it. But I'm glad I did, because it showed me and proved to me that, that really is my why. So the question of the day is, what is your why? Please write in the comments below, and I'll join in on the discussion. So my last episode, when I talked about overcoming my fear, I said that I wanted to speak in front of a lot of people on stage.
So I think the next thing I want to do is like go on a big stage and speak in front of a lot of people. A lot. Hundreds of people. That's what I would like to do. Yeah. So surprise, I actually have a TEDx Talk coming up in Michigan, so for my next challenge, I'm going to be bringing all of you on the road trip. I am so excited to bring you guys along for my first TEDx talk.
I have a special shout-out for Choria Graphic Arts. Choria Graphic Arts wrote, Choria Graphic Arts, first of all, thank you so much for sharing that with us. I do want you to know that you're not alone, and it's okay to feel discouraged from time to time, but I want you to know that we're all rooting for you.
So thank you so much for watching. Every time an episode comes out, I get so excited to read your comments. And every time you share something with me in the comments, I feel like I know you a little bit better and how we're all in this together. Again, thank you so much, and I will see you guys very, very soon.
---
You might also like
---
More from Lily Ma
---
Today's message is create your own luck. Donald Trump Knowledge. Knowledge. But if it's one word. One word's very hard for that, …
How to OVERCOME your FEAR #1: Fear Is Holding You Back The number one thing to always think about is how is …
My name is Lily Ma and my one word is extraordinary. I believe that every human being is capable of …