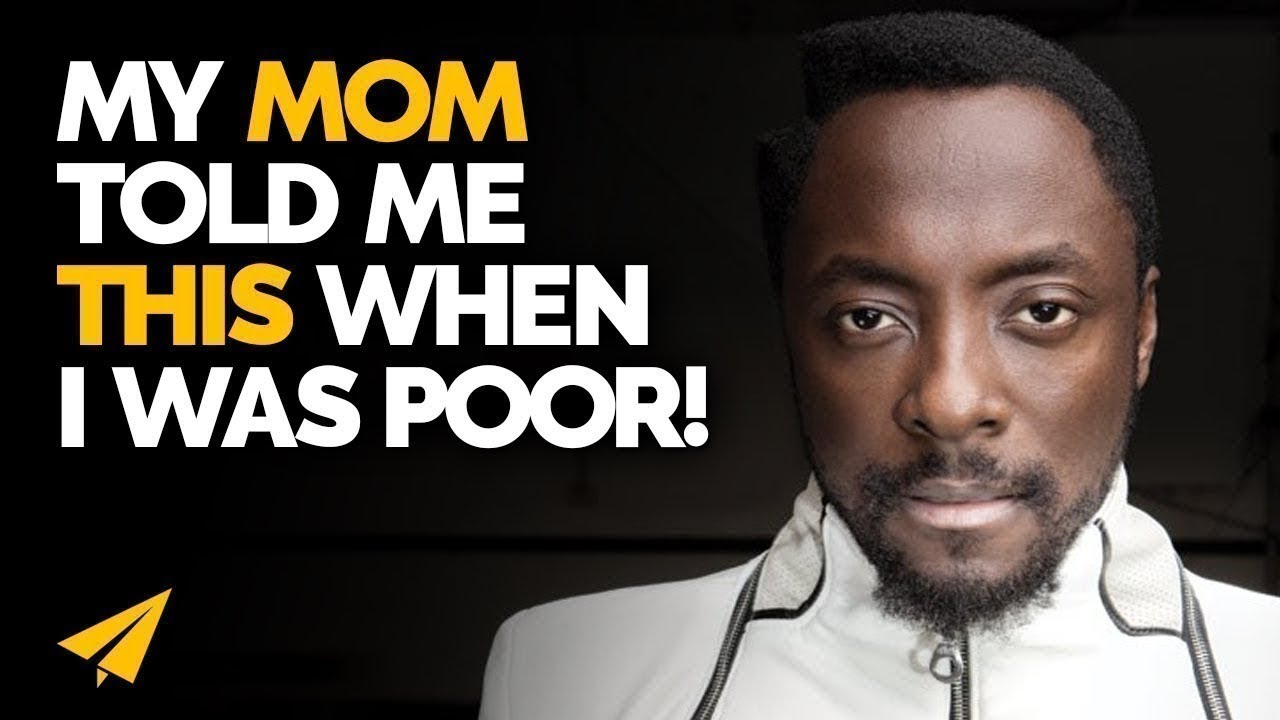 "I'm a, believe, bro."
"Yeah, one time my mom said, "You need to get a job." I said, I already have a job. I'm just not getting paid yet."
"I want to plan for the next 20 years of my life. What am I going to be doing when I'm 50?"
"There's a spark in every single person that's going to change the world. They have this spark in them."
– will.i.am
Evan: Hello Believe Nation, I'm Evan Carmichael. My one word is believe and I believe that entrepreneurs are going to solve all of the world's major problems.
So to help you on your journey, today we're going to learn from rapper and successful entrepreneur, will.i.am and my take on his top 10 rules for success.
And as always, as you're listening, if something really resonates with you, there's a message that really holds true to you, please leave it down the comments below and put it in quotes, so that other people can be inspired.
And when you write it down, it's much more likely to stick with yourself as well. Enjoy.
---
will.i.am's Rules
Rule #1: Be A Doer
Rule #2: Work On Your Dreams
Rule #3: Be Creative
Rule #4: Have Will
Rule #5: Master Your Craft
Rule #6: Keep Going
Rule #7: Take A Leap
Rule #8: Turn Dreams Into Reality
Rule #9: Define Success For Yourself
Rule #10: Spread Love
BONUS
#Believe in what you do
Create your own team
Dream big
WILL.I.AM'S Top 10 Rules For Success
Rule #1: Be A Doer
I'm a, believer, bro. I see things and I want to make them real. No matter how hard it takes, no matter what obstacles, no matter how many embarrassing meetings I have to imagine is happening when I leave.  It doesn't matter, I'm a doer. And a freaking make-I-happen-er.
Rule #2: Work On Your Dreams
Yeah, one time my mom said, You need to get a job." I said, I already have a job. I'm just not getting paid yet. Actually, I have a career.
That's a huge punchline.
Real stuff, man, I'm working on my dream. That's my job. If I'm going to pay attention to my nightmare, I should be able to work on my dream. One of them's going to take my energy. I would rather give my energy to my dream than my nightmare.
Rule #3: Be Creative
Creativity feels like the world slows down and fast forwards at the same time. It's like you're fast forwarding in slow motion. The only thing that matters is what you're creating. And then you go to sleep and you wake up and a week's passed. But it all felt like 24 hours.
But the stuff that you were able to do, was mind boggling. And for those, it sounds like puzzle, what are you talking about, I don't get it, that's because you're not creative. Creative folks will know exactly what I'm talking about. Time just seems to just fly by. Time doesn't exist when you're creating.
It's like, oh my gosh, what happened? Yo what time is it, 4:00? No, it's 5:00 in the morning. Oh, the sun was just out, well the sun is out, but the sun went down and came back up again. Oh man, are you crazy, I haven't eaten all day. But you weren't hungry.
You get hit with, now you're lethargic, and you're freaking parched. Your lips are all chapped and dry, your breath smells, because you ain't even been talking. You just been thinking. And the little talking you were doing, was to figure out these problems. That is the most enjoyable experience ever.
Rule #4: Have Will
If you had to think of one word that's most important to you or that sums you up or that would be kind of like a little beacon.
Will. Not in an egotistical way either, just the will. And not the thing you write before you die. The will to have will, determination, to have strength, courage, will.
Rule #5: Master Your Craft
Apple and I, we always used to think big, but we didn't think as big as we made it. Our whole thing was, how do we stay traveling? When you're in a ghetto, or a province, you yearn to travel, to see like, ooh, one day I want to go to London, one day I want to go to Cambodia, see the ruins.
What do I have to do to be able to travel? My craft now is writing songs. And performing. So you match your craft to do something that you wanted to do. Like, how do I move my mom out the projects? Well, how my entire family out the projects? My uncles, cousins, nephew, nieces. So you match your craft to be able to do that.
Rule #6: Keep Going
I'm just a tech enthusiast, I want to plan for the next 20 years of my life. What am I going to be doing when I'm 50? And I remember when I was 17, I dreamt of doing music. And now those dreams came true. And I indulged in music, I surrounded myself with beats and people that wrote rhymes.
Went to poetry lounges and made a effort to be doing what I'm doing now. I disciplined myself and sacrificed a whole bunch of stuff to keep me on track. And now, I'm in my 30s, what am I going to be doing when I'm 50? I hope I'm making. I want to be creating tools, dope gadgets.
So, I'm starting now. Maybe some, is going to be whack, just like the first songs I wrote were whack. I wrote a whack song yesterday.  But that doesn't mean that you stop, that means you just keep going, keep going, improving, improving, sharpening up your tool.
Keeping your mind fast, keeping your eyes open, your mind open, to be in the creative community. And tomorrow the creative community is gadgets, technology, software. And I want to be a part of it.
Rule #7: Take A Leap
Can you achieve this kind of fame without the driving force of a mother or a father, somebody who's with you to be able to provide a chance to do it?
Well, it depends on the people around you. Sometimes your friends, good friends, replace that. Of course you're going to, you know what I mean, I can't speak for those people, I'm speaking for me being raised by a single mom, and uncles, and friends that pitched in.
And, I guess, there's always ways out of it. Sometimes it takes difficult decisions to do things, to leap. You just got to leap. Especially if you know it's better than just sitting there. And bickering and fighting. And waiting for people to make it happen for you.
Rule #8: Turn Dreams Into Reality
If someone confronts me with an idea for a new business, the thing that that I look for to see if they're going to succeed, first off, on a personal level, is how they vibrate. Are they excited about it? And if they have more facts than dreams, 'cause anybody could have a whole bunch of dreams and no concrete way to turn that dream into reality, like facts.
'Cause you could be hypnotizing dizzy by your own dreaming. So I look for that. The tenacity, that energy, there's a spark in every single person that's going to change the world. They have this spark in them. And they're able to make you believe.
They don't necessarily have to be the most energetic person, they just, magnetic and how they're delivering you that concept. They're converters. And then, business-wise, if they don't have the business skills, they're open-minded and are converters to bring along the best business folk.
Walt Disney want the best business person. But his brother was. So, but he was able to, he was able to dream and convert. Right? Not convert in a way that's forceful, but inspire, is a better word. They're able to dream and inspire to, and become magnetic to bring all the right components to the table for that thing to grow successfully.
That is, that's hard to do, though. And those people don't come around very often. And that's the reason why those same people have their hands in a whole bunch of disruptive businesses, right? It took a Elon Musk to do all three of those, because not many people have the ability to do that.
Rule #9: Define Success For Yourself
There's these bars that other people that are in your field have accomplished. And that becomes the measurement of what people define as success. Winning a Grammy, that's it, that's the summit! So, everyone tries to win a Grammy, some people don't even dare to think, 'cause they don't want to not succeed. And then they find themselves winning a Grammy. Okay, after you won it, then what? You know?
Then what for you?
So, for me, it's creating new things. Coming up with concepts like I want to send kids to college. So how do I send kids to college via my art? Right, so, if I just, by me being creative, I send kids to school, that's a bar. You've now lifted 20,000 pounds. So, once you did that, okay, what can I do now? I want to rescue families from losing their home. And via me being creative. So that's now a new bar, chu-chu-do-do.
Rule #10: Spread Love
♫ That tonight's going to be a good night ♫ That tonight's going to be a good, good night. ♫ Feelin', yeah, that tonight's going to be a good night ♫ That tonight's going to be  ♫ a good night ♫ That tonight's going to be a good, good night Wow.
Aw, get on the mic. ♫ I get a Hey, one-two, one-two, ooh. ♫ I got to feeling ♫ Woohoo, hey ♫ That tonight's going to be a good night, hey ♫ That tonight's going to be a good night, hey ♫ That tonight's going to be a good, good night  ♫ Yo, let's live it up ♫ Hey, hey, I've got my money, ♫ Hey, hey let's spend it up ♫ Yo, go out and smash ♫ Like oh my God, hey ♫ Let's got that, let's got that, let got that ♫ Feelin', that, that tonight's going to be a
Yo, can you do it like, let's rock Where Is The Love right there. ♫ Yeah, where is the love, the love ♫ The love, yeah ♫ Where is the love, the love, the love There's too much fire in there ♫ Where is the love ♫ What's wrong with the world, mama? ♫ People livin' like they ain't got no mamas ♫ I think the whole world's addicted to the drama ♫ Only attracted to the things that'll bring a trauma ♫ Overseas, yeah, we tryin' to stop terrorism ♫ But we still got terrorists livin' ♫ In the USA, the CIA ♫ The Bloods and the Crips, and the KKK ♫ But if you only have love for your own race ♫ Then you only leave space to discriminate ♫ And to discriminate only generates hate ♫ And when you hate, then you're bound to get irate ♫ Yeah, madness is what you demonstrate ♫ Madness is what you demonstrate ♫ Take a, take control of your love or just ♫ Just, just, choke your love, yo ♫ Where is the love, the love ♫ The love, the love ♫ Where is the love, the love, ♫ The love, the love ♫ Where is
There's a lot of shit going on in the world right now, you all. With all the things that's happening in the world, it's important that we respect one another. No matter if you black, if you white, all lives matter. But right now, black lives matter. Because of the things that are happening to us right now.
We need white people to stand beside us and we stand beside you all, you all. We are Americans at the end of the day. Let's pray for our country, let's pray for all the families that are, that have been put in harms way, because of ignorance and hatred.
Where Is The Love is important right now. And I'm just really, really, really, really hurt by the things that are happening in the world right now. So, if we could just say a prayer for us. There's awesome police officers out there, let's say prayer for the wicked ones, so they don't strike that wickedness upon us.
It's very, very important that we align. So, thank you for singing these songs. I just randomly was driving down the street and saw you, I was like oh, he's playing one of our, my joints. And I just wanted to come out here and just rock with you on the corner like this. So, thanks for keeping the love alive. Thank you guys.
Thank You!
Thank you guys so much for watching, I made this video, because Michal Reszka asked me to. If there's someone you'd like me to profile in the next Top 10, check out the link in the description and go and cast your vote. I'd also love to know what was your favorite message from this video, what did you learn from this video that you're going to immediately apply somehow, in your life or in your business. Please leave it down the comments below, I'm really curious to find out.
I also want to give a quick shout-out to Dilip Gehlot. Thank you so much for picking up a copy of my book, Your One Word, and taking that picture on Instagram. I really, really, really appreciate it man, and I hope you're enjoying the read.
So thank you guys again for watching, I believe in you, I hope you continue to believe in yourself, and whatever your one word is. Much love, I'll see you soon.
---
BONUS
#Believe in what you do
I supported Obama way before it was cool. And put myself in jeopardy to the youth to look at me like an adult, like, oh, that's that political dude. I put my career at risk, the way I stepped out and was on Bill Maher and and Larry King and whatnot. When you're a group like the Black Eyed Peas and you got 15-year-olds to 40-year-olds, 40-year-olds-
You see her, you see, she just
Oh, hi! Oh my god!
How you doing?
Oh my god!
You know, 40-year-old think it's cool, but a 15-year-old be like, damn, that dude's, like, old. So, I put my career at risk doing that, and, because I believed in it.
Create your own team
I'm a believer, and I believe in putting teams together. Whether it's for songs, whether it's for political campaigns. And the likes of Obama campaign and the Hillary campaign, and Intel and Beats and now Apple. They value dot connectors and problem solvers. People that trying to solve riddles. So, I wanted to believe in my ability to create my own team, so I went out and invested in myself.
Dream big
I have a song called It Was All A Dream.
Real?
Yeah, I swear to God. It was all a dream, I used to read Word Up! magazines Salt-n-Pepa and Heavy D in the limousine ♫ It was all a dream, ♫ I used to read Word Up! Magazine ♫ Salt-n-Pepa and Heavy D up in the limousine
Hangin' pictures on my walls Every Saturday Rap Attack, ♫ Hangin' pictures on my wall ♫ Every Saturday Rap Attack, Mr. Magic, Marley Marl
For me, it was all a dream. I used to search Google, I used to buy an iPhone. I now want to make my own.  Why not?
Yeah.
Why not dream that big?
---
You might also like
---
More from Top 10 Rules
---
Watch Evan Carmichael's Top 10 Rules For Success video. Famous Entrepreneur Quotes Evan Carmichael's Quotes "Changing my environment had a dramatic impact …
Watch Mark Hamill's Top 10 Rules For Success video. Famous Entrepreneur Quotes Mark Hamill's Quotes "I love the allure, the danger, of …
Watch Brandon Beck's Top 10 Rules For Success video. Famous Entrepreneur Quotes Brandon Beck's Quotes "Whether you think you can do it, …