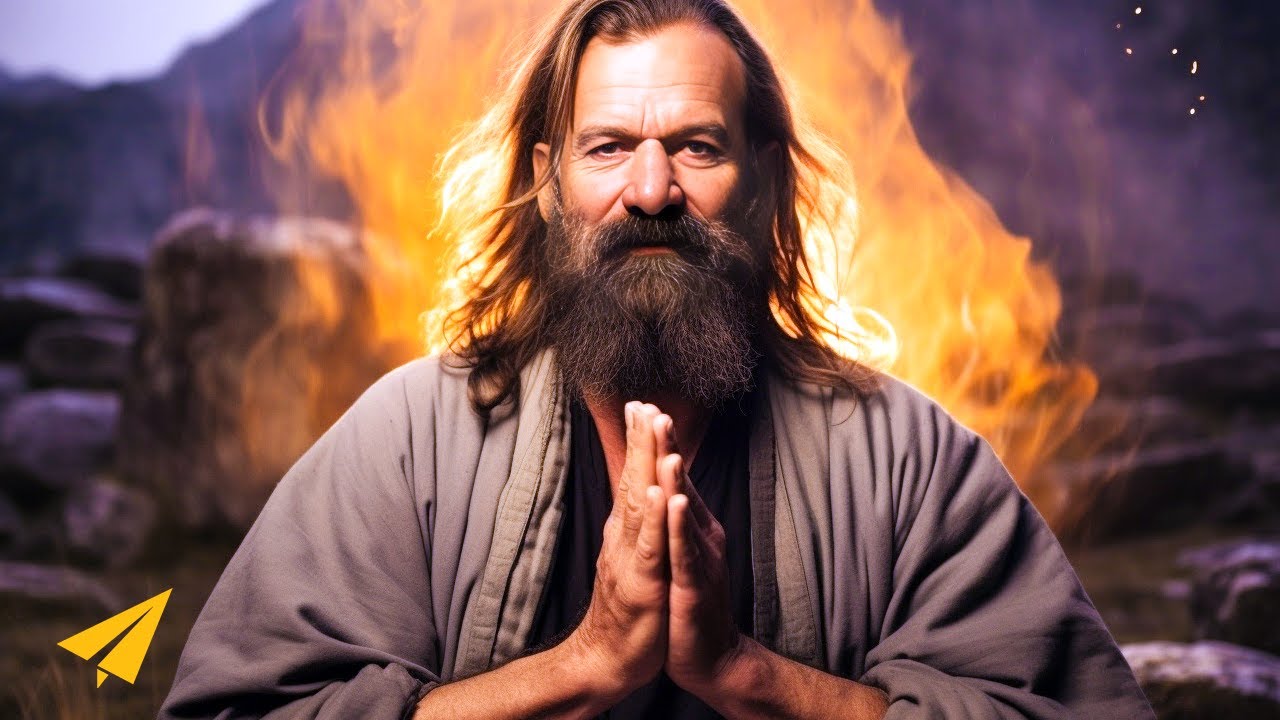 I'm a normal guy, a simple guy, but I'm going to change the world. I lost my wife in 95, was alone with four children, no money. The only thing that I found relief in was in cold water and breathing exercises.  I'm a messenger, by the way. I'm a man on a mission. And I don't stop until we have no war anymore, no disease and no depression. Yes.
Evan: What's up Believe Nation. I am at the Evergreen Brickworks here in Toronto, Canada. I'm about to go do Wim Hof's full day seminar on breathing and ice baths. I'm excited and I'm nervous for it. We're going to hopefully have a chance to talk to Wim as well, and learn about his story. It's May 20 when I'm recording this, my birthday, and so we're going to see what Wim has to offer and hopefully have fun in the cold bath.
"If You Can Learn How To Use Your Mind, Anything is Possible" – Wim Hof, The Iceman
Evan: Nice to meet you. Nice to meet you. Hello.
Man: We are ready for a great day. That's the ice pool.
Wim: That's the ice pool. That's the pool.
Evan: Wow.
Wim: It's just getting going. Get everyone.
Evan: I love it.
Wim: Yes, yes. Let's make it a good story.
Matt Shea: We live in a world where there's all kinds of false healers and fake alternative medicine programs you can sign up for, it's a rare moment in history when someone comes along who can perform real miracles with real evidence to back them up. Wim Hof has defied logic time and time again and always under scientific scrutiny. He holds the world record for being able to be submerged in ice for almost two hours without his core body temperature changing. He's climbed Mount Everest in nothing but a pair of shorts, and run a marathon in the desert without drinking any water. He's even proven in a laboratory setting that he can withstand illnesses using the power of his mind. But he's not a freak of nature. According to Wim, anyone can do what he can do. They just have to learn his method, the Wim Hof method. Using a combination of cold immersion, breathing techniques, and mental focus, anyone can accomplish feats that were previously thought to be impossible.
Evan: So before getting into it, I want to tell you how I found you. So, I used to always get sick, always. I was always, and I always believed that if you were sick, don't come close to me, 'cause I'm going to get sick. So on my team, if people were sick, like, stay home, don't come to me, you're going to get sick. Then in January I got really, really sick, five days, just straight hiccups, constantly, hiccups, hiccups, and then I decided I'm never going to get sick again, and I had to figure out a way never to get sick, and then I stumbled across your work and what you were doing, said, I'm going to give it a shot. And since then, I haven't gotten sick since January.
Wim: Aha, hey, right on, man.
Evan: To May 20th.
Wim: Way to go man, way to go, way to go. That's cool.
The Wim Hof Method Workshop Review – Breathing, Ice Baths & Science
Evan: Explain the mission. Why are you doing this, why it's important to you, it's not just about setting the world records, but why do you do this?
Wim: Yes, as I've said, I did a lot of stuff outside in nature, 'cause I felt this disconnection from nature inside from the soul itself. Soul is not able to express and you can see it in the world. Full of depression and autoimmune diseases, cancer, all those things, anxiety, so nobody knows actually, it's because of the disconnection of nature. So resulted in me in an awkward feeling, I don't know what there is, but there's more than meets the eye.
We going to show all those things, native spirits had to subdue a couple of hundred years here, now they are coming back through us, through the love, making sense that Mother Nature is back.
I'm going into a soul search. And that brought me to all kinds of traditions, esoteric disciplines, languages, religions, debates about philosophies, cultures, anything, you know? But in the end, it didn't connect with me. That's where the cold water came in. And the cold water is merciless but righteous. So, boom, hey, you got to be there. But little by little, you begin to wake up to that, what you feel inside, it's beginning to wake up a real primordial, disconnection is beginning to connect to your consciousness, brain, body connection. It was in the books, it was not there. And now we change the books, in the university and all of the story began just in fucking freezing water.  And that after a lot of esoteric disciplines, philosophies, traditions, languages, religions, doctrines, yoga, kung fu, anything I could get my hands upon, and do it, I did it.  But that, it could not bring that connection, which I was looking for. I wanted to know the purpose of the soul itself, so I went finally came in concert with nature and found attracted to ice water. Severe, aggressive impact on you, but I felt just beautiful, correct, when I got inside the water, and began to breathe. And I felt without words, this is it.
The first time I went under the ice, water is as sharp as needles. I saw this as a big, huge sharp diamond. At 35 meters, I lost sight, because the retina, it froze, I couldn't see nothing. I couldn't breathe, of course. And then, my consciousness succumbed into a lower consciousness. This is survival.
So the story begins with a feeling, and I want you to feel with me. So let's breathe.  Let it go. Fully in. Don't ask yourself how. Just always say, use any hole you got.  Get it in, let it go. Ice water, it's fresh in here, take it fully in. Halt and swim with me. Swim, come on. Move your arms. It's the hello one. This is Mother Nature. Swimming into her, rebirth, awakening the deepest within ourselves. I do not fear death. I fear not to live fully. If I live fully, I'm not into death. I'm living. The thing is, I lost over there the fear of death. And that's where I found it. The fear of death no longer.
"I do not fear death. I fear not to live fully. If I live fully, I'm not into death. I'm living." – Wim Hof, The Iceman
And that made me able to do very strange stuff. Like climbing Mount Everest in shorts to death zone, Kilimanjaro in record times, swimming under the ice, standing for two hours in the ice, hanging by one finger in the mid-winter, one mile, climbing all kinds of mountains barefoot in the snow, staying outside all night in freezing temperatures in nothing but shorts, 'cause you learn to deal with the elements of nature, and then you find out that the inner power of the physiology both through the brain body connection is so much more than we ever thought possible.
It's about confronting yourself with the cold, the cold is a natural element able to bring you right down to your core, the depth of the mystery itself, called life. And loving it. So there I was, Mount Everest, this is about 7060 meters there, there I was, sitting around, but there I was, in the middle of it, I didn't know where I was, at 6000 so much meters, I was lost. I was lost. But not lost inside. This connection was there. I felt light. I felt no paranoid or anxiety. I felt okay. It's where I found, had found, not in the books, once again, confidence and belief. It was really opened me up, I could climb the Mount Everest, I just had a good time for the rest of the days I was there.
And now, after doing 26 of those world records, about numerous more challenges, I've gotten encountered with scientists, and then it came about that I was awakening, stimulating, and influencing systems within the body, they thought of not being able to be influenced or connected with for humans. They thought, hey, you must cannot just tap in, it's autonomic nervous system, but autonomy can process outside of our world. Brain body connection, remember, connection and there it is, and now I'm able to connect, enter, and make a difference, and that's what I did in those studies.
Narrator: Wim's mission is to use his body as a laboratory, to revolutionize our understanding of physiology. In 2011, he was injected with a bacterial endotoxin in an experiment that challenged our understanding of the nervous system. In normal humans, the injection should cause a strong immune response, leading to fever, chills, and headaches. But not in Wim. It appeared that he was somehow able to suppress his immune response by making his body secrete adrenaline, suggesting that his method can allow us to influence our immune system at will. Scientists thought he might just be a freak of nature. So to further prove this theory, they performed this same experiment on 12 subjects Wim had trained in Poland, and the same thing happened.
Proof they only got after competitive study with groups, so I took on a full group, I trained them, four days, to get into the autonomic nervous system and all those things, and they got administered with the bacteria and as well, all within a quarter of an hour entering into the systems.
And now we are getting somewhere. Power of the mind. Yeah, we are dealing in modern day society, we can go to the moon, we can go to Mars and everywhere, but we cannot tap into the depths of ourselves and make a difference with deep depression, anxiety, fear, trauma, PTSD, anything. We don't control our mind. We are not able to embrace the power of the mind while the mind is ongoing, going, going. Doesn't let us feel complete, it is there all the time, now we turned the wheels.
Professor Peter Pickkers: Normally, it's very difficult to increase your adrenaline levels by your own will. Adrenaline is released by the autonomic nervous system, and autonomic means you cannot voluntarily influence it, so if you walk outside and you are robbed on the street, you will have a heart rate of 160, your blood pressure will be sky high within seconds. But if I ask you now to increase your heart rate, you cannot do that. You cannot voluntarily modulate that. And with the techniques of Wim Hof, we showed that he was able to increase his adrenaline levels to very high concentrations, even higher than people that go bungee jumping for the first time.
They saw me doing all kinds of strange stuff because what I was doing was not possible by the physiologists, and I did it, and so let's give him a shot, and they gave me a shot. And so there I was, I proved it, and then I told, listen, I'm not the only one. Everybody is able to do this. Everybody here is able to do this. What? How much training these people need? A year, a year and a half? Before they are able to do do a little bit what you are able to do, what you showed? I said, 10 days. Just shook at that, like this, 10 days. And only became four days. And these guys, I took them to my place in Poland in the mountains, on the shadow side, it's really cold out there. But very warm on your heart. Day four, without prior experience in the cold, they were able to go in shorts up the mountain, minus 10 to begin with, up to the top, minus 27. And there we danced the uh, uh, the Harlem Shake.  So I knew then, these guys are ready. They got the mindset, they got the way natured meant it to be. Minus 27, that's powerful. No, that's you. That's your power, inside. Realigned. It's your mind being able to believe you are able to conquer by connection the way Mother Nature meant it to be inside with about any system we got.
Now people who suffer from depression, anxiety, fear, from all those, PTSD, trauma, they are living under constant stress. And they are not able to break the loop. Now I showed how to break the loop.
I'm messenger, by the way. I'm a man on a mission. And I don't stop until we have no war anymore, no disease, and no depression.  'Cause the most valuable, yes.
Evan: For the people who are coming, For the people coming, for the people watching this video, what's the message that you hope they take away from experiencing some Wim Hof today?
Inside's and confidence that we are very capable of bringing back the inner power, realized to become happy, strong, and healthy. Far more than ever before thought possible. So that's it. Feeling is understanding. So once the sense gets to the mind, then it's going to open up this thing called hope. And that hope this time is going to pay off. It just a matter of a little practice and I'm going to show how to change the chemistry inside, and then to battle one of the most severe aggressive impacts on the body, ice cold water, and feel well. And not only feel well, feel a little bit depressed, because there is no bathing dock inside.  Hammer time.
Evan: All right, I'm looking forward to it. Thank you for the time, I'm looking forward to the session.
Hey, cool, cool, cool, schooling the gan.
…
We move the hands to make a circular movement. I do, use the voice, like they use it in Japan with the  the end to end.   Come on, no inhibition.  Okay, nice. Nice going.  Okay, let's begin and start breathing. Lie down, sit down, stand on your head, doesn't matter what you do, just relax the body. Fully in, belly, chest, into your head, and let it go. Belly, chest, head, letting it go. That feeling, as simple as it is, we lost. Too much neurology going on. We think, we think better, but yes, there is nothing more than life itself. This Sunday, it's happening anyway. And there we go, fully in, let it go. You become light-headed, loosen the body, tingling, it's all all right. Letting in, let it go. Your belly, chest, and even into your head, you're able to store up oxygen and letting it go. Here comes the last one. Fully, fully in. Letting go. After the exhalation, stop. And when you feel the urge to breathe, it's no competition, you take 'em in fully, let's do it all. Fully in, hold. 10 seconds and squeeze it, push it to the head to bring in more oxygen in the brain stem. Five, four, three, two, one. And we let go. Okay, breathing exercise number two, they call it power breathing. Fully breathe, come on. Fully in, go. Fully in. Go. Fully in, go. Fully in, go. Fully in, go. Fully in, go. Fully in, go. Five, four, three, two, one, Fully in, fully out, and now, full in, and lock. Contract abdomen, chest, neck, now, your head, squeeze. Three, two, one, let it go.
Students: Ah.
We got to do a pushup exercise. For those, for those, for those, who have an inflammatory condition like arthritis or MS or anything like that, could be Crohn's, anything, you do it after inhalation. Pushups after inhalation. Brings down inflammatory markers, zoom. This one brings you, resets you in four minutes. So four minutes exercise. You can do it any time of the day. Fully in, let it go. Fully in, let it go. Fully in, let it go. Three, two, one, here it comes, Fully in, let it go. Stop after exhalation. Pushups, no breathing, just go. Astound yourself. This is what I do with people who could not even do one pushup, suddenly, they are able to do 20. Amazing. This is the magic. And it's you.  That's you, guys. It's good luck. Ha. Yeah, man, we can climb any mountain.
Man: Okay, so we're going to take a little break. We're going to have some wraps for lunch, there's going to be some more snacks coming out soon. So feel free to meet some new friends, enjoy yourselves, and we'll let you know when we're going to start the second half, okay?
Wim: Great work!
So that was pretty epic, guys. I've never had a lot of success meditating, that's actually something I complained about, or just was worried about, never got a good chance to meditate, I never felt it. But this, for the first time, I was in a different zone, my fingers are still tingling from doing it, and I've been practicing at home but never to that extent, so I got a really good tool. The speech was awesome, but just the last, however long that was, I kind of spaced out, was worth the price of admission, and so I'm really pumped to get in the water, I was kind of doubting, but after that, I'm feeling pretty good, and also continue in the habit, so we're going to have some lunch and then get back to it.
I'm a normal guy, simple guy, but I'm going to change the world. I lost my wife in 95, was alone with four children, no money. The only thing I found relief in was in cold water and breathing exercises. Just a hunch. And I did it.  Just a reconnect with the body and use your mind to become happy, strong, and healthy. Those are the most essential in the life, then the rest will subdue. Just think about it. Let it sink. And if you come up with any difficulty or this or that, know from now on that you are able to tackle it. They told me, he's crazy, he's idiot, he's this and that. But he's not sane, he is not okay, don't believe him. Now it's science. What was the difference? Just keep at it. Keep on believing that happiness, strength, and health is natural. Instead of cancer and autoimmune diseases and depression and that thinking that that is normal, I think it is sick. And it should not be here with us, no longer. From here we part ways. We become sane, strong, and happy. And rest out of the way, where it belongs. Not inside, outside. Gone. And that's love, to each other.  That's love, yes, good. So the ice is there. I can see that with my eyes. Yeah, right on. This is my daughter, Halora.
Oh, say in English?
Well, the ice is melting, normally, I would say.
Oh, okay, okay, okay. Let's go up and then everybody is going to, you know, you're going to go in the ice, is like this, you stand around the pool, at ease, just follow the breath. You go in  then you sit down, you lay down up till your neck, put your hands on the thighs, tight, to induce the warmth, and then relax, control. Control. Slow down.   Okay, thank you, thank you.  Health, happiness, strength, is ours. Pass it down, pass it on. Okay. Good.
So yeah, so I just want to say thank you on behalf of myself and everyone here in Canada
Thanks, guys.
For your severe sense as someone who has a fierce compassion to change the world, breaks down any doors, never says no, sacrifices himself so that guys,  warm round of applause for Wim, thank you so much.
Wim: Yes.
So we are done, it is, what time is it, five o'clock?
It is 4:35.
Four, the dog's trying to get away.
He's kind of distracting, he's trying to get away.
It's been an all day thing, they clean up pretty quickly. What did you, what did you take away from this? What did you learn?
I learned that I'm stronger than I think.
High five for that. Good job, Nina.
I will never imagine myself to sit in that cold bath, ice bath, for that long.
So now, now when the air conditioning's on at night and we're going to sleep, say, oh, that's nothing, we should turn the air conditioning up even, even higher.
No, just don't depend now, I don't like the air blowing on my face.
But look what you just sat in.
But that's different.
That's ice water.  I like a colder room than Nina does. I had a really good time, I met a lot of fans here, which is good, probably around a dozen different fans.
Yes.
Some from entrepreneurial content and also some people watched the two other videos we did on Wim and his techniques, some people, actually a number of people said that the first video that we did that has a million views now, was their first introduction to Wim and the reason why they came here, so that was really cool, really cool to see. Lots of fun people, lots of good wisdom. We're going to breathe, we're going to breathe daily?
Yeah, every morning.
We're going to breathe daily?
We're going to have our-
Pinkie promise?
We're going to have our morning ritual.
To involve the breathing?
Yeah.
Okay, good. Well, thank you guys for watching, hope you enjoyed our journey with us, and go check out the Wim Hof Method. I highly recommend it, and it's already allowed me not to be sick for almost six months, and looking forward to what happens, now that Nina and I are going to do it together. Good couple therapy, too. Thank you guys for watching.
Continue to believe.
You have to say we believe in you.
Oh, we believe in you. And continue to believe. We'll see you soon. Much love.
Aim whatever.
And whatever you on where is.
Much love.
We'll see you soon.
---
You might also like
---