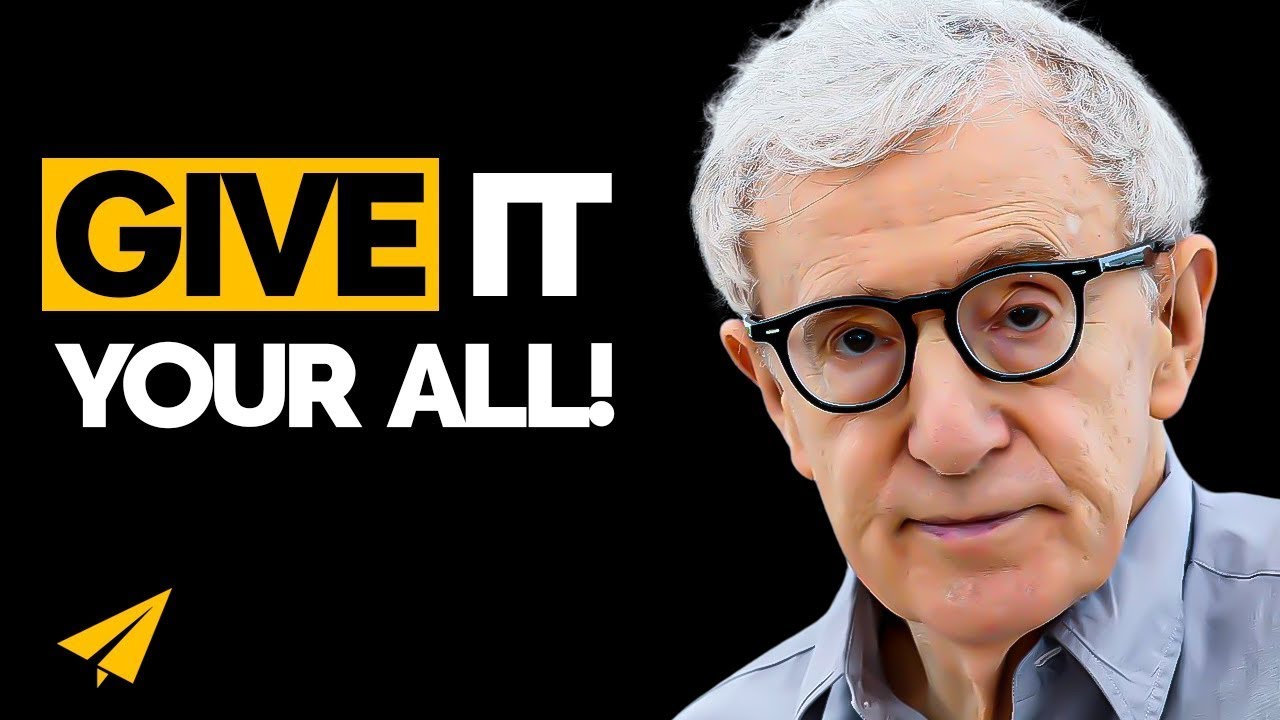 Famous Entrepreneur Quotes
Woody Allen's Quotes
"I give it my all, I practice every day, and I try and stay authentic and uncompromising."
"People need something to believe in in their lives….You choose whether life is going to be meaningful for you or meaningless."
"Successful, for me, in my terms, are, when I'm home lying on my bed and I'm writing something"
Woody Allen's Top 10 Entrepreneurship Rules For Business and Success
Today we're going to learn from legendary director, actor, and comedian, Woody Allen, and my take on his top 10 rules of success.
Rule #1. Execute Your Vision
The business has changed, filmmaking is the same. I do the same thing now as I did on Take the Money and Run. I go in in the morning, and instinctively, actually, you have a vision 'cause you wrote the script, so you know what you want on the screen, and you execute to try and get as close to that vision as possible. You never really come that close to it, but you die trying to get as close as you can.
Rule #2. Get The Joy Out Of Work
The fun is in writing the film and then casting it, and getting the costumes, and working with talented people, and sophisticated, gifted men, and charming, beautiful women, and Cole Porter's music.
And you work for a year on something, or six months on something, and it's great, and it's fun, and you're solving solvable problems. If I can't get my third act on the film right, it doesn't mean I die.
It just means that the film won't be good, and maybe I can solve that problem, and I think about it, and it's a fun way to spend your life. And then it's over. If you're thinking of rewards, if you're thinking of box office, or that critics have to like it, or that the public has to like it, you're dead, you're depending on things, you're getting your kicks in the wrong area.
Your kicks have to be making the film, the actual joy of making the film, and the disappointments, and how you circumnavigate them and solve the problems and all that. And then when it's over, you look at it and you think, "Oh, God, when I wrote it it was so great, "and now it's so terrible. "How did this happen, what went wrong? "I made all the wrong choices."
And you figure, "Well, the next one will be better." And you put it aside and you go on to the next film. But if you're there and you're thinking, "Well, I can't wait till the critics see this, "I can't wait till the public breaks the doors down, "and the box office records are …" then you're dependent for your enjoyment on other people's taste and other people's opinions.
And I'm not interested in their opinion. The first film I ever worked on, What's New Pussycat, was a loathsome film. I hated the experience. I was going to the script writer. The took my script and mangled it. They put the film out, the film was a big hit. It made the most money of any comedy to its time, at that time. And I got no joy out of it. I was embarrassed by it, I hated it.
So you don't get joy from critical success or public success, you get joy from realizing the work of art that you were trying to make when you were laying on your bed writing the script. And then, all of a sudden, you visualize it and you've made it happen. You've spent $15 million or something, or more sometimes, and made it happen. And you say, "Gee, I'm proud of this."
Rule #3. Enjoy Your Life
And I remember very clearly, I would walk the streets, I walked and I walked. I didn't know what was going through my mind. It all seemed so violent and unreal to me. And I wandered for a long time on the Upper West Side. It must have been hours. My feet hurt and my head was pounding.
And I had to sit down, I went into a movie house. I didn't know what was playing or anything. I just needed a moment to gather my thoughts and be logical and put the world back into rational perspective.
And I went upstairs to the balcony, and I sat down. And the movie was a film that I'd seen many times in my life since I was a kid, and I always loved it. And, you know, I'm watching these people up on the screen, and I started getting hooked on the film, you know.
And I started to feel, "How can you even think "of killing yourself, I mean, isn't it so stupid? "I mean, look at all the people up there on the screen. "They're real funny. "And what if the worst is true? "What if there's no God and you only go around "once and that's it? "Well, you know, don't you want to be part of the experience? "You know, what the hell, it's not all a drag." And I'm thinking to myself, "Geez, I should stop "ruining my life searching for answers I'm never going to get, "and just enjoy it while it lasts. "And, you know, after, who knows? "I mean, you know, maybe there is something. "Nobody really knows. "I know 'maybe' is a very slim reed to hang "your whole life on, but that's the best we have." And then I started to sit back, and I actually began to enjoy myself.
Rule #4. Be Authentic
And I give it my all, I practice every day, and I try and stay authentic and uncompromising. We don't play any crowd pleasing stuff. We don't get out there and play "When the Saints Go Marching In." We play blues, hymns, ragtime, whore house music, stuff that was authentically New Orleans, and we play it in the New Orleans style as best we can. And so I don't feel that I'm a sell-out. I'm doing the best I can.
Rule #5. Hire Wonderful People
The trick is, and it sounds facetious sometimes but it's not, you hire great people, great actors and actresses. And then you get out of their way. You don't play the director, you don't hover over them.
You let them change your lines, you let them make up their own contributions and do things, because the people that I've worked with have had careers, and are famous, and are great before they met me, and they're great in my movies, and they're great after they leave me.
So nothing special is happening. If you just hire wonderful people, that's all you have to do, and just don't mess them up, don't ruin them. You know, it's really a very simple thing. Then you get credit for directing them, and everyone says, "Well, you did such a great job." But it isn't, you're just not screwing them up, that's all.
Rule #6. Define Success For Yourself
Successful, for me, in my terms, are, when I'm home lying on my bed and I'm writing something, I have these incredible ideas that I think I'm going to write Citizen Kane every time out of the box, and it's going to be great.
And then I make the film, and I'm so humiliated by what I see after, what I think, "Where did I go wrong? "Was it the editing, was it my writing? "Was I lax in the directing?" So, when I finally get a film and I think, "Hey, this film is pretty close "to what I was writing at home," I think, "This is a successful film." Husbands and Wives was a film like that. I thought that I brought that, that I had an idea and I brought it off.
Rule #7. Start Doing It
I could probably rob banks or burglarize jewelry stores and be very clever about it. I'm imaginative, I've got a sense of humor, I've got an original approach. Maybe I could, this could be an interesting thing for me.
And I thought about it for a while, and talked about certain con-man schemes with my friends, but by that time, some of my jokes were already being accepted by radio and television.
And I saw the light at the end of the tunnel, and I thought, "Hey, I could probably make a living "being a comic, a writer of comic material." And I succeeded at that very rapidly, fortunately. As soon as I started doing it, I started succeeding, and I started getting paid for it. So it saved me from a life of crime.
Rule #8. Make The Right Choice
I do think in everybody's life there are times when there are turning points in your life when you suddenly … realize that … something momentous … can possibly happen if you make a choice. And if you make the right choice, great. In this case, the choice that Joaquin makes is irrational. But it's not so … irrational, given … the comparison with the choices that we all make in our lives.
If you look at … People need something to .. I hear bells. People need something to believe in in their lives. They have to choose whether their … You choose whether life is going to be meaningful for you or meaningless.
And people will choose religions in their lives, for example, and they'll make an irrational choice. They'll think that if they live a very good life, they will die and go to heaven and live in heaven for the rest of their life.
That's no less crazy a thought than Joaquin thinking that if he commits this act his life will suddenly turn around for the better. As long as there's something dedicated that you can believe in, you make a choice and you go with it.
Rule #9. Learn From The Great
At that point in my life I was, for whatever ridiculous reason, very taken with the films of Chaplin and Keaton in relation to myself. Not ridiculous that I'd be taken with their films, they're great, but I was trying to learn from them to see what I could …
And I had the idea that they were working in a silent era, and that was easier. Most people think that silent films were harder, silent comedies were harder 'cause you didn't have a voice, you couldn't speak, but silent films were easier. When you added the voice, it became much more complicated, and it's really the difference between checkers and chess.
Rule #10. Have Fun
Thank You!
Thank you guys so much for watching. I made this video because Heghine Melkonyan asked me to. So if there's a famous entrepreneur that you want me to profile next, check out the link in the description, and you can go and cast your vote. I'd also love to know which clip resonated the most with you. What lesson are you going to take from this video and immediately apply to your life or to your business somehow? Leave it down in the comments below. I'm really curious to find out what you have to say.
I also want to give a quick shout out to Simon Stanley. Simon, thank you so much for picking up a copy of my book, Your One Word, and making that awesome YouTube video on it as well. I really appreciate the support, and I'm so glad that you enjoyed my book.
In this video I'm doing a video review of Your One Word, by Evan Carmichael.
Thank you guys so much for watching. I believe in you, I hope you continue to believe in yourself and whatever your one word is. Much love, I'll see you soon.
---
BONUS
Follow your instinct
Interviewer: In all the years you've been making movies, can you tell us what you've learned? And if you had a chance to remake any of your movies, or if you ever wanted to remake any of your movies, which ones would you do?
Well, you do learn stuff, but very little. You learn stuff after the first two or three movies, you've learned all you're really going to learn. Most of the stuff can't be learned, it's instinctive.
There are a few technical things that you learn about editing and adding music, and little technical things, but you learn them very quickly, and the rest you either rise or fail on the basis of your own talent or your own instinct. It fails you sometimes, and sometimes it works for you. I would shoot them all over if I could. Charlie Chaplin had the luxury of shooting a whole film all the time, and he could look at it and study it, then shoot it again, shoot it again if he wanted to.
Films were not that costly at that time. They had the … the actors, the money, it was very simple. I can't do that, so when I make a film I never ever look at it again once I put it out, because if you look at it again, you can always see what you did wrong and how you can improve it and why it's as terrible as it is.
So I would shoot them all again. I could very happily take any movie I have and improve it if I could get the cast back and the circumstances exact, roll back time, get the money. I could improve them all after seeing them start to finish up there.
Summary
Rule number two is my personal favorite, and I'd love to know which one you guys like the best.
Woody Allen's Rules
BONUS
I hope you enjoyed this article, make sure to check my Woody Allen video on his Top 10 Rules For Success as well.
---
You might also like
---
More from Motivation
---
Watch Evan Carmichael's Top 10 Rules For Success video. Famous Entrepreneur Quotes Evan Carmichael's Quotes "Changing my environment had a dramatic impact …
Watch Mark Hamill's Top 10 Rules For Success video. Famous Entrepreneur Quotes Mark Hamill's Quotes "I love the allure, the danger, of …
Watch Brandon Beck's Top 10 Rules For Success video. Famous Entrepreneur Quotes Brandon Beck's Quotes "Whether you think you can do it, …