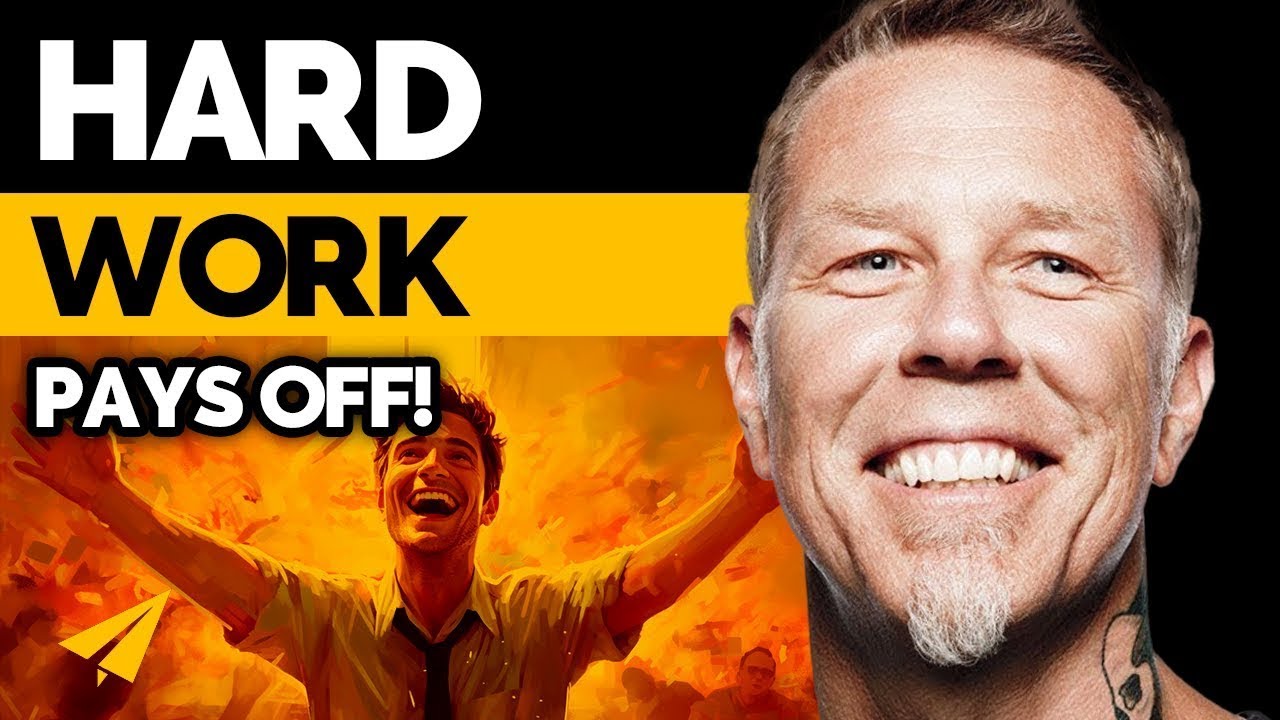 Today's message is work hard. Good morning believe nation, it's Evan. My one word is believe and I believe that you have something special that when you unleash it it will be able to change the world.
Work Hard – James Hetfield
Most things in life that are worthwhile, you got to work at it. You got to work at. You get out what you put in. It's simple as that.
That's a kind of a universal law.
So yeah, it's not pick up the guitar and go ha, ha, which I've done, you know, in front of the mirror lots, you know.
Hey, I'm really good and you got to have that attitude too. But it does take work, it does take you know, some dedication, you know.
But if you love doing it, it's not as hard as it could be if you're doing something that you're not as interested in.
My thought about Work Hard
So on this channel we've covered more successful people maybe than any other channel on YouTube. I'd put it up against a lot of other internet properties just in general. We've covered entrepreneurs and athletes and musicians and innovators and politicians and people who've had success from all walks of life.
And one of the most consistent themes that come up, is you need to work hard. Everybody works hard. There's nobody who is really crushing it who's spending ten hours a week working on their thing. And you have to love what you're doing because that's the only way you're going to keep doing it.
The only way you're going to deal with all of the crap of learning your craft and all the rejection and all the failure and all the things that don't work out at the beginning. The only thing that gets you through is you actually love the process. You love the work so it doesn't feel like work.
It's one of the most repeated piece of advice that comes over and over and over and over again on this channel. And so if you want to become world class at something, you want to be the Michael Jordan of your industry, then you have to put in the work to get really really really really good.
And yes you're working smart, but you have to work hard as well. And so a quick story with Alex from Toronto Dance Salsa who I hired to help me run the business and he's also an instructor here.
And recently we made a video where we were talking about him wanting to be the best instructor in Canada at salsa and he was trying to figure out his schedule. And he wanted to go down to one or two days a week. And I told him that, if you want to be the best once or twice a week is not enough.
"You have to love what you're doing because that's the only way you're going to keep doing it." – Evan Carmichael
And then if I bring that to my own business, if I want to have more success on YouTube, I need to put in more reps. Like, I'm doing three videos a day. We've done over 5,000 videos on this channel, right. You better get better at something if you're doing it 5,000 times over and over and over and over and over again.
When I started working with my agency, I was considered the worst and I became the best in a couple of months. Not because I had talent or skill, it was because I was doing three videos a day when everybody else was having a hard time trying to do one video a week. Right?
You're just going to get better faster because you're putting in the work. And so whatever it is that you want to get great at, and obviously there's some restrictions, maybe you have a full time job, you know maybe you can't dedicate 100% of your time to it yet, it's understandable but you need to work everyday on your craft.
And you need to get better and better and better and better and better consistently Michael Jordan became Michael Jordan because of all the practice that he did. Did he have natural talent? Yes, but he worked and he worked and he worked.
And if you just write people off, you look at anybody who's at the top of their field and you say well they're there because they're naturally gifted. If that's the reasoning for why they're successful, and why you aren't more successful, you're going to lose.
"Hard work almost always beats natural talent in almost any field. " – Evan Carmichael
Don't disrespect the amount of effort and hard work that they are putting in. Don't disrespect the amount of hard work Michael Jordan put into becoming Michael Jordan. Because if you just chalk it up to natural talent, you're going to lose at whatever it is that you're doing.
Hard work almost always beats natural talent in almost any field. And that sucks because it's a lot of hard work, but it's also great in that anybody can win. Like if you badly want to win at what you're doing, as an entrepreneur, as an actor, as a singer, as a guitarist, whatever it is, if you badly want to win, you can. You just have to pay the price of hard work.
---
So the question of the day today is I'm curious, are you working hard enough on the thing that you say you want to be great at?
Are you really putting in enough work to become the best?
I'd love to hear from you. Leave your thoughts down in the comments below.
I also want to give a quick shoutout to Boaz. Boaz thank you so much for picking up a copy of my book, Your One Word, I appreciate the support. And I hope you enjoy the read. So thank you guys again, I believe in you. I hope you continue to believe in yourself and whatever your one word is. Much love and I'll see you guys again tomorrow morning for another shot of entspresso.
---
BONUS
Work Hard
Tom DeLonge
Being in a band you have to constantly reinvent yourself. You have to constantly be reminded how there's someone better than you. Every other weekend. You're constantly reminded of how you have nothing without your fans. So you have to take into account what they're thinking and what they're interested in.
And all those things matter. But it doesn't matter what art you do. It doesn't matter if it's making an album or a movie or a book or whatever. You have to think, thinking about all those types of things, the hard work involved. If you want to have like a casual life and you don't want to be in a band.
I mean, you never sleep. It's really really hard work. And you're exhausted all the time. And you're almost always sick. And you're fighting with your business partners all day long. And it's just how it is. But I have a very very strong work ethic because I had nothing when I was a kid.
Nothing. I had my first job when I was 13. I had two jobs when I was 16. But I think a lot of it is probably because I'm extraordinarily fearful about having to do what someone tells me to do. So I'd rather be doing everything because at least no one's telling me to do that.
John Williams
Interviewer: You literally are, for many of us in this room and watching, movie wise, you are the soundtrack of our lives. So much of your stuff is obviously well known to your point and some stuff maybe not as well known, but how do you know? Is there something inside of you? How do you know when you get it right? Do you know when you get it right?
Very very rarely. You hope you've gotten 90% of it or as close to it as you can. But at least with me, and I think with most writers of any kind, you really don't say eureka, this is it. It's work on this, come back the next week and reshape it and do it like a sculp-keep honing away at.
I'm not so brilliant that I can sit down and write a melody or a theme or a whole scene or a whole work, as Mozart might have done, we're told, dashing it off like a letter and the grammar's perfect. Writing music it's very very hard work. And for orchestra particularly, so it's a labor intensive thing. I have to be in the room alone all the time because that's the life that it is.
It's hard work, it's lonely work, it's labor intensive, I still use a pencil and paper. I don't have a computer.
Old school, I've been so busy fortunately that I haven't been able to go back and retool. When I was studying music, there were no computers. We didn't have it.
Armin van Buuren
The secret to success, there's a couple of elements that are important in success. First of all, it's your own level of expectation. You also have to learn to be happy with what you achieve sometimes. It's impossible in life to always achieve exactly what you have in the back of your head.
So you need to learn also to be happy with what you achieved. Even if it's only half of what you had in mind at first. I like a quote of John Lennon, life's what's happening to you when you're busy making other plans. And that is what I keep telling my wife as well.
And a lot of people around me. You always expect something and then something along the way comes, and then you have to alter your path again. And if you can learn to live with that, if you can be practical like that, then success is more easy, maybe. It's good to have a plan.
But it's also good, if you're working really hard and you're walking up against a door, and you can't go through that door, then you just find a back door. Just find your way around it. And that's just the way that life is. Sometimes you cannot get exactly what you want or what you had in the back of your mind.
Yes it's very important that you have to have a good work ethic. Nobody gets anywhere without hard work. And you'll have good and bad days. Even myself as a producer, I run into disappointments almost on a daily basis because I try to work with artists that on the last moment pull back their song or you know you don't see that.
You don't read that in the news. But it's the fact of the matter. And I think all artists have to deal with stuff like that. You don't get the set times you want. You don't get the billing you want. You don't get the hotel room that you requested. It's something you have to deal with and it defines your character how easy you are to deal with stuff like that.
You know life is a rollercoaster ride for everybody. It has its ups and its downs. But if everything goes well, you'll have more ups than downs. And you'll remember the ups more than you'll remember the downs. But it's a fact of the matter, everybody no matter if you're a big artist, a successful artist or a successful businessman, everybody works hard to get somewhere.
---
You might also like
---
More from Entspresso
---
Today's message is be confident. Good morning believe nation, it's Evan. My one word is believe and I believe that …
Today's message is The Customer is King. Good morning, Believe Nation! It's Evan. My one word is believe, and I believe …